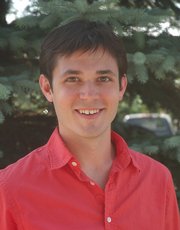 Zach Fridell is a copy editor and page designer for the Steamboat Pilot & Today. He has worked for the company since May 2008. He grew up in Manhattan, Kan., before earning a bachelor's degree in journalism from Northwestern University in Evanston, Ill. During college, Zach worked with the Medill Innocence Project to help free men who were wrongly convicted of murder. Zach also worked for the Daily Northwestern and as an intern for The Florida Times-Union in Jacksonville. After graduating, Zach began working for an English-language newspaper in Phuket, Thailand, where he wrote and edited copy for one year before moving to Steamboat. When not at the office, Zach enjoys traveling, reading, finding new music and mountain biking. Although Zach has only been snowboarding once before moving to Steamboat, he looks forward to spending time outdoors and learning to enjoy snow.
Recent Stories

Wildlife experts say several trail areas are key to elk survival
The region's large elk herds are moving into their winter habitat, and local wildlife officers have responded by enacting voluntary closures to protect those areas. The public is being asked to avoid 10 local areas that are important to the animals' winter survival.

Operators dig out lifts for openings
Last year, lift operators were working the shovels bringing in fresh snow to put underneath the lifts so skiers could get onto the seats safely. This year, they're facing 5 feet of powder they have to shovel out so the chairs can turn around.
A follow-up to the hugely successful Ride 4 Yellow mountain biking event this summer, the inaugural Ski 4 Yellow scheduled for March 25 and 26 will allow the first 200 people to raise $500 or more for cancer-fighting efforts to ski with Olympians and World Cup athletes at the Steamboat Ski Area.
No one was injured in the fire near Clark, and the damage to the home was confined to the chimney.
2 arrested in Sunday incident; minor injuries reported after fight at scene
Police still are looking for a Craig man living in South Routt County who reportedly was involved in a burglary and fight Sunday night. A man and a woman from Yam­­pa were arrested early Mon­­­day in connection with the incident in Dream Island, but detectives said they still are looking for the alleged ringleader.
Rescuers outpace past years with 73 calls for service
With more than a month left on the 2010 calendar, Routt County Search and Rescue volunteers already have seen the second-highest number of calls for service since the organization started.
Chef Ezra Duker shares his gnocchi expertise with home cooks
When the Truffle Pig opened in One Steamboat Place adjacent to Gondola Square last winter, it brought high-end, innovative cuisine to within steps of Steamboat Ski Area's gondola. But don't let the restaurant's name or location fool you — it already has become a lot of things to a lot of people, says One Steamboat Place General Manager Lance Thompson.

For 69 years, Lila Rider has been writing what she knows. And she has no plans to stop anytime soon. As contributing writer to the Steamboat Pilot & Today for nearly seven decades, Rider has made it her business to know the business of her South Routt friends and neighbors.
Judge could set terms for couple involved in June 11 incident
If Robert and Rhonda Cash can't figure out the details to their divorce by Feb. 1, District Jud­­ge Mary Hoak will set the terms for them. Robert Cash is accused of shooting Rhonda Cash on June 11 at their Steamboat Springs home.
The 56-year-old man is thought to have broken his leg after riding into a deep depression in a field near Fish Creek Reservoir. Routt County Search and Rescue crews were assisted by a Flight for Life team based out of Frisco.
Recent photos