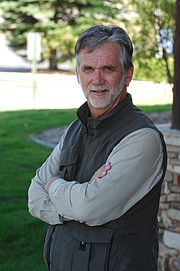 Tom Ross writes a column that appears Tuesdays and Saturdays in the Steamboat Pilot & Today. He also writes features and covers weather news for the newspaper. He started working for the newspaper in 1979.
Tom has a bachelor of arts degree in political science from the University of Wisconsin-Madison. He is from Madison. His interests include Nordic skiing, Fly Fishing, book making and documentary photography.
Recent Stories

Nancy (Barrows) Gray and Sanse (Neish) Berry were teammates at the Steamboat Springs Winter Sports Club among a group of young women who dominated Alpine ski racing in the Rocky Mountain Division.
Water district manager says $750,000 price of Shop & Hop site is justified by the goal of protecting community water supply in alluvial well field along the Yampa River.

Steamboat Springs High School Class of 1995 reunites and rallies around former classmate David Virgili.
The city of Steamboat and Routt County processed building permits valued at $86,497 — 785 in 2014 — far below the peak years of 2007 ($250.7 million) and 2008 ($333.7 million).

As I sprinted down the barrow ditch at the side of the highway to retrieve our gear, I had a minute to consider what carnage the log truck would have wreaked on our camping equipment had the truck been following us instead of the opposite.
The side of Routt County Attorney John Merrill the public didn't see was the man who liked to go on walkabouts, popping in on employees in other departments just to chat and form relationships.
The plan to create modern RV hookup camp sites at the Routt County Fairground is viewed as a piece of economic development for both the Fair Board and the town of Hayden.
In addition to the vintage outhouse, there is a claw-foot bath tub on the auction block at the benefit for Crossan's M&A Market in Yampa.
It was in Boulder that Steamboat founder James Crawford met three influential bankers who in 1883 would play a role in establishing town's future
A pair of market-rate apartment building projects on opposite ends of Lincoln Avenue with the combined potential to add 94 rental units to Steamboat Springs' tight housing market have entered the city planning process.
Recent photos