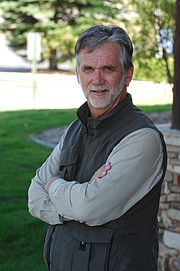 Tom Ross writes a column that appears Tuesdays and Saturdays in the Steamboat Pilot & Today. He also writes features and covers weather news for the newspaper. He started working for the newspaper in 1979.
Tom has a bachelor of arts degree in political science from the University of Wisconsin-Madison. He is from Madison. His interests include Nordic skiing, Fly Fishing, book making and documentary photography.
Recent Stories

Historic Routt County Board President Bridget Roth foresees an increasing role for her organization as a project leader for the adaptive re-use of historic buildings.
Worldwide demand for coal continues to drop and the proposed delay of Trout Creek Reservoir permitting fits in with remarks about the company's fiscal strategy made by a Peabody spokesman this week.
Routt County Commissioner Doug Monger sees a need for Routt County to grow as a whole, rather than concentrating residential growth only in Steamboat, in order to promote more resilient communities.

Former Routt County Commissioner Dan Ellison, who died Oct. 3, helped to advance the county's Land Preservation Subdivision ordinance which incentivizes developers to cluster homes within rural subdivisions, leaving hay meadows intact.
Skiers may recall the day in 1992, when Kimihito Kamori, principle of Rusutsu Resort, and leader of Kamori Kanko Ltd., presided over the grand opening of the Storm Peak Express chairlift in Steamboat.
Most of Routt County is oblivious to the heavy logging trucks that carry the logs out of the forest because it's all headed north to a sawmill in Saratoga, Wyoming.
The commissioners are taking on the contract in order to make progress this year and with the expectation they will be able to work out a cost-sharing agreement with the city at a later time.
Family Barber Ken Shovick's great redeeming quality was that he loved to be insulted as much as he loved mercilessly teasing his customers.
The question is whether Routt County's waterbody setback regulations as drafted accomplish clean water without unduly hindering development.

Retiring Routt County Environmental Health Director Zopf was 24 years old in 1977 when he spied a job opening in Steamboat that became his life's work.
Recent photos