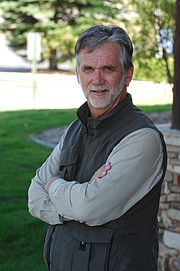 Tom Ross writes a column that appears Tuesdays and Saturdays in the Steamboat Pilot & Today. He also writes features and covers weather news for the newspaper. He started working for the newspaper in 1979.
Tom has a bachelor of arts degree in political science from the University of Wisconsin-Madison. He is from Madison. His interests include Nordic skiing, Fly Fishing, book making and documentary photography.
Recent Stories

Nancy Wiggins stood in the yard of her family's historic log cabin in Hahns Peak Village performing a universal domestic chore. Some might say Wiggins' chosen method of doing the laundry makes her an historic re-enactor.

West of Steamboat saw 13 residential sales in June with an average sale price of $465,300 and a median price of $443,500, for an average price per square foot of $257.
Expert Adam Cohen predicted to Steamboat Springs Planning Commission that Passive House Apartments, when complete, would garner national attention as a rare example of a market driven development with net-zero energy use.
Play Garden would engage children in hands-on learning and play with the objective of supporting their sense of independence, self-confidence and self-respect.
Middle East expert Martin Indyk tells Steamboat audience the U.S. has a choice between an Iran that is nuclear weapons free for 15 years or an Iran that is three months from having a nuclear weapon.

"This is a place that has been overlooked for far too long — it's windshield country. People drive through it to get to somewhere else. But there is a 12-act drama in that country that really matters." – Luke Schafer, Conservation Colorado
Lowell Conkle, 57, has avidly followed bike racing since the days when American Greg Lemond first won the Tour de France for the first of three times in 1986. However, Monday marked the first time he'd attended a road cycling race in person.
The water transfer plan at the Carpenter Ranch is among five in Colorado that are part of an historic agreement to explore how the four Colorado River states above Lake Powell can meet their obligations to Arizona, California and Nevada.

Market lambs may be the rock stars of the sheep competitions at the Routt County Fair, but the luckiest sheep at the fair are the "meat breed ewe lambs" who will live to contribute superior genetics to lambs of their own.

Competitors in the Tour de France this year had to avoid cows in the highway during a high-speed descent. But injuries caused by careless fans are unfair to the athletes. And it happens at races all over the world.
Recent photos