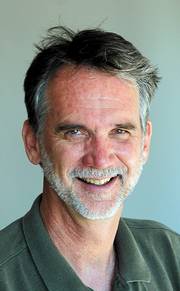 Tom Ross writes a column that appears Tuesdays and Saturdays in the Steamboat Pilot & Today. He also writes features and covers weather news for the newspaper. He started working for the newspaper in 1979.
Tom has a bachelor of arts degree in political science from the University of Wisconsin-Madison. He is from Madison. His interests include Nordic skiing, Fly Fishing, book making and documentary photography.
Recent Stories
A line of rain and snow will move through Colorado from Aspen to Steamboat on Sunday night into early Monday morning, but the first week of November likely will be mild and dry.

Whether it's for an hour after school or a full day during summer vacation, youngsters are welcome at the Boys and Girls Club at remarkably low rates.

The sign in front of Mountain Brew signals that it's a coffee shop, but really it's a restaurant that feels like home.

Chef Kate Rench, of Cafe Diva, reels in her customers with a dessert menu studded with confections that evoke country home cooking. Then she dazzles them with an exotic twist on those old favorites like, for instance, a summery fresh peach cake.

If Steamboat Springs is America's authentic cowboy ski town, Ray Heid, with one foot in a cowboy boot and the other buckled into his Telemark ski boot, personifies that spirit. And visitors tap into it.
I squeezed my satchel through the narrow opening in the subway turnstile, but before I could pull my suitcase along with me, the gate swung shut. I had a grip on the handle, but my luggage was stranded on the other side of the barrier.

Pleasant Valley rancher Bill Gay, the son of pioneers, was presented with the 2014 Leckenby Award and the family of the late Jan Prouty Vail accepted the Larson Award on her behalf.
Political volunteers might want to set down their phones just before 6:30 p.m. Thursday, when the Denver Broncos take to Sports Authority Field to take on the rival San Diego Chargers.

The Community Agriculture Alliance has picked up where a group of committed volunteers with the Yampa Valley Co-op left off, this time with a Web-based ordering and delivery solution for locally produced food.
Bob Beauprez and Jill Repella are running against John Hickenlooper and Joe Garcia for the offices of Colorado governor and lieutenant governor.
Recent photos