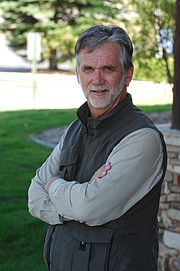 Tom Ross writes a column that appears Tuesdays and Saturdays in the Steamboat Pilot & Today. He also writes features and covers weather news for the newspaper. He started working for the newspaper in 1979.
Tom has a bachelor of arts degree in political science from the University of Wisconsin-Madison. He is from Madison. His interests include Nordic skiing, Fly Fishing, book making and documentary photography.
Recent Stories
Housing Authority candidate John St. Pierred experienced Summit County's efforts to create affordable housing as a member of both the Frisco Planning and Zoning Commission and Town Council, and the Summit County Planning and Zoning Commission.
CSU 4-H Extension Agent Tami Thurston said Tuesday that 85 of the 300 current Routt County 4-H members are in shooting clubs, but the decision by the Fair Board won't inconvenience them as 4-H shooting clubs are currently practicing in Steamboat anyway.
On average Routt County excluding the towns of Hayden and Oak Creek, is the source of 38 percent or 190 of the animals that come into the Steamboat S;rings Animal Shelter annually.
Ryan and Rachel Wattles would host as many as eight people at a time in the guest house and as many as 10 special events — like wedding and family reunions — per year. No amplified music will be allowed.

As much as the story of Oak Creek's Vi Shaffer is one of a young sailor who gave his life for his country, it's a story of a plucky elderly woman who was unrelenting in her efforts to recover tangible evidence that her brother was honored as a hero.
With construction picking up, Routt County Manager Tom Sullivan may ask the Commissioners' approval to offer full-time status to a building inspector who has previously been on seasonal employment status.

Miss Rodeo Virginia Kaitlyn Gill was in the field as 97 cowboys and cowgirls took on the dual slalom at Steamboat, which requires them to rope a tall cowgirl in a duster and sling a saddle on a nervous horse before they sprint across the finish line to glory.
Steamboat Ski and Resort Corp. official said that 20 of 48 scheduled flight segments on United Express to and from Denver during the six-day period between Christmas and New Year's were canceled, and 10 more were more than two hours late.

The new virtual whitewater float comes at a time when the future of the Yampa and the canyon it flows through in Dinosaur National Monument are growing topics of discussion.

Flat Tops Ranch Supply in Steamboat is behind Circle 7 Gallery at 1009 LIncoln Avenue, and just a few steps away from Steamboat Meat and Seafood.
Recent photos