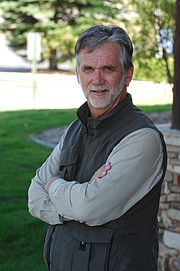 Tom Ross writes a column that appears Tuesdays and Saturdays in the Steamboat Pilot & Today. He also writes features and covers weather news for the newspaper. He started working for the newspaper in 1979.
Tom has a bachelor of arts degree in political science from the University of Wisconsin-Madison. He is from Madison. His interests include Nordic skiing, Fly Fishing, book making and documentary photography.
Recent Stories

Steamboat Ski and Resort Corp. Airline Program Director Janet Fischer is confident that reduced fuel prices paid by the airlines along with an increase in the average ski season fares into Yampa Valley Regional Airport will result in a lower airline bill later this spring.

Sam Haslem told a story about the days when cowboys in far western Moffat County drove their cattle at a leisurely pace all of the way to the railroad yards in Phippsburg, south of Steamboat Springs.
The Foundry rehab center developer Scott Borden told the Routt County Commissioners that his plans to operate on a rural property are central to his holistic approach to treating addiction.

Rita Herold described the early 1920s when lettuce and spinach were big cash crops in South Routt, and local lettuce was served in Manhattan's Waldorf Astoria Hotel.
Snow has been disappearing from the valley floor at a rapid rate this month, but travelers headed over Rabbit Ears can also see plain signs of an early runoff above 9,000 feet.

No decision yet to build, but Steamboat Ski and Resort Corp. gains county approval for major addition to two-year-old Four Points Lodge dining room.
Routt County Planning Commission agreed with Area Wildlife Manager Jim Haskins' recommendation to curtail the dates of commercial snowmobile operations on Elkhead Ranch to protect an "extremely important" elk migration corridor.
Zach Smith, attorney for the Colorado Water Trust, told the board members of the Conservancy District Wednesday that while no decision has been made to supplement the Yampa's flows again this summer, they want to have agreements in place by late May.
The Yampa's flows of 337 cubic feet per second Wednesday, where it passes beneath the Fifth Street Bridge in Steamboat, were more than double the median for the date, according to records kept by the U.S. Geological Survey.
Routt County will recognize the popularity of people staying overnight in motor homes at the county fair and at livestock shows by using its $6,589 "mini grant" from the Associated Governments of Northwest Colorado to execute the planning for new RV hookups.
Recent photos