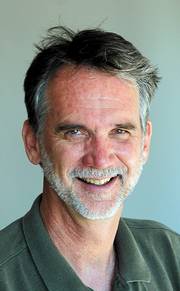 Tom Ross writes a column that appears Tuesdays and Saturdays in the Steamboat Pilot & Today. He also writes features and covers weather news for the newspaper. He started working for the newspaper in 1979.
Tom has a bachelor of arts degree in political science from the University of Wisconsin-Madison. He is from Madison. His interests include Nordic skiing, Fly Fishing, book making and documentary photography.
Recent Stories
St. Paul's is about halfway through its funding campaign to retire the debt on its new sanctuary and to fund the new internship program.
Overnight lows on Wednesday and Thursday nights were expected to reach 15 degrees below zero with highs of just 13 degrees on Thursday and 11 on Friday, but temperatures should bounce back to daily highs of 18 degrees on Saturday and Sunday.
Now, both city and county government are revisiting the criteria for expanding Steamboat's city limits and asking, "Is it too hard for landowners to win an exception to the hard urban growth boundaries?"
The automated forecast for Storm Peak at the top of the ski area expects between 15 and 23 inches to fall overnight and during the day Wednesday.
The wind direction at and above mountain top is from a westerly direction, which means all mountains can see good snow because this wind gets lifted up by the mountains and rising air creates snow.

Howelsen has been operating, first as a ski jumping facility, since January 1915. Today ski jumping takes place in both summer and winter, but most members of the public zip down the steep slalom hill in front of the lodge, while many youngsters enjoy their first day of skiing on one of the gentle Magic Carpet lifts.

Steamboat will begin an exclusive fine dining experience at Four Points Lodge later this winter for no more than 52 people in four seatings per night. Guests will reach Four Points from the top of the gondola via a luxury snow coach that seats 13 in plush bucket seats.

It's the affordability of flights in and out of Denver International Airport that raises one of the biggest hurdles to expanding air service out of the Yampa Valley.
The Board of Commissioners will take the request up again Dec. 17. In the meantime, planning staff is assigned to review the proposed system for alerting gravel hauling companies that the pit is shut down due to heavy fog on the highway and convert it into formal conditions of approval.
Assuming Steamboat Springs can convince an airline to take on a non-ski-season route that makes business sense, it isn't likely to come without subsidies.
Recent photos