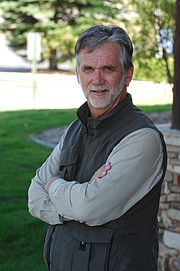 Tom Ross writes a column that appears Tuesdays and Saturdays in the Steamboat Pilot & Today. He also writes features and covers weather news for the newspaper. He started working for the newspaper in 1979.
Tom has a bachelor of arts degree in political science from the University of Wisconsin-Madison. He is from Madison. His interests include Nordic skiing, Fly Fishing, book making and documentary photography.
Recent Stories
Erick Knaus, chosen to succeed retiring John Merrill as Routt County attorney in late July, said what he enjoys most about his role is the broad range of work that comes through the door in a county attorney's office.

Three sales of luxury condominiums at One Steamboat Place on the edge of the ski slopes boosted March real estate volume. They ranged from $1.625 to $1.85 million and all three sold for more than $700 per square foot.
The new model for sharing water rights allows rights holders to to use their water to raise a crop in early summer and then choose to be compensated for leaving it in the river in late summer and early fall.

Intrawest reports that lift ticket sales from season and multi-day passes, as a percentage of the the whole, have grown almost 9 percent since 2011
In a remarkable comeback, Sammy Del Sordo was back skiing less than nine months after breaking a vertebrae in his neck and damaging his spinal cord in a fall on the slopes.

If an airline consultant's projection of 2.6 percent annual growth in passenger numbers proves out, Yampa Valley Airport would face a decade of austerity.
Driver sight distances on the steep, winding climb to the top of Yellowjacket Pass south of Steamboat are inadequate particularly when the curve causes approaching motorists to stray into the oncoming lane.
Normal families associate Mother's Day with a large Sunday brunch, but our tradition is to throw several pairs of older Nordic skis in the car-top box and head up to the pass to bid the ski season farewell.
The ski season flight operation is subsidized by the resort industry, lodging taxes and a quarter point of sales tax in Steamboat. But the airport's revenues are linked to passenger numbers.
Colorado seeks to close water gap
From the Wasatch Front in Utah, to the ponderosa pine forests of Northern Arizona to the irrigated hay meadows of Northwest Colorado, peoples' lives are linked by the scarcity of water.
Recent photos