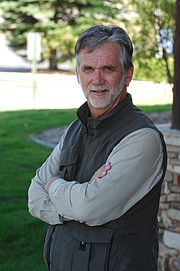 Tom Ross writes a column that appears Tuesdays and Saturdays in the Steamboat Pilot & Today. He also writes features and covers weather news for the newspaper. He started working for the newspaper in 1979.
Tom has a bachelor of arts degree in political science from the University of Wisconsin-Madison. He is from Madison. His interests include Nordic skiing, Fly Fishing, book making and documentary photography.
Recent Stories
A tale of two winters
One of the standout snowpack measuring sites in the region is on Ripple Creek Pass on the way from Steamboat to Trappers Lake, where the snow is 82 inches deep.

Bob Dapper enters commissioner race
Bob Dapper of rural Steamboat Springs seeks Routt County Commissioner District 1 seat.

Refugees worked tirelessly to make it here
When they left Steamboat in 1998 to escape the long winters, the Siou and Ney Hoa Cheng had established themselves among the community's leading restaurateurs. Ney Hoa was everyone's favorite hostess.

Master plan update is an issue
Routt County is seeking candidates for seats up for renewal on its Planning Commission at a time when the Board of Commissioners is sending strong signals that it would like the commission to tackle the task of updating its master plan.

Coal fuels local jobs
"Specifically, it's defending the local coal industry, and we're willing to throw Front Range coal plants under the bus." – Routt County commissioner Tim Corrigan

Partners need jobs too
The Steamboat Springs Chamber Resort Association's Trailing Partner Program s intended to support the employment goals of partners of people who have already landed a new position in Routt County.

Steamboat skiers and snowboarders prefer their champagne dry, but the relatively wet snow that buried the slopes over the weekend put a big boost into the snowpack on nearby Rabbit Ears Pass

Early diamond hitch Winter Carnival parade floats relied heavily on patriotic themes — Uncle Sam, the Statue of Liberty, Martha and George Washington.
The historical record suggests the creation of Steamboat Springs High School's famous skiing band may have been motivated by H.D. Alexander's claims that local youngsters could do anything on skis.
STARS indicated it wanted more time to deal with issues related to its permit application.
Recent photos