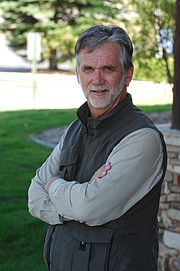 Tom Ross writes a column that appears Tuesdays and Saturdays in the Steamboat Pilot & Today. He also writes features and covers weather news for the newspaper. He started working for the newspaper in 1979.
Tom has a bachelor of arts degree in political science from the University of Wisconsin-Madison. He is from Madison. His interests include Nordic skiing, Fly Fishing, book making and documentary photography.
Recent Stories
The commissioners are taking on the contract in order to make progress this year and with the expectation they will be able to work out a cost-sharing agreement with the city at a later time.
Family Barber Ken Shovick's great redeeming quality was that he loved to be insulted as much as he loved mercilessly teasing his customers.
The question is whether Routt County's waterbody setback regulations as drafted accomplish clean water without unduly hindering development.

Retiring Routt County Environmental Health Director Zopf was 24 years old in 1977 when he spied a job opening in Steamboat that became his life's work.
The United States Ski and Snowboard Association named former Steamboat snowboard coach Jon Casson it's new coach development manager, development programs for coaches nationwide in all snow sports

Developer Stacey Bumgarner said the new building, which broke ground on Steamboat's west side, could be the first of several more to be developed completing the West End Plaza office park.

While most of the country was still feeling the effects of the lingering economic depression, 1939 was a banner year for local builders. Construction began on the Hotel Harbor in 1939.
Routt County Commissioners not ready for live TV, but exploring call-in phone access to allow grreater access to public hearings at the courthouse.
After a decade without pay raises, new state laws give elected officials in Routt County a 61 percent salary bump in 2019

A weed called foxtails sent a three-year-old yellow Lab named Grady Day to a veterinary clinic in Denver this month for emergency surgery. Thousands of dollars later, Grady is back to his old self this week.
Recent photos