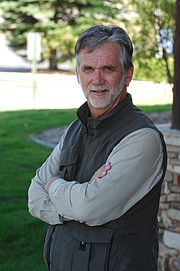 Tom Ross writes a column that appears Tuesdays and Saturdays in the Steamboat Pilot & Today. He also writes features and covers weather news for the newspaper. He started working for the newspaper in 1979.
Tom has a bachelor of arts degree in political science from the University of Wisconsin-Madison. He is from Madison. His interests include Nordic skiing, Fly Fishing, book making and documentary photography.
Recent Stories
The dry spell could break over the holiday weekend with the greatest chance of rain arriving Sunday in the Park Range outside Steamboat as well as in the Flat Tops.

Flying Diamond Ranch is a year-round cattle operation occupying the northern ridges of Thorpe Mountain where conserved land is visible to motorists traveling a two-mile stretch of the highway.

"Ski Town Shenanigans" illustrates why its difficult to take life seriously living in a town where bears can open the doors of Subarus, and people come home from vacation to find strangers sleeping in their beds.

"It's going to be the economic downfall of our state and probably of our nation. Our transportation infrastructure is pitiful." – Routt County Commission Chairman Doug Monger
Southwestern energy, which acquired the mineral leases of Shell Oil here for $180 million in 2012, also has a pending permit application at the state level for a new well north of Hayden.

A chartered Gulfstream jet inbound from Rocky Mountain Metro Airport swooped over the runway at Yampa Valley Regional Airport to gauge a stiff cross wind, circled back and touched down.
Politeness counts. When threatened by a cow moose with youngsters in tow, do not say "Excuse me for living Mrs. Bullwinkle."

Any new chairlifts, as well as a higher-capacity gondola, which is being considered, would still go through the rigorous National Environmental Protection Act process overseen by the Forest Service.

The contractors on the repaving of the runway at Yampa Valley Regional Airport lost 16 full days and more than 20 in aggregate to unusually wet weather in May.

Routt County isn't talking, at this point, about going as far as Moffat has, allowing OHV use on all county roads unless otherwise posted.
Recent photos