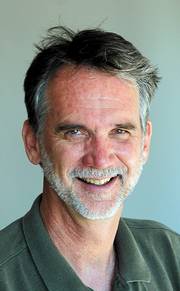 Tom Ross writes a column that appears Tuesdays and Saturdays in the Steamboat Pilot & Today. He also writes features and covers weather news for the newspaper. He started working for the newspaper in 1979.
Tom has a bachelor of arts degree in political science from the University of Wisconsin-Madison. He is from Madison. His interests include Nordic skiing, Fly Fishing, book making and documentary photography.
Recent Stories

Weather forecaster Chris Cuoco confirmed that the official rainfall total for the 24 hours preceding 7 a.m. Wednesday was 0.98 inches, well short of the record of 1.29 inches set in July 1996.
The HOA and one of Marabou's homeowners were seeking the change to resolve an awkward legal situation for the HOA, and to allow one of the homeowners to create an apartment in a private barn.
Earl Bascom overcame his on-again, off-again education to became a highly collected Western artist, as well as a legendary rodeo cowboy whose designs for early bucking chutes and the one-handed bareback bronc saddle changed the sport forever.
Only three of the flights through July 22 were booked to capacity with 50 passengers, but a total of 15 were scheduled to carry 40 or more passengers.
A flight on the 50-passenger Embraer RJ145 leaving Houston for Hayden/Steamboat Aug. 7 and returning Aug. 12 confirmed that the majority of the seats are sold. United quoted a low fare of $575 for the round-trip flight operated by Expressjet.
County facilities director Tim Winter said that a lightning-arrest system, resembling a low barbed wire fence around the perimeter of the jail's roof, was installed in 1994. It includes ground wires that run into a liquid-filled container buried in the ground.
In addition to the table and toilet, Routt County Riders seeks the option to install informational signs describing nearby geology, area attractions or possibly nearby coal-mining activity.

The sports car races helped to establish Steamboat as a summer tourism destination that could rely on volunteer labor to pull off complicated events.
Steamboat Ski Corp. Senior Vice President of Sales and Marketing Rob Perlman said ski corp. executives have had discussions with Southwest Airlines, which has a rapidly growing presence at Denver International Airport, but is not a hub airline.
When work on Routt County Road 14 resumes in 2015, seventh-10ths of a mile of road will be re-paved on the north side of Yellowjacket Pass, but not until the elevation of 600 feet of roadway is lowered to improve vehicular sight lines at the top of the pass.
Recent photos