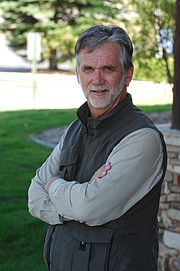 Tom Ross writes a column that appears Tuesdays and Saturdays in the Steamboat Pilot & Today. He also writes features and covers weather news for the newspaper. He started working for the newspaper in 1979.
Tom has a bachelor of arts degree in political science from the University of Wisconsin-Madison. He is from Madison. His interests include Nordic skiing, Fly Fishing, book making and documentary photography.
Recent Stories

Intrawest CEO Bill Jensen replaced by Thomas Marano.
The United Airlines flight between Houston and Hayden had an eight-week run last summer from June 26 to Sept. 1 with some weekday blackouts during the last two weeks of August.
On the human capital side of the ledger, Routt County commissioners hope an $82,000 increase in the Human Services budget will provide childcare support for another 28 children living in households whose annual incomes are under 130 percent of federal poverty levels.

Meteorologist Mike Weissbluth expects two waves of five to 10 inches of fresh snow each to blanket Steamboat Ski Area Saturday and Sunday nights.
Yampa Valley Housing Authority Executive Director Jason Peasley said his organization is prepared to hold the mortgages of existing Routt County Habitat for Humanity households.
A Steamboat building contractor has confirmed his company will be building two homes at The Range in Wildhorse Meadows in the summer of 2015.

Former Steamboat Ski & Resort Corp. Senior Financial Analyst Kyrill Kretzschmar will begin work as the city's new recreation and enterprise manager on Monday.
Cari Hermacinski is Routt County's District 3 commissioner-elect after this week's validation process for ambiguous ballot signatures affirmed her election night victory.
The Weather Service reported the temperature at the summit of the Steamboat Ski Area, was 2 degrees at noon Wednesday. But temperatures are expected to moderate Thursday and Friday as a storm brings natural snowfall to the Park Range.
Routt County Manager Tom Sullivan said if he needs help as interim Yampa Valley Regional Airport manager, he could call on former Pitkin County Manager Hilary Fletcher, who works for an aviation consulting firm in Denver, but he doesn't expect that to happen.
Recent photos