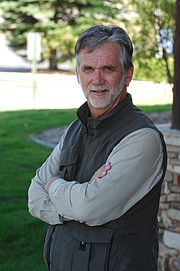 Tom Ross writes a column that appears Tuesdays and Saturdays in the Steamboat Pilot & Today. He also writes features and covers weather news for the newspaper. He started working for the newspaper in 1979.
Tom has a bachelor of arts degree in political science from the University of Wisconsin-Madison. He is from Madison. His interests include Nordic skiing, Fly Fishing, book making and documentary photography.
Recent Stories
The side of Routt County Attorney John Merrill the public didn't see was the man who liked to go on walkabouts, popping in on employees in other departments just to chat and form relationships.
The plan to create modern RV hookup camp sites at the Routt County Fairground is viewed as a piece of economic development for both the Fair Board and the town of Hayden.
In addition to the vintage outhouse, there is a claw-foot bath tub on the auction block at the benefit for Crossan's M&A Market in Yampa.
It was in Boulder that Steamboat founder James Crawford met three influential bankers who in 1883 would play a role in establishing town's future
A pair of market-rate apartment building projects on opposite ends of Lincoln Avenue with the combined potential to add 94 rental units to Steamboat Springs' tight housing market have entered the city planning process.

The bright green parking spots on 10th Street adjacent to City Hall are reserved for electric cars whose owners who are welcome to charge up their cars at no charge.
Construction crews from Connell Resources began work Monday on an unglamorous but critical $1.5 million utility project.
Yampa Valley Housing Authority makes its pitch for federal income tax credits to help fund 48 affordable new apartments on Steamboat's west side.
Routt County does not have definite confirmation of whether any 911 calls were missed during July 6 phone, Internet outage resulting from sliced Century Link fiber optic cable.

Notable on the winter 2015/2016 winter airline schedule released by the Steamboat Ski & Resort Corp. is the decision to boost the service between the Yampa Valley (YVRA) and Los Angeles to daily fights.
Recent photos