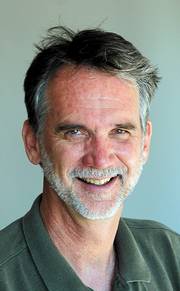 Tom Ross writes a column that appears Tuesdays and Saturdays in the Steamboat Pilot & Today. He also covers land use policy issues, housing, real estate and outdoor recreation for the newspaper. He started working for the newspaper in 1979.
Tom has a bachelor of arts degree in political science from the University of Wisconsin-Madison. He is from Madison. His interests include Nordic skiing, Fly Fishing, book making and documentary photography.
Recent Stories
Consistently warm weather over the next couple of weeks could support streamflows by saturating soils with snowmelt, resulting in a more efficient runoff.
Some of the stones on Rocky Peak at the head of Strawberry Park north of Steamboat Springs are among the oldest rocks on earth. They are about 2.7 billion years old.
Hedge fund manager Deer Park Road Corp. employs 15 people, 13 of them full time. Fourteen of them have professional roles with the company, and an even dozen already lived in Steamboat Springs at the time they signed on.

The construction project would return the Sheraton Steamboat Resort at the base of Steamboat Ski Area to 285 guest rooms.
Routt County Environmental Health Director Mike Zopf said he would make a 2013 budget request that the county seek a cost-share with the city of Steamboat Springs for an ozone monitoring program. The program is estimated to cost $175,000 for three years.

In the case of this early morning phone call, the caller's dog had experienced a close encounter with erethizon dorsatum — a porcupine.
Things will change drastically by midweek. After a forecast high in the mid-60s Monday, the daily high should rise to 75 degrees under mostly sunny skies Tuesday and touch 80 degrees Wednesday.

Fifteen offers on 13 building lots at Steamboat Barn Village could signal contract home construction.

I've always urged that it's important to visit other mountain towns to gain new insights into the quirky, little burgh we happen to inhabit.
The committee that reports to Steamboat Springs City Council on the airline contracts that secure the majority of Steamboat's and Routt County's air service received good news Friday — the past winter's ski season jet flights weren't nearly as expensive as once feared. But challenges remain.
Recent photos