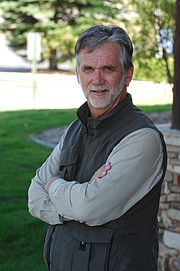 Tom Ross writes a column that appears Tuesdays and Saturdays in the Steamboat Pilot & Today. He also writes features and covers weather news for the newspaper. He started working for the newspaper in 1979.
Tom has a bachelor of arts degree in political science from the University of Wisconsin-Madison. He is from Madison. His interests include Nordic skiing, Fly Fishing, book making and documentary photography.
Recent Stories
"In the broader context of things, I don't think there are too many people in the community who aren't applauding a free market solution to a rough rental market," – Planning Commissioner Charlie MacArthur.
The mega-storm that is threatening the Southern Rockies this weekend is unlikely to bury Steamboat, according to snow forecasters, but the ski area could accumulate about a foot by the end of the day on Monday.
The Alpiner motel owners came to the city formally in October 2014 seeking to operate a portion of the property as a lodge. Approval of that use was conditioned on the rooms not being rented long term and required that fewer than 20 rooms be rented.
January delivered mixed results among different property management companies and part of the fall-off was attributable to hesitant Front Range skiers who are very discerning about ski conditions.
The number of requests for building inspections has increased annually since 2011 when the total was 3,875 to 4,996 in 2014.
The Steamboat Movement Fest will offer outdoor yoga classes along with vendor villages in Gondola Square and live music on the performance stage.
A majority of the Planning Commission agreed that the five-acre lots called for in the Deer Mountain plan are preferable to the existing platted subdivision of 35-acre parcels.
A search of United Airlines flights confirms that flights between YVRA and Denver June 18 will be on a 50-passenger Embraer RJ145 jet flown by Trans States. A search in mid-July still reflects service by Republic Airlines on the Q400.
In addition to wildfire fuels reduction, a major component of the U.S. Forest Service Steamboat Front plan involves cutting back mature mountain shrubs in a patchwork fashion to improve forage for deer and elk.
Combining the city of Steamboat's sewer interceptor project with water and sewer line replacement for the homes in the Fish Creek Mobile Home Park provides an economy of scale.
Recent photos