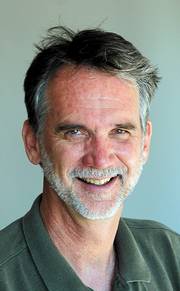 Tom Ross writes a column that appears Tuesdays and Saturdays in the Steamboat Pilot & Today. He also writes features and covers weather news for the newspaper. He started working for the newspaper in 1979.
Tom has a bachelor of arts degree in political science from the University of Wisconsin-Madison. He is from Madison. His interests include Nordic skiing, Fly Fishing, book making and documentary photography.
Recent Stories

Merrilee Ellis told the county commissioners this week the conservation easement factors into estate planning that will allow the ranch to stay in the family indefinitely. The ranch has been in the ownership of the Neelis/Ellis Family for more than 20 years.
No matter how long you've been here, there are certain things you ought to know how to do living in Steamboat. We're not talking the obvious how to ski or bike, but the more intrinsic things to have in your seasonal arsenal here in Ski Town USA. No masters ourselves, we combed the valley floor for tips from experts to help ease the learning curve.
Candidate Chuck McConnell said the charge that he backs a plan to drain tax dollars out of public schools in Routt and Eagle counties and send them to private schools in Denver is "ludicrous, but probably hurting me." The claim was made in a super PAC mailer.

Routt County does not expect to have a manager hired for Yampa Valley Regional Airport until after the busy December holiday season when vacationing skiers pour into Steamboat Springs.

Spike the dragon may may have enjoyed more fame in his career, but Phoenix, Steamboat's newest dragon, is both bigger and better acclimated to a wintry climate,
After Jason Cobb said he would be willing to eliminate the final segment of his planned zip line adventure, the commissioners tentatively agreed that he may have struck on a way to address the neighborhood's concerns about the noise the zip line might generate.
Project Manager Eric Marsh confirmed that paving crews made the most of the unseasonably mild weather of Oct. 20 to 25 and completed the asphalt work on U.S. Highway 40 in Steamboat Springs.
The zip line, approved by Planning Commission Sept. 4, would begin on the upper portion of a 71-acre parcel of land off U.S. Highway 40 where it ascends the lower portion of Rabbit Ears Pass.
A line of rain and snow will move through Colorado from Aspen to Steamboat on Sunday night into early Monday morning, but the first week of November likely will be mild and dry.

Whether it's for an hour after school or a full day during summer vacation, youngsters are welcome at the Boys and Girls Club at remarkably low rates.
Recent photos