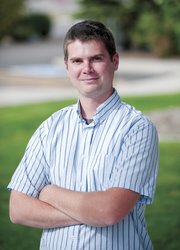 Scott Franz is a reporter and photographer for the Steamboat Pilot & Today. He earned his bachelor's degree in journalism from the University of Colorado at Boulder. He interned as a reporter at the Boulder Daily Camera and as a photographer at Rich Clarkson and Associates in Denver.
Scott grew up in Austin, Texas, and plans to enjoy all of the outdoor activities Steamboat has to offer … and all of the days that don't reach 100 degrees.
Recent Stories

After years of complaints about the safety of 13th Street, which is used by many bikers and Fairview residents, there are now plans to install new digital speed limit signs this spring that will aim to slow down vehicular traffic.

Council President Bart Kounovsky said past councils have for decades passed on opportunities to invest in the downtown corridor, and the current council should be the one to pull the trigger.

The century-old Workman home at 603 Yampa St. must be relocated or demolished before the city can follow through with its plan to convert the riverside property into a public park this summer.
The Steamboat Springs City Council on Tuesday night endorsed the creation of a seven-member citizens committee that will help plan for the new station that will replace the cramped police headquarters on Yampa Street.
The fundraising effort comes as ice arena stakeholders report high demand for the existing ice in prime time.
Area wildlife manager Jim Haskins said it appears the moose ran over the woman from behind while she was walking two dogs on a road in Storm Mountain Ranch.
But first, the council will have to come to a consensus on the committee's role in the project.
The move to change the noise ordinance comes nearly two years after some council members started forwarding a few complaints about the street sweeper noise to the public works department.

The founders of Steamboat Sticker shipped their first order of stickers in January, 2014, and the stickers have since been making their way to retailers in more than 18 states around the country.
Eric Berkey was nervous about returning to the ski slopes as a quadriplegic. Then he met two men in Steamboat Springs who had an invention that would help him get on the slopes.
Recent photos