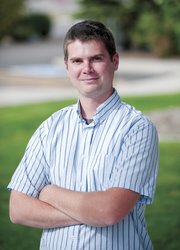 Scott Franz is a reporter and photographer for the Steamboat Pilot & Today. He earned his bachelor's degree in journalism from the University of Colorado at Boulder. He interned as a reporter at the Boulder Daily Camera and as a photographer at Rich Clarkson and Associates in Denver.
Scott grew up in Austin, Texas, and plans to enjoy all of the outdoor activities Steamboat has to offer … and all of the days that don't reach 100 degrees.
Recent Stories
Search and rescue volunteer Kristia Check-Hill said the woman in her late 30s called 911 at 11:30 p.m. Saturday night to report she couldn't get back to her vehicle because she was lost in the woods.
Council members Scott Ford and Sonja Macys, who have twice this year made unsuccessful efforts to seek a new city manager, asked for the closed door session about Deb Hinsvark that could take place tonight.
When four to five finalists are selected, they will be brought to Steamboat for interviews and to meet with community members. City Manager Deb Hinsvark said the search process should take about 90 days.
Her announcement ensures that there will be at least three new council members on the dais in November.

Brooke and Ryan Lightner were celebrating their 10th wedding anniversary at a sushi restaurant on Yampa Street late Thursday night when they saw something surreal happening outside.

The Housing Authority and development partner Overland Property Group recently learned their 48-unit affordable housing project in west Steamboat will be backed by nearly $11 million in low income housing tax credits from the Colorado Housing Finance Authority.

After receiving a single construction bid that was about 25 percent over the anticipated cost of the project, the city of Steamboat Springs has decided to hold off on the reconstruction of Central Park Drive until next year.

As she listened to the city's only female police officer describe a lack of transparency, possible gender discrimination and overly-aggressive police officers at the Steamboat Springs Police Department, City Manager Deb Hinsvark sounded conflicted.
City Manager Deb Hinsvark said Tuesday she has decided not to offer the deputy city manager job to the lone finalist who was brought to Steamboat last week from Florida to meet community members.
Interim Police Chief Jerry DeLong is reviewing other reports from the investigation to determine if they will be released.
Recent photos