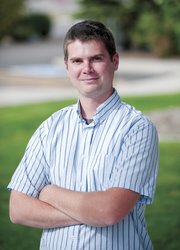 Scott Franz is a reporter and photographer for the Steamboat Pilot & Today. He earned his bachelor's degree in journalism from the University of Colorado at Boulder. He interned as a reporter at the Boulder Daily Camera and as a photographer at Rich Clarkson and Associates in Denver.
Scott grew up in Austin, Texas, and plans to enjoy all of the outdoor activities Steamboat has to offer … and all of the days that don't reach 100 degrees.
Recent Stories

There's a good chance the next piece of pork you eat at Creekside Cafe owes some of its good taste to the spent grains the pig ate from a local brewery in Steamboat Springs.
The Sheraton Steamboat Resort found housing for dozens of its seasonal workers by leasing out 23 rooms in the city's defunct Iron Horse Inn close to downtown. In a similar arrangement, Resort Group secured housing by leasing out the empty Alpiner Lodge on Lincoln Avenue.

It won't be a trip to the International Space Station, but it will be as close to one as you can get right now here on Earth.
The Steamboat Springs City Council made it clear Tuesday night that it wants to soon invest in some major improvements like sidewalks and lighting in downtown Steamboat.

Although the cut was "disappointing," a majority of the council agreed it should respect the city's grant vetting process that led to the reduced funding and not invest any more city dollars in the series of concerts this year.

Council members Scott Ford and Sonja Macys made it clear they want the council to consider starting a search for a new city manager.
A recruiter from Holland America Line and Princess Cruises will be at Stock Bridge Transit Center from 11 a.m. to 5 p.m. Friday seeking drivers who want to spend their summer in Alaska or the Yukon.
The council meets at 5 p.m. Tuesday in Citizens Hall. Public comment is accepted on each agenda item. General public comment on items not on the agenda is accepted at 7 p.m. or at the end of the meeting, whichever comes first
Based on recent comments from council members, a public vote on the station appears to be unlikely, but there are several members who are open to the idea of forming a citizens committee to recommend building sites.
Tony Connell is now proposing that the council consider using a new written conflict of interest disclosure form to be more transparent and avoid similar situations and controversies in the future.
Recent photos