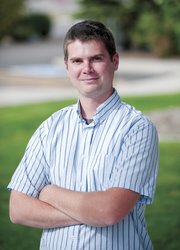 Scott Franz is a reporter and photographer for the Steamboat Pilot & Today. He earned his bachelor's degree in journalism from the University of Colorado at Boulder. He interned as a reporter at the Boulder Daily Camera and as a photographer at Rich Clarkson and Associates in Denver.
Scott grew up in Austin, Texas, and plans to enjoy all of the outdoor activities Steamboat has to offer … and all of the days that don't reach 100 degrees.
Recent Stories
City Council members asked prospective commission members about their view on such things as a possible parks and recreation taxing district and whether they'd want the commission to dive back into master plans for Rita Valentine and Bear River parks.
City staff has since last year considered privatizing the department as a way to make it more efficient, but Routt County officials earlier this month indicated they would reject such a proposal.

Cities including Steamboat see these URAs as an important tool to restore run-down or "blighted" areas, while some counties see them as an abused tool that has diverted millions of dollars' worth of property taxes away from counties, school districts and other entities.

The Northwest Colorado Visiting Nurse Association is starting the group for 12- to 15-year-olds.

The strategic plan addresses staffing and equipment needs through 2020 and discusses possible goals that include establishing a new fire station west of town, increasing staffing to meet a higher demand of emergency calls and moving administrators and other services to a central fire station downtown.
In a news release, city officials say the current forecast from the National Resource Conservation Service forecast in Colorado calls for above average river flows from April Through July.

Some projects, such as a 9,000-square-foot expansion at the Howelsen Ice Arena, could be considered wants. Others, such as the $3.2 million worth of water main upgrades and replacements, someday will be needs.

For nearly four decades, the city's water superintendent has been a key part of why residents here in Steamboat Springs always have access to some of the cleanest, clearest drinking water in the state.

A day after the Steamboat City Council didn't bite at the group's recommendation to use the lodging tax dollars to purchase a riverside lot at Seventh and Yampa, the seven volunteers regrouped with city staff to start vetting other options.

Veterans don't complain. They adapt.
Recent photos