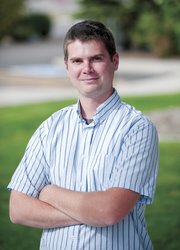 Scott Franz is a reporter and photographer for the Steamboat Pilot & Today. He earned his bachelor's degree in journalism from the University of Colorado at Boulder. He interned as a reporter at the Boulder Daily Camera and as a photographer at Rich Clarkson and Associates in Denver.
Scott grew up in Austin, Texas, and plans to enjoy all of the outdoor activities Steamboat has to offer … and all of the days that don't reach 100 degrees.
Recent Stories
Elk River Valley residents Jim and Jo Lauter have created an exercise device that allows anyone to mimic the sport of horseback riding from the comfort of their living room.

When music and beer return to the iconic restaurant building near the base of the Steamboat Ski Area, the new establishment will fittingly be known as The Wreck.

From an exhausted skier to a family that doesn't want to pack into a car on a snowy night to that man who doesn't want to make the trip to the grocery store, Wunder can think of a number of different people who will use her new delivery business.

As thousands of visitors prepare to take their winter vacations here, some employers are scrambling to find the employees that will keep the city's restaurants, hotels and small businesses humming.

Intrawest CEO Bill Jensen replaced by Thomas Marano.

The change could be useful for some long term-downtown parkers especially when the city rolls out new license plate reading technology to improve parking enforcement or if parking meters are installed downtown.
The launch of the new daytime winter schedule on Dec. 7 will coincide with the launch of a new GPS tracking service that will allow riders to use their smartphones to track buses in real time and see exactly when a bus is due to arrive at any of the bus stops in the city.
Susan Petersen, the city's longtime recreation manager, recently resigned to take another career opportunity here in Steamboat. Mike Albrecht, who has supervised the Howlesen Ice Arena for the last six years, also is leaving his post.

Some members felt public safety director Joel Rae's leadership role in the project is appropriate given his many years of experience with the police department. But other members felt it wouldn't be appropriate for Rae to continue being a point person on the station planning because they felt the proposal is controversial and Rae's involvement could end up damaging his reputation.
Magill told his fellow council members that a prospective operator of such a business approached him and said he or she would look to possibly start the company in Oak Creek if the rules here weren't changed.
Recent photos