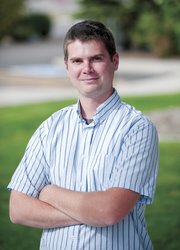 Scott Franz is a reporter and photographer for the Steamboat Pilot & Today. He earned his bachelor's degree in journalism from the University of Colorado at Boulder. He interned as a reporter at the Boulder Daily Camera and as a photographer at Rich Clarkson and Associates in Denver.
Scott grew up in Austin, Texas, and plans to enjoy all of the outdoor activities Steamboat has to offer … and all of the days that don't reach 100 degrees.
Recent Stories

Moffat County's top law enforcement officials traveled to Steamboat on Monday to talk about what it's like for multiple agencies to work together under the same roof.
City Manager Deb Hinsvark said the deputy city manager will oversee things including public outreach and performance management programs.

A driver who pumped 15 gallons of unleaded gas at the Western Convenience station on Sunday last week paid $21 less than they did last year.
Lila M. Stucker faces 144 counts of embezzlement of public money, a Class Five Felony, as well as felony theft charges after a bookkeeper in the Treasurer's Office provided an investigator with evidence that Stucker misappropriated $21,057 in county funds from 2006 to 2013.

At lower elevations in Steamboat Springs, only modest snow accumulations are expected Friday and Saturday.
Isaias Simon and his sister, Ana Simon, are accused of threatening to have a boy deported if he did not pay them $2,000 to fix their vehicles.

State Representative Diane Mitsch Bush will continue to push for new legislation that would require more drivers to use snow tires or chains on Interstate 70 in the mountains despite the State Senate's move to study the issue first.
The working group will study alternative funding sources for parks and recreation amenities.
The Steamboat Springs City Council took no action and had nothing to say publicly Monday night after it met for three hours behind closed doors to discuss a police misconduct investigation and City Manager Deb Hinsvark's work performance.
The forecast calls for possible wind gusts of 45 to 55 miles per hour on Tuesday afternoon.
Recent photos