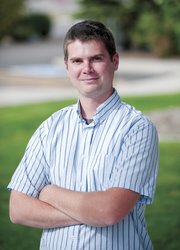 Scott Franz is a reporter and photographer for the Steamboat Pilot & Today. He earned his bachelor's degree in journalism from the University of Colorado at Boulder. He interned as a reporter at the Boulder Daily Camera and as a photographer at Rich Clarkson and Associates in Denver.
Scott grew up in Austin, Texas, and plans to enjoy all of the outdoor activities Steamboat has to offer … and all of the days that don't reach 100 degrees.
Recent Stories

Pilots based at Steamboat Springs Airport soon will have some new neighbors.

The flight plan for Steamboat Springs' upcoming winter air service program will grow the program's number of round trip seats by 8 percent, expand flights to and from some west coast destinations and dedicate $250,000 to spend on the marketing of winter flights.
After 14 public meetings, some significant compromises and 18 "yes" votes from the members of four government bodies in Routt County, Steamboat Springs' hard urban growth boundary could be easier to move.

City staff on Tuesday night will outline its plan to revive and repurpose the city's green team that used to spearhead sustainability initiatives at the city ranging from a bike sharing program to composting at some city facilities.
Company also discusses latest earnings report
Intrawest acquired its first 50 percent interest at Blue Mountain in 1999 and has operated it as a joint venture with Blue Mountain Resorts Holdings Inc. ever since.

There's something very different about Steamboat's current parks and recreation commission.

The early 1900s weren't a good time to be a river otter in the state of Colorado. Today, wildlife biologists here in Northwest Colorado are confirming it's a whole different story.
Sales tax collections were thought to get a boost from the Fourth of July holiday falling on a Friday.

Community members who want to track the number of flights at Steamboat Springs Airport each month or see how many graffiti removal requests the city's parks department gets each year can find that information on a new city Web page.
In November, commercial property owners, landlords and tenants will decide whether to impose an additional property tax of up to 4 mills on themselves to generate that funding for the improvements.
Recent photos