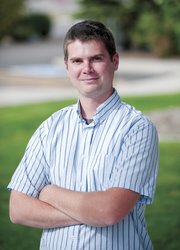 Scott Franz is a reporter and photographer for the Steamboat Pilot & Today. He earned his bachelor's degree in journalism from the University of Colorado at Boulder. He interned as a reporter at the Boulder Daily Camera and as a photographer at Rich Clarkson and Associates in Denver.
Scott grew up in Austin, Texas, and plans to enjoy all of the outdoor activities Steamboat has to offer … and all of the days that don't reach 100 degrees.
Recent Stories

When Arianthe Stettner takes people on historic walking tours downtown, she enjoys taking them way back to a time when glass windows arrived by wagon and horses were way more popular than cars.

Longtime local business owners Bob and Bert Rundell have found a young and enthusiastic couple to take over their one-stop automobile shop in west Steamboat Springs.

When he took off from Steamboat Springs Airport earlier this month, Terry Stewart was looking forward to getting the license he needed to start flying from his home in Houston to his new vacation home in Estes Park.
Investigators think the man was running supplies to his sheepherders when he died in the crash.
The latest campaign finance reports filed by local candidates running for treasurer, state representative and county commissioner reveal half of the candidates are raking in much more campaign cash than their opponents.

A look at liquor license activity in Steamboat Springs since 2006 shows Steamboat is seeing a shuffling of restaurants on a level it hasn't seen in many years.
Several conflicts with the dogs and people and concerns about people's safety ultimately led wildlife officials to tranquilize calf's mother and take her to the Flat Tops.

Dyllan Spitzley didn't want to have to say a tearful goodbye to her beloved animal like many other children do at the Routt County Fair every year.

If you're still looking for that screensaver-worthy photo this summer, I've got an easy trip for you.

Ted, the ambassador of the Steamboat Springs Airport, had a big personality.
Recent photos