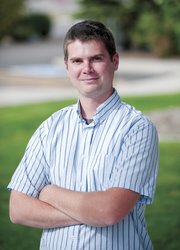 Scott Franz is a reporter and photographer for the Steamboat Pilot & Today. He earned his bachelor's degree in journalism from the University of Colorado at Boulder. He interned as a reporter at the Boulder Daily Camera and as a photographer at Rich Clarkson and Associates in Denver.
Scott grew up in Austin, Texas, and plans to enjoy all of the outdoor activities Steamboat has to offer … and all of the days that don't reach 100 degrees.
Recent Stories
"We're still just working on the process," Council President Bart Kounovsky said Wednesday following an awkward conclusion to what was supposed to be City Manager Deb Hinsvark's regularly scheduled performance review Tuesday night.

Steamboat residents looking for Baconators, spicy chicken sandwiches and Frosty treats soon won't be able to find them at the Wendy's at the corner of U.S. Highway 40 and Anglers Drive.
An upcoming community debate could ultimately decide whether parking meters return downtown more than 60 years after they were ripped out of Lincoln Avenue and smashed at a party.

In the same evening, the council could start to direct some changes to downtown parking and also take the final step to purchase an old house on Yampa Street with the intention of converting the property into a public park. The council earlier this month voted 6-1 to pass the first reading of the purchase of the Workman property at 603 Yampa St. for $617,000.

Lynne Romeo is hopeful when her business Ciao Gelato closes its doors Wednesday amid a search for a new location, it won't be gone forever.

A parking consultant with Desman Associates on Tuesday night will tell the council it should consider installing parking meters on Lincoln Avenue and Yampa Street where they run from Fifth to 10th streets.

Walk into the Discovery Learning Center and you immediately notice there's something about this place that children really love.

​Blue Sage Pizza has been on a roll lately. ​In the past year, the long-established local company has outgrown its small space in Central Park Plaza and now has two bigger locations on both ends of town. Oh, and the pizza still is really good — so good, in fact, that it earned top honors in this year's best pie category.

​In a ski town where there are as many Mexican restaurants as there are ski shops, Fiesta Jalisco continues to be the restaurant to beat.

​With 7.2 percent alcohol by volume and a gruesome name, Butcherknife's new Amputator sounds a little intimidating.
Recent photos