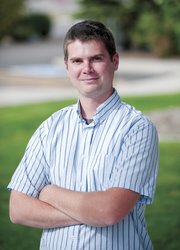 Scott Franz is a reporter and photographer for the Steamboat Pilot & Today. He earned his bachelor's degree in journalism from the University of Colorado at Boulder. He interned as a reporter at the Boulder Daily Camera and as a photographer at Rich Clarkson and Associates in Denver.
Scott grew up in Austin, Texas, and plans to enjoy all of the outdoor activities Steamboat has to offer … and all of the days that don't reach 100 degrees.
Recent Stories
A series of one-on-one meetings between Steamboat Springs City Council members and the head of the city's parks and community services department were cancelled last week after two council members expressed concern the meetings could violate open meetings laws.
Steamboat Springs City Manager Deb Hinsvark continues to have the support of five of her seven bosses.

However, the city's bus lines that are the least utilized during the year, including the yellow and purple lines, could continue to see some tweaks or cuts.

In the past, when the American flags were removed from James Albert Chew's grave after Memorial Day ceremonies, all of the visible reminders of the man's military service disappeared from the Steamboat Springs Cemetery.
As of Friday, the city had received back more than 1,000 of the 3,000 surveys it sent out to random households in the city and the county.

City staff will host an open house at the Workman park at 603 Yampa St. at 5:30 p.m. Wednesday.
The public will soon find out whether the Steamboat Springs City Council believes its partnership with City Manager Deb Hinsvark has improved since November.

In the eyes of the committee, the construction of a combined city and county facility in west Steamboat is a better alternative to the city building a new station on its own or renovating its current police headquarters on Yampa Street.

From a new artist studio to a new store that will feature lingerie on Lincoln Avenue, here's a quick look at some new establishments coming to town along with some other business updates.

The pared-down winter bus service sputtered and irked many local riders. Now, city officials are hoping to avoid a repeat next winter by recruiting more drivers and walking back the cuts they made to the service.
Recent photos