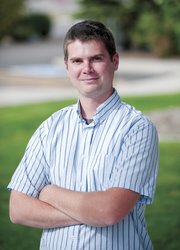 Scott Franz is a reporter and photographer for the Steamboat Pilot & Today. He earned his bachelor's degree in journalism from the University of Colorado at Boulder. He interned as a reporter at the Boulder Daily Camera and as a photographer at Rich Clarkson and Associates in Denver.
Scott grew up in Austin, Texas, and plans to enjoy all of the outdoor activities Steamboat has to offer … and all of the days that don't reach 100 degrees.
Recent Stories

The new group will have its first meeting at 1 p.m. Wednesday in the commissioner's hearing room.
The council took no action after an executive session on Tuesday night that was called to discuss the potential sale of the property that currently has a defunct hotel next to an apartment complex that houses about 50 tenants.
All three of the candidates are Colorado residents who have extensive experience managing cities in Colorado and around the country.

Steamboat Springs City Manager Deb Hinsvark's last day in City Hall was marked by hugs and well wishes from several city employees and a resolve from her seven bosses on the city council to figure out how to avoid similar departures of their managers in the future.
The Steamboat Springs City Council has at least eight people to choose from to lead the city on an interim basis after City Manager Deb Hinsvark's expected resignation and departure Tuesday night.

Two men who were camping at the grow site were taken into custody without incident after an early morning operation that started at 4 a.m.
The incident started just after 6 p.m. when deputies said inmate Threasa Lynn McIntosh, 45, tore pages out of a book and flushed them down the toilet, causing it to plug and overflow and flood the holding cell.

Carson signed books, posed for photos with fans and even fit in a game of pool before giving a speech at the Freedom Conference.

For the second time in three years, residents at the city-owned Iron Horse Inn are worried they may soon lose their homes and have to scramble to find another piece of workforce housing they can afford.

The city's unlicensed growing facilities were thrust into the spotlight on June 13 when a caregiver's medical marijuana grow operation caught fire on Downhill Drive and caused $20,000 worth of damage to the building.
Recent photos