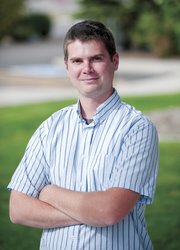 Scott Franz is a reporter and photographer for the Steamboat Pilot & Today. He earned his bachelor's degree in journalism from the University of Colorado at Boulder. He interned as a reporter at the Boulder Daily Camera and as a photographer at Rich Clarkson and Associates in Denver.
Scott grew up in Austin, Texas, and plans to enjoy all of the outdoor activities Steamboat has to offer … and all of the days that don't reach 100 degrees.
Recent Stories
If the change is approved by voters, the School Board would have its first at-large seats up for election in 2015.
As they look back at all of the proposals that were passed over that ranged from the revitaliztion of Yampa Street to the expansion of recreational facilities at Howelsen Hill, some council members are more willing than others to sign off on the lodging tax committee's recommendation.
City officials are hoping community members who already flock to the park to hike, bike or horseback ride will share their thoughts on how the park should be developed in the future.

The graduating seniors plan to study psychology, mechanical engineering, gunsmithing, pediatric nursing, dental hygiene and environmental science, among many other topics.

It'll probably take another couple of weeks for me to get all of the sand out of my car and the focus ring on my camera. By then, I already may be on my way back to the dunes.

Until February, a new fire station was included in all of the city's multiple proposals to relocate its emergency services out of the existing headquarters on Yampa Street.

More than 30 students from The Lowell Whiteman School recently returned from their spring trips around the globe as part of the campus's Global Immersion Studies program.

The program has a team of volunteers on call at all hours to help people who find themselves at Yampa Valley Medical Center following a suicide attempt or who have had suicidal thoughts.

Through early June, motorists should expect to encounter some delays and lane closures at Third Street and Lincoln Avenue as workers improve the traffic signals at the intersection and realign lanes.

The clinics at the Routt County Fairgrounds in Hayden over the weekend marked Brannaman's 20th in the Yampa Valley,
Recent photos