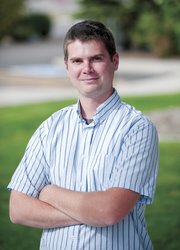 Scott Franz is a reporter and photographer for the Steamboat Pilot & Today. He earned his bachelor's degree in journalism from the University of Colorado at Boulder. He interned as a reporter at the Boulder Daily Camera and as a photographer at Rich Clarkson and Associates in Denver.
Scott grew up in Austin, Texas, and plans to enjoy all of the outdoor activities Steamboat has to offer … and all of the days that don't reach 100 degrees.
Recent Stories

The use of a worm farm to turn organic waste into valuable compost helped Steamboat's Pet Kare Clinic on Wednesday clinch the 2014 Sustainable Business of the Year at an awards ceremony hosted by the Steamboat Sustainable Business Consortium.

The city and the hotel have finalized and signed a four-month rental agreement that will rent the city's vacant hotel to the Sheraton for $18,000 per month.

City Manager Deb Hinsvark also recently updated the council on the city's desire to start using local improvement districts to fill in some sidewalk gaps around the city.
The current council chose to make the allocation to non-profits based on a certain percentage of the city's general fund budget, excluding transfers, capital and debt service payments.

The city reached out to the Humane Society last year to see if it would be interested in taking over the shelter and to propose a business plan. However, the city passed on the plan because it concluded it would have cost the city more money than it currently is paying to run the shelter.
The bullet ended up in the radiator of the truck and did not cause any injuries. Police arrested Steamboat resident Jeffrey Scott Buck, 52, on suspicion of illegally discharging a firearm, criminal mischief, false imprisonment and reckless endangerment.
Casey's Pond employees and visitors don't want to have to ride a shuttle or walk across a highway in the snow this winter to get to and from the senior living center every day.
City Council President Bart Kounovsky floated a compromise plan that would have restored the pay raises that council cut from the 2015 budget last week, but with two caveats.
The arrest of Michael Amendt, 23, on suspicion of illegally discharging a firearm in the Eaglepointe Townhomes marks the second time this month someone has been arrested in the city for allegedly firing a gun inside a residence and placing a bullet dangerously close to others.
Abel Tapia is running against Scott Tipton for Colorado's 3rd U.S. Congressional District seat.
Recent photos