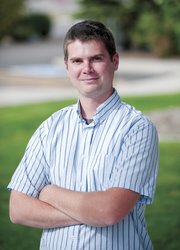 Scott Franz likes to get lost with his camera. His passion for photography grew when he moved to Steamboat Springs, Colorado, to become a newspaper reporter and photographer. He spends his weekends and nights photographing the picturesque Yampa Valley and other Western landscapes in Colorado. He grew up in Austin, Texas, and first started taking pictures while camping with his father, Steve, in Caprock Canyons.
Recent Stories

On Wednesday night, Tennis Center Director Jim Swiggart stood before the city's Parks and Recreation Commission to "talk about the cool things" that have happened at the facility this year.
Pamela Lane residents and three former members of the Steamboat Springs City Council on Wednesday night told their city's Parks and Recreation Commission it still isn't time to allow Triple Crown to play on the ballfields at Emerald Park.
Chris Cole, currently the airport operations officer at the Albuquerque International Sunport in New Mexico, has been named the city of Steamboat Springs' next airport manager.
Some bills are higher because the city is working to get all of its customers on the same billing cycle, and the latest round of bills included 45 days of service for some customers instead of the usual 30.

Next week, the Steamboat City Council will be asked to approve several new appointments to the city's seven-member downtown business improvement district board that has sat dormant and inactive since the last tax vote failed six years ago.
The trails committee alone attracted 28 applicants, many with diverse professional backgrounds ranging from a welder at Moots cycles to a nurse at Yampa Valley Medical Center.

The bad news for powderhounds is there isn't much snow expected to accompany the ongoing cold spell.

Grady Turner started incorporating healthy food in the classroom when he noticed childhood obesity was on the rise.

CDOT has budgeted to spend $6 million on the project on U.S. Highway 40 where it runs between Snow Bowl Plaza and 13th Street, and between Third Street and the pullout near the base of Rabbit Ears Pass.

The city's Parks and Recreation Commission next week will talk about the possibility of adding baseball games at Emerald Park this summer.
Recent photos