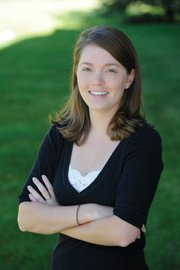 Nicole Miller is the assistant editor at the Steamboat Pilot & Today. She worked as a Colorado Press Association intern for the paper from May through August 2006 and started full time in December 2006. She has a Bachelor of Science in journalism news editorial with an emphasis in environmental studies from the School of Journalism and Mass Communication at the University of Colorado at Boulder. At CU, she worked as the managing editor of The Campus Press, the university's weekly student paper, and launched an online daily news source for students. Nicole is originally from Steamboat but grew up in Aurora and Loveland. She enjoys rooftop margaritas and harassing reporters about deadlines.
Recent Stories
The city of Steamboat Springs collected $1,383,290 in September compared with $1,329,202 in September 2012 for a 4 percent increase, according to a report released Thursday by the city. Collections have increased in every month of 2013, which puts year-to-date sales tax collections up 6.3 percent compared with the first nine months of 2012.

The storm cycle that entered Steamboat Springs on Sunday night had dropped 20 inches at Steamboat Ski Area by Wednesday morning and 12.8 inches in town by Wednesday afternoon.
The Routt County Clerk & Recorder's office had received about 5,300 valid ballots as of Monday evening, according to Elections Supervisor Kim Bonner.
The second pricing deadline for Steamboat Ski Area passes for the 2013-14 ski season is Monday. Beginning Tuesday, most pass prices increase for the final time ahead of the ski season.
The change was intended to attract more candidates and make the races more competitive. It takes effect this fall when three of five seats are up for election.
Season passes for adults 18 to 69 are $979, teens 13 to 17 are $539, seniors 70 and older are $429 and children ages 6 to 12 are $299 if purchased by the early deadline.
The city collected $2,197,395 in March compared with $2,124,982 in March 2012, an increase of 3.4 percent and a slight bump from the preliminary March report, which showed a 3.1 percent increase.
The Steamboat Springs Education Fund Board on Wednesday night approved its 2013-14 budget after giving its final support to all grant requests from Routt County's three school districts.
Sales tax collections in Steamboat Springs increased in March, but the growth slowed dramatically from January and February of this year, when it neared double digits.
Sales tax collections in the city of Steamboat Springs were up 7.6 percent in February compared with February 2012, according to a final report released Monday.
Recent photos