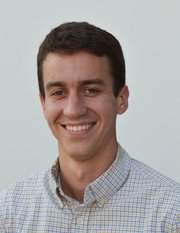 Nate Waggenspack is the Craig Daily Press sports reporter. He came to Craig in May 2012 after being born and raised in Kettering, Ohio, in the southwestern part of the state. He attended Alter High School (go Knights) and received a degree in communication from the University of Dayton (go Flyers). While not watching or reporting on sports, he enjoys watching movies, running and craft beer.
Recent Stories

According to Colorado Parks and Wildlife information-gathering, the large migrations of elk in far Northwest Colorado didn't come early enough to make the big-game hunting easy on everyone.
Former Hayden and Moffat County athlete Chris Zirkle raced at the National Association of Intercollegiate Athletics nationals in cross-country during the weekend.
Conny Mullis, 45, was sentenced Wednesday in Moffat County District Court to 20 years in prison for methamphetamine possession with intent to distribute.

Trent Parrott, 18, brought back a six-by-six bull from Game Management Unit 2 in northwest Moffat County this muzzleloader season after drawing one of the toughest tags to get in the state.

The store opened its doors in 1929 and will close Oct. 12. Business hours have been shortened to 8 a.m. to 8 p.m. until the closure.
The competition between golfers from each city takes place Saturday and Sunday.

Noah Coughlan, 29, is undertaking the venture to raise awareness for Batten disease, a rare, genetic brain disease that occurs in two to four of every 100,000 births in the United States.

The Steamboat Springs High School golf team fell just short of the team win Wednesday in a tournament at Yampa Valley Golf Course in Craig.

Three fires continued to burn in western Moffat County Friday, but no structures or people are expected to be threatened after a busy 24 hours of battling fires in Northwest Colorado that began Thursday afternoon. The Wild fire and Hacking fire ignited Thursday on Wild Mountain in the western part of the Dinosaur National Monument and have burned an estimated 362 and 10 acres, respectively, as of late Friday, according to a news release from monument officials.

The Moffat County girls basketball team had work ethic and a been-here-before attitude for the 2012-13 season. With seven seniors who had contributed varsity minutes the year before, expectations were high for the Bulldogs.
Recent photos