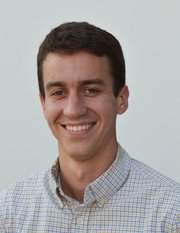 Nate Waggenspack is the Craig Daily Press sports reporter. He came to Craig in May 2012 after being born and raised in Kettering, Ohio, in the southwestern part of the state. He attended Alter High School (go Knights) and received a degree in communication from the University of Dayton (go Flyers). While not watching or reporting on sports, he enjoys watching movies, running and craft beer.
Recent Stories

The Sailors played complete baseball while the Bulldogs struggled in their double header Tuesday.
An upcoming meeting for the Colorado High School Activities Association could change the wrestling landscape in future years, giving the Steamboat Springs and Moffat County high school wrestling teams more teams to compete against.

Hayden, Soroco and Steamboat each had wrestlers finish in the top five of their brackets at the state wrestling tournament Saturday in Denver.

Steamboat, Hayden and Soroco each had wrestlers make the semifinals of the state wrestling tournament Friday.

Four Routt County wrestlers picked up wins in the first round of the state wrestling tournament Thursday.
The U.S. Department of Interior said there was a breakdown in communication during U.S. Interior Secretary Sally Jewell's visit to Moffat County.
The governor missed a stop in Hayden due to weather conditions Friday, but will be in Steamboat to discuss economic development.

The Bulldogs and Tigers squared off Thursday in Craig, with Hayden pulling off a 32-30 win.

Several local hunters participated in Outdoor Buddies, helping three mobility-impaired outdoorsmen harvest an elk this hunting season.

According to Colorado Parks and Wildlife information-gathering, the large migrations of elk in far Northwest Colorado didn't come early enough to make the big-game hunting easy on everyone.
Recent photos