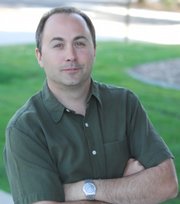 Michael Polucci is the video and magazine manager for Steamboat Pilot & Today. Under his management are the following brands: Steamboat TV18, Steamboat Digital Signage, Explore Steamboat magazine, Steamboat Living magazine and the Move to Steamboat Relocation Guide in addition to several other publications that are produced in partnership with other organizations.
Michael has a bachelor's degree in finance and management from Manhattan College as well as a Master of Business Administration in marketing from Regis University. Michael moved in October 2004 to Steamboat Springs from Riverdale, N.Y., where he spent 14 years in the financial industry.
In 2006, Michael and Nate Pickens brought Steamboat TV18 to Steamboat and to World West LLC. Having managed the station for the past seven years, Michael also has hosted the morning show, written commercials, directed and produced video productions. He lives in Steamboat Springs with his wife, Jennifer, and their two daughters, Elizabeth and Katherine.