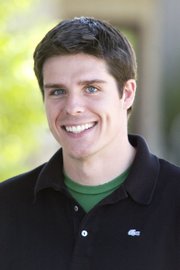 Mike McCollum covers education and the environment for the Pilot & Today. He began working at the paper on June 5, 2007. Mike has a masters degree in journalism from the University of Colorado at Boulder and bachelor degrees in English and mass communications from Auburn University in Alabama. He has worked as a general assignment reporting intern for the Greeley Tribune and The Denver Post, as well as a TV reporter for Georgia Public Broadcasting. Prior to coming to Steamboat Springs, Mike was the assistant news editor and cops/courts reporter for the Commercial Dispatch in Columbus, Miss. He has also worked as a video editor for Mountain Sports Media in Boulder. Mike's hometown is Atlanta, Ga. He enjoys hiking, reading, basketball and spending time outdoors with his golden retriever, Brinkley. He misses southern food and afternoons watching his beleaguered Atlanta Braves, but he's eagerly awaiting his first full season of skiing.
Recent Stories
Steamboat Springs School Board President Robin Crossan is worried that promises made to parents and students about the artificial turf field installed at Steamboat Springs High School are not being fulfilled.
CD reviews of Stephen Malkmus & The Jicks, "Real Emotional Trash," and Chatham County Line, "IV"
The Education Fund Board on Wednesday approved a record budget of more than $4.4 million for the 2008-09 school year, including $1.5 million to complete the long-delayed construction at Steamboat Springs Middle School.
Jacob Dingman and Joseph Shields, two of the four finalists for the Hayden School District superintendent position, dropped out of the running Sunday.
Steamboat interim superintendent mum on applying for full-time position
The deadline to apply for the Steamboat Springs School District's superintendent position closed Tuesday, but whether interim superintendent Sandra Smyser applied for the job remains unconfirmed.
When Lisa Gamber began encouraging Steamboat Springs students in October to give rather than receive at birthday parties, she hoped to raise $4,000 for charities this year. Five months later, students have met and exceeded those expectations.

Wildlife biologist Skorkowsky honored for work in forest
Robert Skorkowsky, a wildlife biologist with the Routt National Forest, said being recognized for hard work is always memorable. But winning an award named after someone who mentored him in wildlife conservation is truly special.

Increasing cost of energy, faculty salaries push price higher
Colorado Mountain College is increasing its tuition rates for the first time in three years.
Soroco High School senior Mandy Meyer said what she liked most about performing Tuesday at the school's solo and ensemble festival was the slate of excellent performers from all across Northwest Colorado.

At the age of 4, Christopher Rodriguez was diagnosed with stage-four Burkitt's lymphoma, a highly aggressive form of cancer.
Recent photos