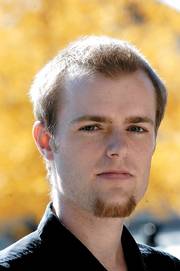 Mike Hart, 24, began working as a copy editor at the Steamboat Pilot & Today in May 2006. He previously worked as a designer at the Beacon News in Aurora, Ill., and interned as a reporter at the Student Press Law Center in Arlington, Va. and as a reporter at the Pantagraph in Bloomington, Ill. He grew up in Aurora, Ill. and graduated from Illinois State University in 2005 with a bachelor's degree in mass communication. In his free time he enjoys listening to music, playing the guitar, writing fiction, traveling and watching the Chicago Cubs.
Recent Stories
Cat Power, also known as Chan Marshall, has a voice that penetrates the soul.
Reviews of "Love" (The Beatles), "Eminem Presents the Re-Up" (various artists) and "The Intention EP" (One Year Yesterday).
There are two sides to Neil Young. The first side is known for its delicate vocals and stunning songwriting and is responsible for songs such as "Heart of Gold." This Neil Young is the one most familiar to the average listener.
With the probable exception of the majority of those living in Red States, there aren't too many people who can honestly say they don't like the Scissor Sisters.
"Am I really that out of touch?" you ask yourself. Yeah, you are. Fortunately, it's not difficult to fix. Catching up with pop music is relatively inexpensive and doesn't take much time.
Reviews of Pepper, "No Shame"; Jet, "Shine On"; and Trey Anastasio, "Bar 17."
Reviews of Los Lobos, "The Town and the City"; Diana Krall, "From This Moment On"; and Jedi Mind Tricks, "Servants in Heaven, Kings in Hell."
Reviews of Easy Star All-Stars, "Radiodread"; The Roots, "Game Theory"; and Gov't Mule, "High & Mighty"
Recent photos