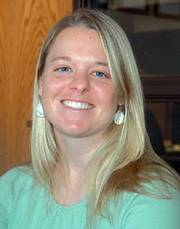 Melinda Mawdsley covers education and lifestyle for the Pilot & Today. She has been working at the paper since April 2002 and was formerly a sports reporter.
Melinda has a bachelor of arts degree from the University of Iowa. She has worked for The Daily Iowan and interned with the United States Olympic Committee and The Sporting News.
Melinda is from Algona, Iowa, and she enjoys snowboarding, running, hiking, debating the superiority of
the Big 10 compared to the Big 12 and attending Steamboat's free concerts.
Recent Stories
Colorado's dry air and intense sun can wreak havoc on feet
They're hardworking, under-appreciated and most often hidden from plain sight. And unfortunately, they're often neglected when it comes to routine body maintenance.
Sara Lindsey can't pinpoint a moment when she thought of herself as a cancer survivor. She never really asked, "why me?" when the doctors told her the lump on her neck was non-Hodgkin's lymphoma and the lump on her breast was cancer.
Former principal, teachers will remember school fondly
The demolition of Soda Creek Elementary School is expected to begin later this month, but memories that date back to 1956 won't vanish with the disposal of thousands of bricks.
School districts and area nonprofit organizations receive needed money
Sara Craig-Scheckman aspires to be more than a face with a checkbook.
Steamboat Springs School Board appointment to be made Monday
The Steamboat Springs School Board has received two applications from women interested in filling the vacant seat on the board.

Beethoven's life revealed in Sunday play, concert
Imagine being a world-class musician going deaf. How would that change your life? Ludwig van Beethoven contemplated suicide.
Local artists use gems, watercolor, oil to spice up nature
Don't mind if Melanie Guerra doesn't make eye contact because she is too busy looking at people's ears, fingers and necks.

Impact 100 enables citizens a way to give back to nonprofits
Inspired by a desire to give back to the Yampa Valley, a group of adults in their mid-20s to mid-40s formed Impact 100 as a way to donate time and money to nonprofits in the area.
New Pastor at First Baptist Church believes varied background helpful
The last time Jason Clark took a dirt road to get to church was during a mission trip in Mexico, so the route to the First Baptist Church is somewhat symbolic for the new pastor and his family.
Five workshops dedicated to help define school district roles
Recent workshops aimed at reviewing how the Steamboat Springs School District uses policy governance could help resolve instances of miscommunication and distrust, officials said.
Recent photos