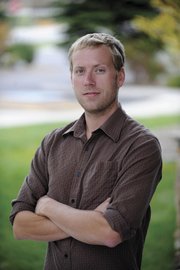 Matt Stensland is a photojournalist for the Steamboat Pilot & Today. He has worked for the paper since January 2006. Matt started working at the paper as a reporter covering the town of Hayden, real estate and business. After about a year he was hired on as the newspaper's first full-time videographer. He is currently the cops and courts reporter and photographer. Matt has a bachelor's degree in print journalism from the University of Illinois at Urbana-Champaign and grew up in Urbana. When not working, you will most likely find Matt soaking at either the Old Town or Strawberry Park hot springs. You can visit his website at www.mattstensland.com.
Recent Stories

Hayden Police Chief Greg Tuliszewski hit a milestone in his career last week when he received the executive certification from the Colorado Association of Chiefs of Police.

A Steamboat Springs business owner has been tapped to help guide the state's newly formed Office of Outdoor Recreation Industry, or OREC.
Rollin Stone thinks he has found the solution, or he is at least very close.
The Colorado Supreme Court on Thursday heard both praise and criticism for new rules being considered to govern what judicial system records will be made available to the public.
A 21-year-old Steamboat Springs woman faces charges of felony vehicular assault following a DUI crash Tuesday night.
The special election is slated for Jan 26.
Matthew J. Klodt was arrested Tuesday night by the All Crimes Enforcement Team multi-agency drug task force.
A United flight with about 70 people on board made a safe emergency landing Wednesday morning at Yampa Valley Regional Airport.

Lucas Johnson could be sentenced to 48 years in prison
During court Tuesday, it was revealed that Lucas Johnson, the man accused of murdering Steamboat Springs resident Ed Zimmerman, is considering pleading to second-degree murder and a sentence of 48 years in prison.

Watkins Fulk-Gray had plenty of reasons to celebrate Saturday.
Recent photos