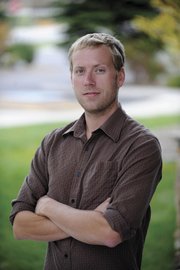 Matt Stensland is a photojournalist for the Steamboat Pilot & Today. He has worked for the paper since January 2006. Matt started working at the paper as a reporter covering the town of Hayden, real estate and business. After about a year he was hired on as the newspaper's first full-time videographer. He is currently the cops and courts reporter and photographer. Matt has a bachelor's degree in print journalism from the University of Illinois at Urbana-Champaign and grew up in Urbana. When not working, you will most likely find Matt soaking at either the Old Town or Strawberry Park hot springs. You can visit his website at www.mattstensland.com.
Recent Stories
The West Routt Fire Protection District has filled its ranks with a third full-time firefighter, and a fourth should be hired in January.
A 19-year-old Steamboat Springs man faces two felony charges after police said a debit card was stolen from a car in the Fairview neighborhood and then illegally used.
The graffiti artist who found himself in jail after tagging his own pumpkin has been sentenced to 20 days in jail.
Two men were arrested after two separate searches were conducted Wednesday in Steamboat Springs by the All Crimes Enforcement Team drug task force.

It has been more than a week since Hailey ingested suspected marijuana, and she still has not returned to being her old self.
The holiday season is ramping up this weekend in Hayden with a series of events.
The man involved in a standoff with police at a Steamboat Springs hotel has been sentenced to 30 days in jail and two years of unsupervised probation.
Two people have been extradited from Florida and charged with dealing heroin in Steamboat Springs.
A 21-year-old Steamboat Springs man who police said approached several underage teenage girls and asked them for sex in exchange for money in July has been arrested for violating probation.
While the Steamboat Ski Area does not anticipate opening any additional terrain this weekend, low temperatures will help with snowmaking operations.
Recent photos