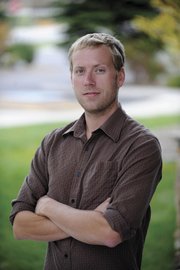 Matt Stensland is a photojournalist for the Steamboat Pilot & Today. He has worked for the paper since January 2006. Matt started working at the paper as a reporter covering the town of Hayden, real estate and business. After about a year he was hired on as the newspaper's first full-time videographer. He is currently the cops and courts reporter and photographer. Matt has a bachelor's degree in print journalism from the University of Illinois at Urbana-Champaign and grew up in Urbana. When not working, you will most likely find Matt soaking at either the Old Town or Strawberry Park hot springs. You can visit his website at www.mattstensland.com.
Recent Stories
Food might be bountiful in the United States, but that's not the case in some parts of the world.

Step close to Lyle Willmarth's pickup, and it is easy to detect an odor that is disgusting to humans but is an irresistible scent to bears.

Steamboat Springs City Manager Deb Hinsvark on Friday released the summary of Report 6, one of six reports prepared as part of the police department investigation.
NTSB releases info on 2014 crash

A 40-year-old Steamboat Springs man was arrested Wednesday on suspicion of felony second-degree assault after a road rage incident at the new stop signs at the Mount Werner Road underpass.
A lawyer representing the Steamboat Pilot & Today sent a letter to the city attorney Thursday asking him to reconsider his decision not to release reports related to the police department investigation.

City Manager Hinsvark did not elaborate on who recommended Bantle be terminated.
Assistant District Attorney Han Ng is no longer working for the 14th Judicial District.
A 32-year-old Steamboat Springs woman was cited with careless driving after a crash Monday morning near mile marker 13 on Routt County Road 179.
Bond was set at $50,000 for a man who has been charged with six felonies and five misdemeanors related to a Thursday night incident at Dream Island Mobile Home Park.
Recent photos