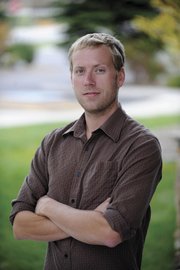 Matt Stensland is a photojournalist for the Steamboat Pilot & Today. He has worked for the paper since January 2006. Matt started working at the paper as a reporter covering the town of Hayden, real estate and business. After about a year he was hired on as the newspaper's first full-time videographer. He is currently the cops and courts reporter and photographer. Matt has a bachelor's degree in print journalism from the University of Illinois at Urbana-Champaign and grew up in Urbana. When not working, you will most likely find Matt soaking at either the Old Town or Strawberry Park hot springs. You can visit his website at www.mattstensland.com.
Recent Stories
Kristen Johnson appeared in court Wednesday. Her preliminary hearing is scheduled for May 28-29.
A Hayden resident is asking the Hayden Town Council to consider the impacts of some regularly-occurring garage sales in town.
Steamboat Springs Police Department officers this week will be on the lookout for drivers who are not buckled up.

Steamboat Springs City Administrator Deb Hinsvark announced Friday afternoon that Steamboat Springs Police Chief Joel Rae and Deputy Chief Bob DelValle have been put on paid administrative leave pending an investigation into serious allegations by former detective Dave Kleiber.
Despite periods of controversy during Heather Coogan's lengthy law enforcement career, Steamboat Springs City Manager Deb Hinsvark is confident Coogan is the right person to investigate allegations against the police department.
The Routt County District Attorney Office on Thursday filed charges against Kristen Johnson, the woman being held in connection with the death of long-time Routt County resident Edward Zimmerman.
Former detective Dave Kleiber on Wednesday night pleaded with the Steamboat Springs City Council to conduct a fair, transparent and objective investigation into allegations he has made against Police Chief Joel Rae and Deputy Chief Bob DelValle.

School Board President Brian Hoza said Vader will work for the remainder of her one-year contract, which expires June 30.
Steamboat City Manager Deb Hinsvark said Heather Coogan will be paid $150 per hour. Hinsvark has said the investigation could take 60 to 90 days.
The purpose of the meeting is to discuss the city's upcoming investigation into the damaging accusations of misconduct against Police Chief Joel Rae and Deputy Police Chief Bob DelValle.
Recent photos