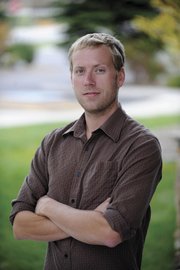 Matt Stensland is a photojournalist for the Steamboat Pilot & Today. He has worked for the paper since January 2006. Matt started working at the paper as a reporter covering the town of Hayden, real estate and business. After about a year he was hired on as the newspaper's first full-time videographer. He is currently the cops and courts reporter and photographer. Matt has a bachelor's degree in print journalism from the University of Illinois at Urbana-Champaign and grew up in Urbana. When not working, you will most likely find Matt soaking at either the Old Town or Strawberry Park hot springs. You can visit his website at www.mattstensland.com.
Recent Stories

Authorities on Wednesday were still saying very little about the investigation into the disappearance of 46-year-old Stagecoach resident Edward Zimmerman.
The Hayden Town Council on Thursday is expected to continue its discussion of policies affecting town employees.
The Routt County Sheriff's Office is releasing very little information related to the investigation of a missing Routt County man.
Routt County's Twentymile Coal Mine is asking permission from the federal government to mine coal from an additional 310 acres under ground.
Snowfall at the Steamboat Ski Area rebounded in February with 57.75 inches of snow recorded during the month at mid-mountain.
A Steamboat Springs visitor was arrested on suspicion of DUI after he accidentally took someone else's car and got into an accident.
As 15-year-old Carson Hilliker eyed the moguls from the top of Surprise, instructor Greg Dalsis warned it would be a challenging ski run. Carson, who is in remission and in August will be cancer-free for two years, did not hesitate and dropped in.
The rules are changing for those who venture into the woods to hunt for antlers.

Those who plan on parking a car in Ski Time Square should be aware of new parking rules that have gone into effect.
The woman, who was attacked by a moose Sunday in Steamboat Springs, was released from the hospital Monday.
Recent photos