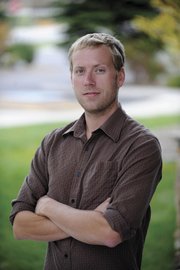 Matt Stensland is a photojournalist for the Steamboat Pilot & Today. He has worked for the paper since January 2006. Matt started working at the paper as a reporter covering the town of Hayden, real estate and business. After about a year he was hired on as the newspaper's first full-time videographer. He is currently the cops and courts reporter and photographer. Matt has a bachelor's degree in print journalism from the University of Illinois at Urbana-Champaign and grew up in Urbana. When not working, you will most likely find Matt soaking at either the Old Town or Strawberry Park hot springs. You can visit his website at www.mattstensland.com.
Recent Stories
A 30-year-old woman was airlifted from the Routt National Forest after being injured Friday.
Check out the most-viewed stories on our desktop site from the past week, and see what you missed.
The region will continue to experience an Indian summer through next week with mostly clear skies and above normal temperatures.

Every drop of beer has proven to be precious at the newly opened Yampa Valley Brewing Company in Hayden.
During a traffic stop early Thursday morning, Routt County Sheriff's Office K-9 Boomer smelled drugs, and three heroin arrests were made.

Five members of the Steamboat Springs community learned a lot more about the five police chief finalists, who were chosen from a pool of 96 applicants.

It was clear to everyone during Wednesday night's community reception that Steamboat Springs has a choice of five qualified candidates to fill the role of the city's new police chief.
Steamboat Springs police Tuesday arrested a 48-year-old man who is suspected of sexually assaulting his daughter.
Residents of Hayden will vote on a tax on marijuana cultivation and whether or not to put fluoride in the town's water supply.
With Proposition BB, Colorado voters will decide whether the state gets to keep marijuana tax revenues or refund that tax money back to taxpayers and the marijuana industry.
Recent photos