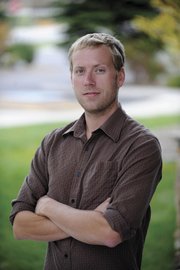 Matt Stensland is a photojournalist for the Steamboat Pilot & Today. He has worked for the paper since January 2006. Matt started working at the paper as a reporter covering the town of Hayden, real estate and business. After about a year he was hired on as the newspaper's first full-time videographer. He is currently the cops and courts reporter and photographer. Matt has a bachelor's degree in print journalism from the University of Illinois at Urbana-Champaign and grew up in Urbana. When not working, you will most likely find Matt soaking at either the Old Town or Strawberry Park hot springs. You can visit his website at www.mattstensland.com.
Recent Stories

Aside from pure athleticism, aerodynamic handlebars on the bike and finely tuned skate skis are the little details that give racers an edge in the Steamboat Pentathlon. For three competitors, it was not about efficiency or getting the best time. If it was, they would not have brought their young children and pulled and pushed them around in a carriage.

Yampatika was named Partner of the Year for the Northwest Colorado region during the Colorado Department of Parks and Wildlife Partnership Conference on Feb. 21 in Colorado Springs.
All Crimes Enforcement Team drug task force members Thursday executed three searches related to an investigation of the illegal mailing of dozens of pounds of marijuana to Lake County, Ill., in suburban Chicago.
A letter dated Monday from the Colorado Association of Chiefs of Police asks Hickenlooper to set aside 10 to 15 percent of the state's marijuana revenues for local law enforcement.
The Routt County Sheriff's Office is investigating two burglaries and an apparent related theft that occurred Tuesday just north of Steamboat Springs.
Hayden Town Council members Thursday night will consider allowing use of town streets for a cycling event in June.

While most elementary school student councils campaign for better food in the lunchroom, a group of Hayden fifth-graders wants to give back to their community.
The temperature in Steamboat Springs is expected to reach 50 degrees Thursday, but winter is far from over.

In the past year, there has been a complete turnover in prosecutors in the Routt County office. Matt Karzen is one of the three attorneys who District Attorney Brett Barkey hired to fill those positions. Karzen will head up the 14th Judicial District's Routt County office.

Nine months into his first elected term as district attorney, Brett Barkey put defense attorneys on notice that felony plea deals would no longer be bargains. Local defense attorneys took Barkey's comments to mean one thing. With non-negotiable plea offers that mandated years in prison, more cases were going to trial. But how many trials had the DA's office actually won?
Recent photos