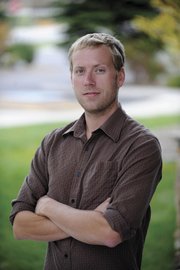 Matt Stensland is a photojournalist for the Steamboat Pilot & Today. He has worked for the paper since January 2006. Matt started working at the paper as a reporter covering the town of Hayden, real estate and business. After about a year he was hired on as the newspaper's first full-time videographer. He is currently the cops and courts reporter and photographer. Matt has a bachelor's degree in print journalism from the University of Illinois at Urbana-Champaign and grew up in Urbana. When not working, you will most likely find Matt soaking at either the Old Town or Strawberry Park hot springs. You can visit his website at www.mattstensland.com.
Recent Stories
The pot industry continued to explode in 2015, with more than $9.1 million in sales in Steamboat Springs.
Steamboat Ski and Resort Corp. has sent three of its veteran ski patrol managers to China for two weeks to share their expertise.

Intrawest CEO Tom Marano announced Wednesday morning that a mountain coaster, mini golf course and new Elkhead lift will be built this year at the Steamboat Ski Area.
Law enforcement officials are concerned after a 59-year-old woman working at Routt County's alcohol detox facility was assaulted Friday night while taking care of a man who had been brought in after officers investigated a fight in downtown Steamboat Springs.
After paying $10,000 to the taxpayers of Routt County, criminal charges have been dropped against a former Routt County Treasurer's Office employee faced with 157 charges related to embezzlement of public money.

The Federal Aviation Administration has been notified, and Steamboat Springs fireworks fanatic Tim Borden is ready to launch his giant 48-inch-diameter firework into the Steamboat Springs sky.

Yampa Valley Electric Association is partnering with a nonprofit organization to build a solar array that will lower the electric bills of qualified low-income residents.

The occupants of a Whistler Village townhome were displaced Thursday night after a fire was discovered in the walls and ceiling.

A report released Thursday by the U.S. Forest Service and Colorado State Forest Service gives a glimpse at the health of Colorado's forests, including those in Routt County.

Following a monumental, $2.4 million fundraising campaign, the Steamboat Springs Winter Sports Club on Saturday will formally celebrate the new Alpine training facility at the Steamboat Ski Area.
Recent photos