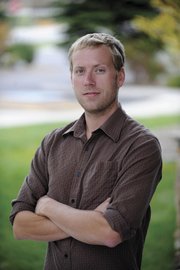 Matt Stensland is a photojournalist for the Steamboat Pilot & Today. He has worked for the paper since January 2006. Matt started working at the paper as a reporter covering the town of Hayden, real estate and business. After about a year he was hired on as the newspaper's first full-time videographer. He is currently the cops and courts reporter and photographer. Matt has a bachelor's degree in print journalism from the University of Illinois at Urbana-Champaign and grew up in Urbana. When not working, you will most likely find Matt soaking at either the Old Town or Strawberry Park hot springs. You can visit his website at www.mattstensland.com.
Recent Stories

Trial of former Steamboat police officer expected to last 3 days
The grilling started quickly during the first day of the Kristin Bantle trial Tuesday when defense attorney Matthew Tjosvold cross-examined Routt County Sheriff Garrett Wiggins.
The Routt County Sheriff's Office on Sunday arrested a 40-year-old Routt County man on suspicion of sexually assaulting a woman.
The Steamboat Pilot & Today is hosting a forum to discuss the positives and negatives of allowing marijuana growing operations in Hayden.
Routt County's detox facility is intended for alcohol only, but a need also exists for people who have ingested too much cannabis.
Recent storms have helped build an above average snowpack on Rabbit Ears Pass.
On Sept. 7, Harkins was not feeling well and chose to stay at camp while the four people he was hunting with headed out to hunt. When the hunters returned, Harkins was gone.
A judge has dismissed the case against a 54-year-old Craig man accused of kidnapping related to an incident in the late 1970s.

Routt County officials view the anticipated sale of Twentymile Coal Co. to Bowie Resource Partners as a positive development.
Weather forecasters are calling for snow, but perhaps not as much as they initially thought.
They are powerful tools, and policies related to cellphone use vary throughout Routt County's high schools.
Recent photos