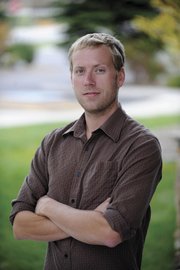 Matt Stensland is a photojournalist for the Steamboat Pilot & Today. He has worked for the paper since January 2006. Matt started working at the paper as a reporter covering the town of Hayden, real estate and business. After about a year he was hired on as the newspaper's first full-time videographer. He is currently the cops and courts reporter and photographer. Matt has a bachelor's degree in print journalism from the University of Illinois at Urbana-Champaign and grew up in Urbana. When not working, you will most likely find Matt soaking at either the Old Town or Strawberry Park hot springs. You can visit his website at www.mattstensland.com.
Recent Stories
Brady Worster's personal story serves as an inspiration to many. "It was a harsh reality to gain 70 pounds during pregnancy, and then gain more after your child was born," says Worster, who weighed in at 220 pounds in 2008. "I bought a belt that was an XXL, and I didn't want to be an XXL mom."
No matter how long you've been here, there are certain things you ought to know how to do living in Steamboat. We're not talking the obvious how to ski or bike, but the more intrinsic things to have in your seasonal arsenal here in Ski Town USA. No masters ourselves, we combed the valley floor for tips from experts to help ease the learning curve.
A wanted man shot himself Wednesday night after being contacted by a Routt County Sheriff's Office deputy.
A 30-year-old Steamboat Springs woman is lucky to be alive after getting into a head-on collision with a semi truck Tuesday evening.
The Routt County Sheriff's Office is investigating a Tuesday morning incident where they think a driver might have been pulled over by a man impersonating a police officer.
The 14th Judicial District Attorney's Office is continuing its investigation into irregular transactions in the Routt County Treasurer's Office.
A fight at Howelsen Hill early Friday evening sent one teen to the hospital and three others to jail.
A woman is suing after being kicked out of the Rotary Club of Steamboat Springs. The lawsuit was filed Sept. 30 by Leslie Gamel, and she names nine current and former Rotary Club members as the defendants.
A Routt County Jail inmate faces charges related to allegations that he did sexually inappropriate things to another male inmate.

It doesn't take long to figure what makes Saddleback Ranch such a special place and worthy of being named Best Guest Ranch.
Recent photos