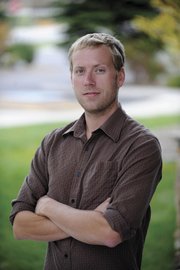 Matt Stensland is a photojournalist for the Steamboat Pilot & Today. He has worked for the paper since January 2006. Matt started working at the paper as a reporter covering the town of Hayden, real estate and business. After about a year he was hired on as the newspaper's first full-time videographer. He is currently the cops and courts reporter and photographer. Matt has a bachelor's degree in print journalism from the University of Illinois at Urbana-Champaign and grew up in Urbana. When not working, you will most likely find Matt soaking at either the Old Town or Strawberry Park hot springs. You can visit his website at www.mattstensland.com.
Recent Stories
After a soggy Thursday, mostly clear skies were expected to return to the Yampa Valley Friday.

With forest fire firefighting resources stretched thin across the country, three Steamboat Springs Fire Rescue firefighters were called up Wednesday to help with a fire in Montana.
It has been more than six weeks after a records request and interim Steamboat Springs police chief Jerry DeLong still has not decided whether to release three reports related to an independent police department investigation that led to the resignations of the department's two leaders.
A Hayden resident has taken the next step to let voters decide whether marijuana cultivation should be allowed in Hayden.

Exactly a year ago, Tammy Jacques was coming down the last hairpin turn on her mountain bike at Beaver Creek when she got a flat.
Steamboat Springs Police Department officer Kristin Bantle, the officer who has been charged with a felony related to providing false information on an employment application submitted to the Routt County Sheriff's Office, appeared in court again Friday.
Cole Pollard, the man accused of murdering 22-year-old Patricia Richmond, appeared in court Friday.

The Colorado Department of Public Health and Environment on Thursday issued a wildfire smoke health advisory for parts of Colorado, including the Yampa Valley.
The agenda is sparse for Thursday's Hayden Town Council meeting.
Police began investigating the incident Friday after a Steamboat Springs Transit bus driver was told about a sex assault.
Recent photos