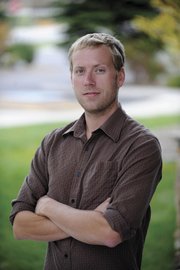 Matt Stensland is a photojournalist for the Steamboat Pilot & Today. He has worked for the paper since January 2006. Matt started working at the paper as a reporter covering the town of Hayden, real estate and business. After about a year he was hired on as the newspaper's first full-time videographer. He is currently the cops and courts reporter and photographer. Matt has a bachelor's degree in print journalism from the University of Illinois at Urbana-Champaign and grew up in Urbana. When not working, you will most likely find Matt soaking at either the Old Town or Strawberry Park hot springs. You can visit his website at www.mattstensland.com.
Recent Stories

A piece of Routt County's coal industry is undergoing a major addition.
Despite the damp weather, people were filling up propane tanks, and campers were rolling into Routt County for Memorial Day weekend.
Bad fuel is suspected of sending numerous cars to local mechanics this week, each one requiring hundreds or even thousands of dollars in repairs.

It is unclear whether a final report will be made public related to the investigation into accusations against Steamboat Springs Police Chief Joel Rae and Deputy Chief Bob DelValle.
Hayden officials Thursday will be updated on the Seneca Hill water tank project and will discuss whether to stop spraying for mosquitos.
A hearing has been scheduled to determine whether documents currently sealed in the Ed Zimmerman homicide case should be unsealed.

A strong majority of Steamboat Springs City Council members are not interested in allowing any more marijuana dispensaries.

Hayden teacher, coach and rancher Ty Zabel wasted no words telling the class of 2015 what lies ahead.

Fundraising websites have been set up for the two couples who were displaced by a fire that destroyed their home Thursday in Steamboat Springs.
Routt County Coroner Rob Ryg still has not yet received a final autopsy report for Steamboat Springs resident Ed Zimmerman, a suspected murder victim whose body was found March 4.
Recent photos