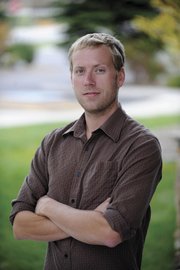 Matt Stensland is a photojournalist for the Steamboat Pilot & Today. He has worked for the paper since January 2006. Matt started working at the paper as a reporter covering the town of Hayden, real estate and business. After about a year he was hired on as the newspaper's first full-time videographer. He is currently the cops and courts reporter and photographer. Matt has a bachelor's degree in print journalism from the University of Illinois at Urbana-Champaign and grew up in Urbana. When not working, you will most likely find Matt soaking at either the Old Town or Strawberry Park hot springs. You can visit his website at www.mattstensland.com.
Recent Stories

City officials are confident they will be able to find enough snow to pack Lincoln Avenue for next weekend's Steamboat Springs Winter Carnival street events.
A former long-time Steamboat Springs resident faces charges in Arapahoe County related to child sex abuse of a girl.
Trudy Vader, the Hayden School District superintendent charged with a DUI, was put on administrative leave with pay Friday.

Hope is dying that January 2015 will be spared the reputation of being the driest January in the history of the Steamboat Ski Area, with records going back to 1979.

Upgrades will be done at the Routt County Jail, but it is going to cost more than expected.
Hayden School District superintendent Trudy Vader was arrested Tuesday night on suspicion of DUI.
Snow totals this week will determine whether Steamboat Ski Area experiences its driest January on record.
To create a better learning environment, Hayden Valley Elementary School teachers on Friday were learning how to cope with stress.
Trial dates have been set for the fifth-generation Routt County rancher accused of shooting two bulls in the testicles, killing one of them.
Charges have been filed against a 44-year-old Steamboat Springs man who police believe was stalking a woman.
Recent photos