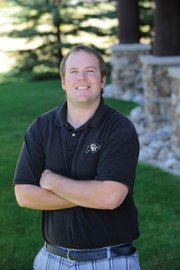 Luke Graham is the ExploreSteamboat.com editor for the Pilot & Today. He has worked for the paper since July 2006.
Luke has a Bachelor of Science in journalism from the University of Colorado. He has worked at the Craig Daily Press, the Boulder Daily Camera and the Longmont Daily Times-Call.
Luke is from Leadville. He enjoys golf, fishing and reading.
Recent Stories
The Norwegian ski film "Supervention" will show on Friday at the Ghost Ranch, followed by hip-hop band Salem.

The Ghost Ranch will host a benefit for the Philippines on Thursday. Local band Acutonic and DJ Dra-La will perform.
The Hayden High School girls basketball team picked up its first win of the season.

Storm Peak Brewing Co. recently signed a lease and should be open by the end of April.

Partners in Routt County is moving to Sundance at Fish Creek to join a slew of other nonprofits.

The 10th annual Steamboat Mountain Film Festival concludes Friday with the Reel Awards.
Wednesday marked the first powder day of the year at Steamboat Ski Area. While opening day was last week, Wednesday is the true skiers rite of passage.

The Steamboat Art Museum opens "The Russian Experience" during the First Friday Artwalk.

The inaugural Art & Soul of Hospice art show benefits the Northwest Colorado Visiting Nurse Association's Hospice and Palliative Care Program.

Former Steamboat resident Nick Nieuwoudt has spent the past seven years developing Novus AEterno, a multiplayer online real-time strategy game. The game is set to release sometime next year.
Recent photos