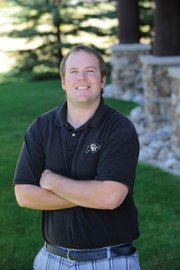 Luke Graham is the ExploreSteamboat.com editor for the Pilot & Today. He has worked for the paper since July 2006.
Luke has a Bachelor of Science in journalism from the University of Colorado. He has worked at the Craig Daily Press, the Boulder Daily Camera and the Longmont Daily Times-Call.
Luke is from Leadville. He enjoys golf, fishing and reading.
Recent Stories
The Steamboat Springs Composite Squadron prepares for the Regional Recognition Round of Cyberpatriot on Saturday.

Artist Sheri Johnson Worth will show her art, inspired by the Grand Canyon, at the First Friday Artwalk.
"Side-by-Side: A Father's Legacy" will showcase the artwork of Hal Rice and his daughter Rebecca Hilley.
The Fred Garbo Inflatable Theater Co. will play in Steamboat on Friday and Saturday.

Vic Wild, once a SSWSC member, took his newfound country by storm by winning his second Alpine snowboarding gold medal.
Thursday's Nordic combined event took an emotional toll.

The Canadian hockey team again wastoo much for the Americans, skating away with a 1-0 win in the semifinals.

Struggles on the jump hill continued to plague the American Nordic combined team, as six-time Olympian Todd Lodwick said goodbye to the sport.

Billy Demong and Todd Lodwick left the Olympics for the final time on Thursday.

The U.S. Nordic combined team will start the team event 1:52 back.
Recent photos