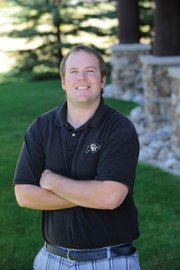 Luke Graham is the ExploreSteamboat.com editor for the Pilot & Today. He has worked for the paper since July 2006.
Luke has a Bachelor of Science in journalism from the University of Colorado. He has worked at the Craig Daily Press, the Boulder Daily Camera and the Longmont Daily Times-Call.
Luke is from Leadville. He enjoys golf, fishing and reading.
Recent Stories

Saturday the Lowell Whiteman School had 16 seniors graduate, each preparing to choose their own adventure.

The Paddle Battle returns for its fourth year with Matt Parker as the undisputed champion.

The Steamboat Art Museum will host the Invitational Colorado Nature Photography Exhibit on Friday with an accompanying artist forum on Saturday.

Several runners came out to enjoy the holiday weekend in Steamboat Springs with the Spirit Challenge 5K and 10K races.

Memorial Day in Steamboat Springs is highlighted by a service at the Steamboat Springs Cemetery on Monday.

Kali Waldman's loves art because of its endless boundaries. The second-grader will have a show Friday at Kneading Hands Therapy.

The Generations Trio will put on "Boldly Beethoven" on Friday and Saturday at the Chief Theater.

The Chief Theater in Steamboat Springs is celebrating its one year anniversary Friday.

The third annual Sailor Luau takes place Monday at Steamboat Springs High School.

The Inspired Life Network will host a trio of seminars on Wednesday and Thursday, designed to inspire women in the community.
Recent photos