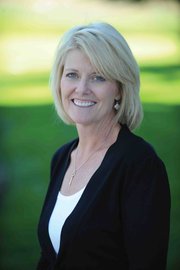 Lisa Schlichtman is the editor of the Steamboat Pilot & Today. She joined the newspaper team in July 2013. Lisa has more than 20 years of journalism experience, serving as a newspaper reporter, editor, owner and publisher of newspapers and magazines in Cassville and Monett in Southwest Missouri. She is a native of St. Louis, Mo., and a graduate of the University of Missouri School of Journalism. Lisa and her husband, Mike, have two sons, Nicholas, who lives in Scottsdale, Ariz., and Ryan, who lives in Denver. The Schlichtmans have been vacationing in Colorado since 1985 and are thrilled to be full-time Steamboat Springs residents. When Lisa is not at the newspaper, she enjoys running, hiking, skiing, reading, meeting new people and discovering all Steamboat Springs has to offer.
Recent Stories

Jean Benton and her art-on-wheels car are a common sight in Steamboat Springs, and as Jean drives down Lincoln Avenue, she gets waves and honks and thumbs-up from the people she passes.

After talking about cranes with Nancy over coffee recently, I found myself genuinely intrigued by the magnificent bird, and I've been on the look out for one ever since.
After driving from Steamboat Springs to Craig and back at least a half a dozen times in the last six months, I could avoid it no longer, and last Wednesday, I felt compelled to stop at a "Point of Interest" sign located along U.S. Highway 40 between Hayden and Minturn. The visit introduced me to the former coal mining town of Mount Harris.
A large contingent of Steamboat Springs Winter Sports Club cross-country athletes will be competing in the USSA Junior National Cross-County Championships in Stowe, Vt., beginning Monday.
Barb Clark and her 6-year-old Bernese Mountain dog Julia demonstrated perfect teamwork during a recent visit to Yampa Valley Medical Center as part of the Heeling Friends hospital visitation program.
The Steamboat Pilot & Today has two reporters on the ground in Sochi, Russia, to bring the games to Steamboat Springs and our readers.

Steamboat Springs native Cara Piske has been Nordic skiing since she was 4 years old, the age when she joined the Steamboat Springs Winter Sports Club's Little Vikings program. Throughout the past 14 years, Howelsen Hill has become Piske's second home, and she said she can't imagine her life without the sport she now loves or the club and coaches who helped develop her skills as a cross-country skier.
Since joining the 2013-14 Leadership Steamboat class this fall, I've been looking forward to the day we would be traveling to Peabody Coal's Twentymile Mine for a tour.

The famous Heart Spring that feeds all of Old Town Hot Springs' spas and pools has a rich history in Steamboat. It is thought the Ute Indians frequented the spot for the healing powers of the natural spring water, and James Crawford, Steamboat's founder, discovered the spring soon after he moved to the valley in 1875.
The famous roving Christmas tree will be marking its 75th anniversary on Dec. 24, and after talking to Cindy Wright, the woman spearheading the current effort, I discovered the legend behind the holiday tradition was Steamboat electrician and "sound man" Walt Webber, Wright's grandfather.
Recent photos