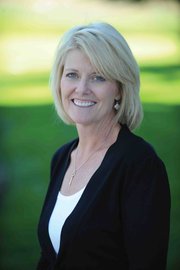 Lisa Schlichtman is the editor of the Steamboat Pilot & Today. She joined the newspaper team in July 2013. Lisa has more than 20 years of journalism experience, serving as a newspaper reporter, editor, owner and publisher of newspapers and magazines in Cassville and Monett in Southwest Missouri. She is a native of St. Louis, Mo., and a graduate of the University of Missouri School of Journalism. Lisa and her husband, Mike, have two sons, Nicholas, who lives in Scottsdale, Ariz., and Ryan, who lives in Denver. The Schlichtmans have been vacationing in Colorado since 1985 and are thrilled to be full-time Steamboat Springs residents. When Lisa is not at the newspaper, she enjoys running, hiking, skiing, reading, meeting new people and discovering all Steamboat Springs has to offer.
Recent Stories
The longer I live in Steamboat, the more impressed I become with this community's spirit of generosity and the willingness of local residents to step up and get involved when there's a need.

Aspiring bakers have until Friday to register for the Steamboat Pilot & Today's 2014 Holiday Dessert Bake-Off.

If you want to go retro, Rocket Fizz on Lincoln Avenue is the bee's knees. Open since May, the candy and soda pop shop has vintage appeal that attracts old-timers and youngsters in droves.

For kids of all ages, a trip downtown or a family vacation to Steamboat Springs just isn't complete without a stop (or two or three) at Fuzziwig's Candy Factory at Ninth Street and Lincoln Avenue.

After 20 years, Jenny Wall, owner of Moose Mountain Trading Co., knows how to fill her Lincoln Avenue store with clothes and gifts that women crave — luxurious sweaters, gorgeous knit dresses and the perfect selection of stylish accessories that add the crowning touch to any outfit.
Steamboat Springs' Over the Hill Gang is one of the most active organizations I've encountered since moving here a little over a year ago.

Beverly Engle and Marcia Merchant both agree they were fortunate to have discovered their cancer early thanks to their practice of getting annual mammograms.
From its inception, Steamboat Today has been the community's newspaper. The free daily was launched quickly with a small staff, and throughout the past 25 years, it has grown to become Routt County's trusted source for news and information as well as serving as a catalyst for business growth through advertising.

It takes an act of God, or in Routt County, the annual fair, to entice local ranchers out of the hayfields and off the ranch for several days in August. For the past century, the Routt County Fair has been the one event that brings together ranch families and others from all corners of the county — Yampa, Hahn's Peak, Pleasant Valley, Oak Creek and Clark — to congregate, compete and camp at the historic fairgrounds in Hayden.
The 100th rendition of the Routt County Fair begins Friday night at the fairgrounds in Hayden and lasts for a full week with several new events planned that pay tribute to the fair's century-long history.
Recent photos