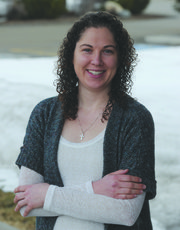 Lindsay Porter is the creative services supervisor for the Steamboat Pilot & Today. She moved to Colorado from Kansas in December 2011 as a graphic designer for the Pilot's sister newspaper, the Craig Daily Press. She began working for the Pilot in February 2013.
Lindsay has degrees in secondary education as well as journalism and mass communication from Kansas State University. Prior to her tenure in Colorado, Lindsay was a high school journalism teacher and publications adviser. She grew up taking family vacations to Colorado, and she is blessed to live here full time.
When Lindsay is not at the Pilot, she is out discovering more of what Steamboat and Colorado have to offer. She enjoys baking, reading, photography and entertaining her Labradoodle, Kali.