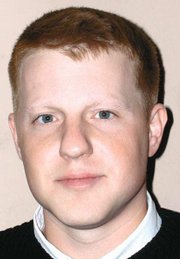 Joshua Roberts, Craig Daily Press editor, grew up in Kansas City, Kan., and attended Kansas University. He began working for The World Company in 2001, and immediately fell in love with journalism.
He came to the Daily Press in 2006 as the assistant editor, and found a home away from home in the Craig and Moffat County community.
Joshua has a fondness for feature writing and crime and courts reporting, and contends he works with the best newspaper staff in the state each day.
Outside of the office, Joshua enjoys reading, writing, and playing golf and basketball.
He is an avid fan of his Kansas Jayhawks and hometown Kansas City Royals and Kansas City Chiefs.
He is raising a pit bull puppy, Cassius, which he adopted from the Humane Society of Moffat County in October 2009.
He also coaches youth basketball in the community.

Recent Stories
Terry Billings faces charges stemming from leaving handgun accessible
A 63-year-old Dinosaur man turned himself in this morning at the Moffat County Jail in connection to an accidental shooting earlier this month in the town 90 miles west of Craig. A warrant was issued Wednesday for Terry Warren Billings, the grandfather and guardian of a 4-year-old boy and 2-year-old girl. On Oct. 4, the boy allegedly shot the girl in the arm with Billings' handgun, according to authorities.
Bryan Koppe in custody on suspicion of intent to distribute
The All Crimes Enforcement Team arrested a 26-year-old man Wednesday afternoon in Craig on suspicion of intent to distribute. Bryan Keith Koppe was arrested at about 3 p.m. while doing business at a bank. His arrest, ACET reported in a news release, was the product of a joint investigation between the task force and the United States Postal Service.
Friends: Bill Harding 'the kind of person God put on this Earth to help other people'
Bill Harding, a former Moffat County Veterans Service Of­­ficer, died Saturday at the Veterans Affairs Hospital in Denver. Harding lived in Craig from 1976 until June 2009, when he and his wife, Sandy, moved to Grand Junction. He was an advocate for local veterans in Mof­fat County.

John Husband, field manager for the Bureau of Land Management's Little Snake Field Office, spent part of his Monday reflecting on his career with the BLM. That career will sunset this week after more than three decades.
Autopsy expected to take place today to determine community service officer's cause of death
A Craig Police Department officer was found dead Wednesday in Glenwood Springs, a Garfield County deputy coroner said. Kathie Johnson, a police department community service officer and wife of former police detective Ken Johnson, was found Wednesday afternoon in her room at the Hotel Colorado.
Prosecutors file formal charges in attack
The 14th Judicial District Attorney's Office filed formal charges last week against a 31-year-old Craig man accused of attacking an elderly couple in their home.
Originally reported as 4.4, Craig quake now listed as 3.7 on Richter Scale
Analysts from the National Earthquake Information Center in Golden have adjusted the magnitude of an earthquake that occurred Monday night north of Craig.
An earthquake, measuring 4.4 on the Richter Scale, originated Monday night about 12 miles north of Craig, the National Weather Service in Grand Junction reported Monday night.

Brett Stearns, 29, struck by fallen tree Friday
A Bureau of Land Management firefighter was killed Friday afternoon in an accident while working on a hazard-tree removal project, the BLM office reported in a news release Saturday.
By Christmas, Craig residents could have a new movie theater on the west side of town to watch the latest holiday new releases.
Recent photos