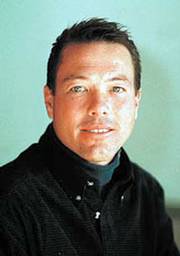 John F. Russell is a sports reporter and photographer for the Pilot & Today. He writes a sports column that appears Sundays. He has worked for the newspaper since June 1990.
John has a Bachelor of Arts from the University of Colorado and worked at the Longmont Times-Call during college.
John is from Denver. His hobbies include bowling, softball, photography, pinochle and following his two lovely children around.
Recent Stories

Tristan Lane and Storm Klomhaus raced to downhill titles in the first event of the 2014 Rocky/Central U16 Regional Championships in Steamboat Springs, while several local skiers surprised everyone with personal-best results.
Athletes stories, and their Olympic dreams is one of the reasons they are worth cheering for during the games.
After losing seven players from last year's squad, the Steamboat Springs High School girls tennis team returned to the court and its winning ways Friday afternoon.
Members of the Rocky Mountain Karate Academy traveled to Eagle earlier this month and earned a number of top finishes at the Colorado State Karate Championships.

After losing three of it's top girls jumpers after last season the Steamboat Springs Nordic programs look to reload with top finishes in Anchorage.
The nation's best juniors competed on the jump hills and cross-country tracks in Anchorage, Alaska, this week with national titles at stake.
Time difference makes it difficult to protect the magic, and excitement of the Olympic Games.

Organizers tweaked the course a bit on the second day of the telemark World Cup in Steamboat Springs, but that didn't stop the day one winners from repeating.
Steamboat Springs hockey recorded a shutout against Summit County in its final regular-season home game.

The Steamboat Springs high school boys basketball team rolled past Summit County on Tuesday night to extend the Sailors' winning streak to four games.
Recent photos