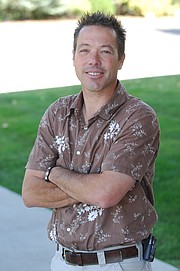 John F. Russell is a sports reporter and photographer for the Steamboat Pilot & Today. He writes a sports column that appears Sundays. He has worked for the newspaper since June 1990.
John has a Bachelor of Arts from the University of Colorado and worked at the Longmont Times-Call during college.
John is from Denver. His hobbies include bowling, softball, photography, pinochle and following his two lovely children around.
Recent Stories
Former Steamboat Springs High School basketball and soccer star Roddy Beall is stepping into the spotlight, hopefully changing expectations about what is cool.

Skaters hope to use the 2014 Holiday Ice Show to showcase the Steamboat Springs Figure Skating Club.

Swimming in Steamboat Springs comes with a long list of challenges, but for Steamboat Springs High School junior Samantha Terranova, the water is just perfect.
Yes it's true that jealously is a bad thing. But when you take the time to look at what Steamboat Springs has to offer, it's hard not to be a little jealous of the children in our town who get to grow up in the shadows of Mount Werner.

Longtime local discovers Yule Log on day two of annual search.
This week former Baltimore Raven's star running back Ray Rice won an appeal of his indefinite suspension for the NFL, and is now free to sign with any team he wants. But hopefully fans will not want to cheer for him, and will not forget what he did off the field.
Cross country skiers in Steamboat Springs have been enjoying the trails at the Steamboat Ski Touring Center for the past few weeks, and soon Haymaker will be added to the list of trails open.

As a member of the National Honor Society, Sofia Rodriguez is a proven leader in the classroom. She is so excited about the speech and debate team that she has been known to even recruit new members.

There is no issue that Norma Techarukpong is not willing to tackle as a member of Teen Council, and there is nothing she isn't open to learning about as a student of this world.

Recent Steamboat Springs High School graduate Danny Kramer wasn't sure what to expect the first time he met Zach Skubiz on the set of a high school production.
Recent photos