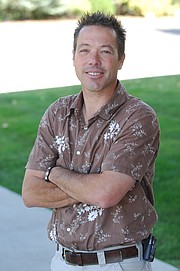 John F. Russell is a sports reporter and photographer for the Steamboat Pilot & Today. He writes a sports column that appears Sundays. He has worked for the newspaper since June 1990.
John has a Bachelor of Arts from the University of Colorado and worked at the Longmont Times-Call during college.
John is from Denver. His hobbies include bowling, softball, photography, pinochle and following his two lovely children around.
Recent Stories

High Altitude Basketball Camp offers young players a chance to develop a strong foundation grounded in basic skills.
In a town where a skier's success is often measured by an Olympic-sized yardstick, many skiers are proving there is more than one way to bring home a trophy.

The U.S. Ski team released nominations for the 2015-16 season last week, and several Steamboat Springs athletes were among those who will be representing our country next winter.

Local professional optimistic that two new junior programs this summer will drive young golfers to area courses.
For the past four years, the recognition that goes to the Nordic Combined Skier of the Year has been awarded to an athlete with the last name Fletcher. This year was no different as Bryan Fletcher collected his second skier of the year honor to pull even with brother, Taylor.

Three former Steamboat Springs Sailors played a role in the University of Colorado's club lacrosse team's run at a second national title this season. On Sunday, the team was heartbroken as Grand Canyon University topped the Buffaloes in a 9-8 contest. for all the marbles.
Steamboat Springs freshman makes road to state finals look easy, and makes those who watched realize just how special winning a title really is.
Cheerleading team hoping to raise money for scholarships during sixth annual showcase.

Steamboat's freshman phenom rallies to win Sailors' first state title since 2009
Steamboat Springs freshman Tatum Burger topped St. Mary Academy's Alex Weil Wednesday morning in Pueblo to bring home the Sailors' first state title since 2009.

Steamboat Springs freshman Tatum Burger will be hoping to land the No. 1 singles title on the final day of the 4A Colorado State High School Tennis Championships.
Recent photos