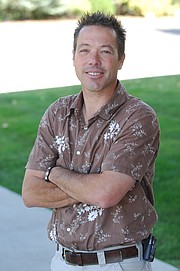 John F. Russell is a sports reporter and photographer for the Steamboat Pilot & Today. He writes a sports column that appears Sundays. He has worked for the newspaper since June 1990.
John has a Bachelor of Arts from the University of Colorado and worked at the Longmont Times-Call during college.
John is from Denver. His hobbies include bowling, softball, photography, pinochle and following his two lovely children around.
Recent Stories
Some skiers have made a tradition of celebrating the Thanksgiving Holiday a bit early in Steamboat Springs as part of Scholarship Day.

The traditions that surround Steamboat Ski Area's Scholarship Day helps make the opening day something to remember.
Imagine Bermuda shorts, loud, flowered shirts and a World Cup ski-jumping event taking place on an island with a tropical backdrop. It might sound like a crazy idea, but it's not out of the question with today's modern jumping complexes.
It's easy to defined them by the sport they play, but athletes in Routt County are constantly reminding us that their's more to a book than just the cover.

Introduction to hockey programs offer young skaters the opportunity to learn the game.

Chris Smith entered the snowboarding world back in early 1980s and today his love for the sport is matched only by his collection of vintage boards.
It's a sad time of year around high school sports, but while some careers will come to an end, the lessons they conveyed will not.

The volleyball team from Hotchkiss was able to move past the Hayden Tigers Tuesday night during a pigtail match to determine the final team to earn a spot in this weekend's district tournament, which is being hosted by Grand Valley in Parachute.
Winning is never saying your sorry.
There is no "sorry" in winning.

Dogs in Steamboat Springs live the good life as far as dogs are concerned. Fresh mountain air, plenty of no-leash options, businesses that welcome pets and miles of outdoor trails and fun make Routt County a great place for dog owners and their companions.
Recent photos