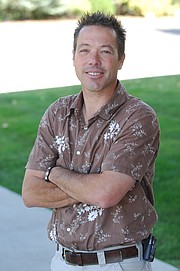 John F. Russell is a sports reporter and photographer for the Steamboat Pilot & Today. He writes a sports column that appears Sundays. He has worked for the newspaper since June 1990.
John has a Bachelor of Arts from the University of Colorado and worked at the Longmont Times-Call during college.
John is from Denver. His hobbies include bowling, softball, photography, pinochle and following his two lovely children around.
Recent Stories
Six years after leaving his position as head coach of the Steamboat Springs High School basketball program, Kelly Meek still is teaching the game to young athletes in Western Colorado.
It could be the best dinning experience in Steamboat Springs and would offer people a taste of what our mountain town is all about along with a side of fries.
Cast your vote and watch the game unfold. Maybe I've been covering sports for too long.

The Tour de Steamboat rides raised $72,000 for local causes this year, and organizers already are setting their sights on 2015.

Ski in North Routt County this winter and you might see locals schussing on a new ski underfoot, complete with gray-and-brown beetle-kill topsheets. Far from their Filthy Ski brand name, they're works of art that are as fun to arc turns on as they are aesthetic.

Steamboat's most recent cold snap is just what snowmakers at the Steamboat Ski Area where hoping for. The first flakes of the year where blown Tuesday morning as the ski area looks forward to opening day.
The end is near for many seniors in Routt County, but there are sports after high school.
Looking back it's easy to see Johnny Spillane's accomplishments, but it's the road he traveled that makes his story so special.

Johnny Spillane inducted into Colorado Ski and Snowboarding Hall of Fame after amazing career with U.S. Nordic combined team.

Johnny Spillane's land mark career at a glance.
Recent photos