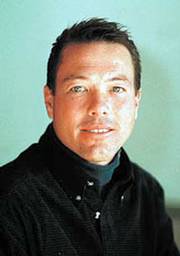 John F. Russell is a sports reporter and photographer for the Steamboat Pilot & Today. He writes a sports column that appears Sundays. He has worked for the newspaper since June 1990.
John has a Bachelor of Arts from the University of Colorado and worked at the Longmont Times-Call during college.
John is from Denver. His hobbies include bowling, softball, photography, pinochle and following his two lovely children around.
Recent Stories

A land owner on Lynx Pass, and the U.S. Forest Service are working together to clear a stretch of road that might prove vital in case of fire.
The U.S. Ski Team has pulled the plug on the Nordic combined team, but head coach Dave Jarrett isn't about to give up on this team, or the sport that he loves.
A new triathlon team will start competing in May and hopes to take athletes from Steamboat Springs to the next level.

The Steamboat Springs Sailors rolled past the Glenwood Springs Demons Tuesday night at Gardner Field.

Local shop has been making alterations, repairing clothing for more than 30 years in Steamboat Springs.

The deadline for early registration for the Y.E.S. Golf Tournament is quickly approaching.
Back in the late 1970s, a young athlete from Steamboat Springs set out to make his mark on the football fields, basketball courts and tracks of Northwest Colorado. By the time he graduated from high school, Tom Southall had changed the way people in Steamboat Springs, and Colorado, viewed those with disabilities.
Thirty years ago a young athletes named Tom Southall captured the attention of Steamboat Springs, the state of Colorado and the country. Three legendary Steamboat Springs coaches are the first to share an award that will recognize those who work with athletes that are full of unexpected potential.

The Steamboat Golf Club plans to open its doors Saturday ushering in the 50th anniversary of the popular 9-hole course west of Steamboat Springs.

The Steamboat Springs High School girls tennis team continued to move in the right direction Tuesday afternoon with an impressive win against Vail Mountain at home.
Recent photos