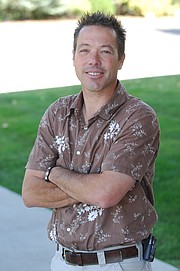 John F. Russell is a sports reporter and photographer for the Steamboat Pilot & Today. He writes a sports column that appears Sundays. He has worked for the newspaper since June 1990.
John has a Bachelor of Arts from the University of Colorado and worked at the Longmont Times-Call during college.
John is from Denver. His hobbies include bowling, softball, photography, pinochle and following his two lovely children around.
Recent Stories
The list of things I wanted to do this summer is way too long, but the good news is that another summer is always just around the corner.

Just a few years ago, the only sound you might hear coming from the Hayden Speedway on a Saturday night would be the wind rattling the old metal bleachers. But things have changed, and the roar of the engine and the crowd has returned to the once forgotten track.

Tracy Bye's commitment to wildlife rehabilitation led her to open a center near Steamboat Springs
There is love in Tracy Bye's voice as she prepares specially formulated bottles in the kitchen sink of her home just outside of Steamboat Springs. As she talks, she describes the animals she has saved, the ones she has lost and the ones she is caring for now at the Born Free Wildlife Rehabilitation Center, which is located just a few steps outside her back door.

Back in 1989, Colorado Department of Wildlife officer Jim Hicks started coming into Tracy Bye's Soda Creek Elementary School classroom to talk with students about animal tracks.

You can find many of Born Free's most heartwarming stories on the center's website — wildlife-rehabilitation.com — under the tab "Stories From the Heart." There you can read about Bee, a hummingbird who came to the wildlife center after the nest she was in blew off its perch on a satellite dish, or the story of Sailor, a golden eagle found dehydrated near Maybell.
On Monday, I covered my second USA Pro Challenge in Steamboat Springs, and thanks to a BMW motorcycle, I had a front row seat for all the heart-stopping action.

Mountain Pine Manufacturing President Trent Jones smiled Friday morning as crews applied wood straw to the hillside of a nearly complete project along Routt County Road 33. He has bought into the product his company has produced for more than 5 years, and now for the first time he was getting to see it used in his own backyard.
Friday night's demolition derby thrilled a packed house at the Routt County Fairgrounds in Hayden and reminded me that a good time can almost always be found at the track.

Coming to terms may be the best way to understand the USA Pro Cycling Challenge.
Program introduces young 4-H members to what it takes to care for a horse.
Recent photos