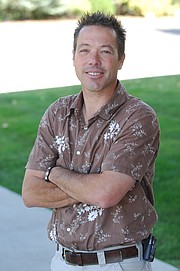 John F. Russell is a sports reporter and photographer for the Steamboat Pilot & Today. He writes a sports column that appears Sundays. He has worked for the newspaper since June 1990.
John has a Bachelor of Arts from the University of Colorado and worked at the Longmont Times-Call during college.
John is from Denver. His hobbies include bowling, softball, photography, pinochle and following his two lovely children around.
Recent Stories

Ski racers Anna Marno and Hig Roberts are carrying on Steamboat's rich Alpine traditions, but they understand they will need the support of the community to chase their Olympic dreams.
There are not that many places in the world where you can walk down a bike path and come across moose, bears, elk and deer. it's alway a fantastic opportunity, and gives local residents a chance to watch, enjoy and show these animals respect.

Yampa Valley Science School offers students a chance to learn in nature.
Former National, college and professional ski racer's golf tournament provides helping hand for future Olympic stars.
For the past two years Charlie and Gail Holthausen's dragon has been a main attraction for a number of events including the Fourth of July parade, Merry Main Street and Halloween. But on Sunday Steamboat's most famous dragon will be up for sale, and it's creator is hoping the dragon will find a buyer close to home.
The regional golf tournament will take place in Steamboat Springs this week, marking the beginning of the best part of the high school sports season.
The artists at this year's Colorado Art Ranch each bring a unique view of art, nature and the world we live in to the Yampa Valley. But chances are when they return home, Northwest Colorado will have expanded their views as well.
The top golfers on the Steamboat Springs High School golf team were noticeably missing for the final regular season tournaments of the season but plan to be back in the swing for next week's regional tournament in Steamboat Springs.

On Monday police quickly brought an end to a situation in the Walmart parking lot with a man who had threatened to harm himself.
Brady may have won in the court of law, but New England Patriot fans will always have to live with team's bad reputation.
Recent photos