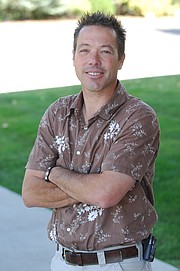 John F. Russell is a sports reporter and photographer for the Steamboat Pilot & Today. He writes a sports column that appears Sundays. He has worked for the newspaper since June 1990.
John has a Bachelor of Arts from the University of Colorado and worked at the Longmont Times-Call during college.
John is from Denver. His hobbies include bowling, softball, photography, pinochle and following his two lovely children around.
Recent Stories

As children, we grow up dreaming about what it would be like to be a professional athlete, but only a few people will ever get the chance to know what that feels like. But thankfully fantasy baseball camps are available to make dreams a reality.
I'm not sure if there are softball fields in heaven, but I can say for sure that is where you will find the game's biggest fan.

Steamboat Springs Swimmers race to top finishes at MAValanche Invite in Grand Junction.
The important place the Howelsen Hill holds in Steamboat Springs can get lost when you start looking at budgets, the cost of improvements and how to make the ski area profitable.
It will only take an hour and a half to get to the sight of the 2015 World Alpine Skiing Championships this year, and will offer ski racing fans in Colorado — and in Steamboat Springs — a rare chance to see the sport they love unfold under the international spotlight.
People in Steamboat Springs have long held dreams of building an indoor sports complex that would make sports like lacrosse and soccer a year-round activity for the children of our community.
The addition of Butcherknife and the Storm Peak brewing companies has marked an explosion of craft beer businesses in Steamboat Springs. It's true that both offer their own variety of beer, but inside the walls of these local business' the passion for the craft of brewing beer is a shared love.

Hig Roberts was hoping for a repeat in the final event of the Holiday Classic at Howelsen Hill, but his teammate had other ideas.
Former Steamboat Springs High School basketball and soccer star Roddy Beall is stepping into the spotlight, hopefully changing expectations about what is cool.

Skaters hope to use the 2014 Holiday Ice Show to showcase the Steamboat Springs Figure Skating Club.
Recent photos