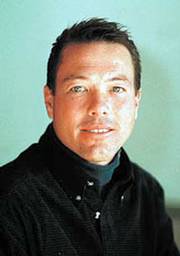 John F. Russell is a sports reporter and photographer for the Pilot & Today. He writes a sports column that appears Sundays. He has worked for the newspaper since June 1990.
John has a Bachelor of Arts from the University of Colorado and worked at the Longmont Times-Call during college.
John is from Denver. His hobbies include bowling, softball, photography, pinochle and following his two lovely children around.
Recent Stories

Former Steamboat Springs racers Shane McLean, and Hig Roberts will take on the best college ski racers in the world over the next week as the World University Games take center stage in Trentino, Italy.
Thankfully for Broncos fans the choice is still a few years down the road, but I have to wonder if Peyton Manning will retire as a Bronco, or a Colt?
Skiers who ventured out for last week's Scholarship Day at the Steamboat Ski Area helped set a new record for donations and helped local skiers in the process.
Historian Sureva Towler set out in the mid-1980s to tell the story of one of Steamboat Springs' most cherished institutions. It took four years, but when she finished, Towler had published "The History of Skiing in Steamboat Springs," and she created a reference where people could access our town's rich and long skiing history in one place.

Lane Shipley knew he had it good growing up in Steamboat Springs, and he took advantage of almost every opportunity the town provided. "I was a product of the Steamboat Springs lifestyle," Shipley said. "When you are young, you can do anything in our town, and I did everything."

This fall, the Steamboat Springs Winter Sports Club Board of Directors announced the hiring of Jim Boyne to serve as the club's new executive director, effective Oct. 21. Boyne replaces 14-year director Rick DeVos.
Walt Evans served as the executive director of the Steamboat Springs Winter Sports Club from 1979 to 1983.

As the owner of Nordic Excavating, Ricky Mewborn's phone rings when people need a hole for a foundation, have snow moved from the driveway or want to place a few big rocks along the banks of the Yampa River to improve river flow. But before that, he was representing the United States as one of the top special jumpers in the world.

When former Alpine ski racer Andy LeRoy came to the Steamboat Springs Winter Sports Club at age 8, he was hoping to learn to ski while also finding a place to go when the school bell rang at the end of the day. But many years after his last top-level race, he realized that the club not only taught him to ski, it gave him a path to find success.

Sunshine Owens landed in Steamboat Springs in the mid-1990s after searching the country for a place that offered top-level ski training and a true high school experience. Once she arrived in Steamboat, Owens quickly discovered that being part of the Winter Sports Club was about a lot more than skiing.
Recent photos