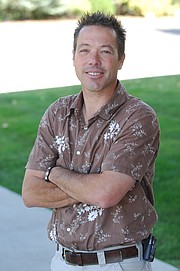 John F. Russell is a sports reporter and photographer for the Steamboat Pilot & Today. He writes a sports column that appears Sundays. He has worked for the newspaper since June 1990.
John has a Bachelor of Arts from the University of Colorado and worked at the Longmont Times-Call during college.
John is from Denver. His hobbies include bowling, softball, photography, pinochle and following his two lovely children around.
Recent Stories

Nobody was hurt Tuesday afternoon after a moose charged hikers, their dogs and a man walking along Spring Creek Trail with his baby in a backpack.
Before last Sunday's Super Bowl, game expectations were flying all around Santa Clara, California, like footballs. But when the game came to a close, those expectations had taken their toll and taught players and fans a valuable lesson about sports.

Paige VanArsdale has dealt with obstacles her entire life, but the Steamboat Springs High School student isn't about to let cerebral palsy define who she is, or what she can do.
Bill Johnson ignited America's interest in downhill skiing back in the 1980s. it was a love-hate relationship, but in the end, no one can deny Johnson's impact on the sport and his place in its story.
Sports fans understand disappointment, but what happens when your favorite teams packs up and leaves town.
Local coach hoping to inspire next generation of jumpers with "learn to fly" program at Howelsen on Saturday.
Steamboat Springs was well-represented by 10 skiers at last week's U.S. Senior National Championships.
As a sports writer, I totally understand the importance of the score of a game and the impact of a great result. But I learned a long time ago the best sports stories are normally not found on the scoreboard.
High Altitude Basketball hopes to bring new life, new interest into adult leagues.
A hundredth of a second takes on new meaning for Austrian ski racer.
Recent photos