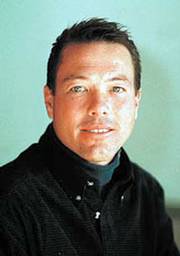 John F. Russell is a sports reporter and photographer for the Steamboat Pilot & Today. He writes a sports column that appears Sundays. He has worked for the newspaper since June 1990.
John has a Bachelor of Arts from the University of Colorado and worked at the Longmont Times-Call during college.
John is from Denver. His hobbies include bowling, softball, photography, pinochle and following his two lovely children around.
Recent Stories
The Steamboat Springs Vintage Auto Races came to an end in 1998, but many locals still have found memories of when the engine's roar dominated our Labor Day holiday.
Colorado Rockies fans will have to wait a least one more season to see the Denver team contend for a World Series title, but last Sunday the town took it's place in baseball history by honoring one of its first big time stars.
City, Arts Council make much needed improvements to Arts Depot thanks to $250,000 grant from historical fund.
The Routt County Fair's dog show offers 4-H members a chance to share the stage with their four-legged friends.

Horse shows highlights the start of the 100th annual Routt County Fair in Hayden.
Jim "Catfish" Hunter was a star on the baseball mound in the 1970s. His actions on the field earned him a perfect game and a place in the Hall of Fame. But what he did off the field inspired those with diabetes to pursue their dreams and to reach for the stars.
For 10 years Steamboat Springs resident Rich Danter has held an event to raise awareness, and money in the battle against prostate cancer.
Division I soccer programs from Colorado State University and the University of Colorado will visit Steamboat Springs next week before heading into the fall season.
Steamboat golfers open season with solid showing in Battlement Mesa
On Tuesday, a glitch in the computer system left hunters across the state, and in Steamboat Springs, waiting for their chance to buy big-game licenses.
Recent photos