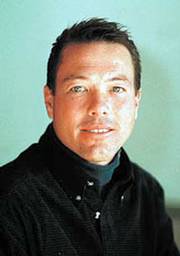 John F. Russell is a sports reporter and photographer for the Steamboat Pilot & Today. He writes a sports column that appears Sundays. He has worked for the newspaper since June 1990.
John has a Bachelor of Arts from the University of Colorado and worked at the Longmont Times-Call during college.
John is from Denver. His hobbies include bowling, softball, photography, pinochle and following his two lovely children around.
Recent Stories

Ski in North Routt County this winter and you might see locals schussing on a new ski underfoot, complete with gray-and-brown beetle-kill topsheets. Far from their Filthy Ski brand name, they're works of art that are as fun to arc turns on as they are aesthetic.

Steamboat's most recent cold snap is just what snowmakers at the Steamboat Ski Area where hoping for. The first flakes of the year where blown Tuesday morning as the ski area looks forward to opening day.
The end is near for many seniors in Routt County, but there are sports after high school.
Looking back it's easy to see Johnny Spillane's accomplishments, but it's the road he traveled that makes his story so special.

Johnny Spillane inducted into Colorado Ski and Snowboarding Hall of Fame after amazing career with U.S. Nordic combined team.

Johnny Spillane's land mark career at a glance.

Steamboat Springs Winter Sports Club is hoping Terry Orlick's perspective can give athletes, coaches and parents insight into excellence.
Speaker Terry Orlick brings his perspective to coaches, athletes and parents this week in Steamboat Springs.
This week, longtime Steamboat Springs High School golf coach Steve Dodson announced that he will not be coming back for the 2015 season. But after 11 years as the team's head coach, Dodson leaves behind a legacy of success.
Sailors head coach Steve Dodson broke the news that he will not return as head coach of the Steamboat golf team in 2015.
Recent photos