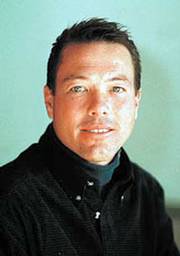 John F. Russell is the sports editor and a photographer for the Pilot & Today. He writes a sports column that appears Sundays. He has worked for the newspaper since June 1990.
John has a Bachelor of Arts from the University of Colorado and worked at the Longmont Times-Call during college.
John is from Denver. His hobbies include bowling, softball, photography, pinochle and following his two lovely children around.
Recent Stories
It's easy to forget just how lucky we are to live in Steamboat Springs, but then again all you have to do is look around to realize what a great place this is.
Organizers hope money raised from a local golf tournament will help young people recognize the signs, help raise awareness and help prevent suicide in the future.
When you are 46, a trip to Denver requires clean underwear, a clean shirt, deodorant and a toothbrush. But when you are taking your 11-year-old daughter to Denver, it's a different story.
The regular seasons are coming to a close, and high school athletes are looking forward to the opportunities playoffs have to offer.

Steamboat Springs girls soccer topped Glenwood Springs on Thursday to finish third in the Western Slope League standings but are waiting to find out whether a state playoff run is in its future.
The Steamboat Springs High School girls tennis team is looking for its 10th-straight title after a strong start at the regional tournament.
It takes more than one good race to become an Olympic-sized legend in Ski Town USA.
Last weekend, a new class of athletes was inducted into the U.S. Ski and Snowboard Hall of Fame insuring their stories will live on for future generations to enjoy.
World Champion and three-time Olympic silver medalist Johnny Spillane announced he is retiring from the U.S. Nordic Combined Ski Team to spend more time with his family.

On Tuesday night, the Steamboat Springs Winter Sports Club handed out 31 awards memorializing noteworthy alumni and recognizing those Steamboat Springs Winter Sports Club athletes who are setting the standards for today.
Recent photos