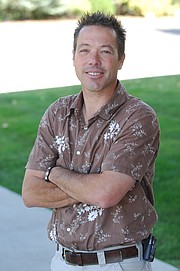 John F. Russell is a sports reporter and photographer for the Steamboat Pilot & Today. He writes a sports column that appears Sundays. He has worked for the newspaper since June 1990.
John has a Bachelor of Arts from the University of Colorado and worked at the Longmont Times-Call during college.
John is from Denver. His hobbies include bowling, softball, photography, pinochle and following his two lovely children around.
Recent Stories
The Battle Mountain Huskies experience proved to be too much for the Steamboat Springs Sailors Monday afternoon at Gardner Field. The Huskies topped Steamboat Springs in the Sailors first home game of the season, 15-3.
The newly formed Mountain West Summer Collegiate Wood Bat Baseball League is coming to Steamboat Springs this summer.

Three-hundred of the world's top junior freestyle skiers competed at the Junior World Championships in Italy this week. Two Steamboat Springs Winter Sports Club members found their way to the podium.
Corey Fairbanks may not have use of his legs, but he is setting an example that every athlete can learn from

The members of the Steamboat Springs Figure Skating Club are ready to step onto the ice this weekend with a tribute to Billboard's chart topping music.

There will be plenty of action happening on the ice this weekend at the Howelsen Ice Arena, and one group of players is hoping to make a lasting impression on sleds.
The seasons in Steamboat Springs come and go, but they are not always tied to the calendar.
When the Alpine snowboarding World Cup, and Nor-Am season came to an end last week several Steamboat Springs riders could be found near the top of the end-of-season point standings.

Steamboat Springs Bantam A hockey team survived a thrilling overtime matchup with one of the top teams Friday, and then skated to a state title Sunday at the Edge Ice Arena in Littleton.

The Moots Colorado Ranch Rally is a chance for cyclists from across the state, and country to discover the treasures that can be found along the dirt roads of Routt County.
Recent photos