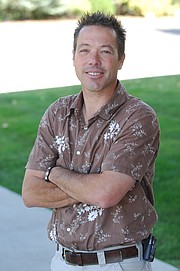 John F. Russell is a sports reporter and photographer for the Steamboat Pilot & Today. He writes a sports column that appears Sundays. He has worked for the newspaper since June 1990.
John has a Bachelor of Arts from the University of Colorado and worked at the Longmont Times-Call during college.
John is from Denver. His hobbies include bowling, softball, photography, pinochle and following his two lovely children around.
Recent Stories
After spending most of my life in the City I have to admit that it's taken me years to learn to appreciate the Routt County Fair and what our local agriculture community brings to life in my home town.

Growing up in a community like Steamboat Springs provides plenty of opportunities and teaches our children to follow them.
Don't yell her name, don't yell out of the refs and I still don't understand all the rules that go along with being a parent.
Sixteen years ago, the Rally for the Valley was quietly introduced by a small group of women who wanted to give back to the community; now it's the community that has stepped up to keep the tournament going.
Sixteen years after the Rally in the Valley started as a small grass-roots event at the Steamboat Golf Club west of Steamboat Springs the event has been reborn thanks to the staff at the Rollingstone Ranch Golf Club.
The new director of golf at the Rollingstone Ranch Golf Club has stepped up to offer long running golf tournament new life.
The U.S. Women's soccer team has earned its place in our Fourth of July celebration.
For many of the people I have covered the game is a past time, a thing that grabs our attention for a few hours and then passes with the seasons. A few of the people I've covered have taken the game to new levels and for them it's not just about the score at the end of the day, but the passion we all fell for the game.
Professional hockey player Ryan Dingle has moved to places around the world to pursue his love of the game, but that hasn't stopped him from realizing that home will always be tucked away in the mountains of Northwest Colorado in a place known as Ski Town USA.
Ryan Dingle's Elite Hockey Training camp posts summer schedule.
Recent photos