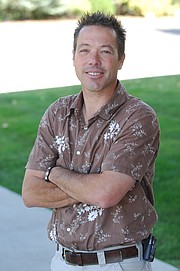 John F. Russell is a sports reporter and photographer for the Steamboat Pilot & Today. He writes a sports column that appears Sundays. He has worked for the newspaper since June 1990.
John has a Bachelor of Arts from the University of Colorado and worked at the Longmont Times-Call during college.
John is from Denver. His hobbies include bowling, softball, photography, pinochle and following his two lovely children around.
Recent Stories

The best telemark skiers in the world gathered at Howelsen Hill Wednesday to battle for positions in Thursday's Parallel Sprint Classic, and national pride.
Fifteen Steamboat Springs skiers traveled to Wisconsin last weekend to take part in one of skiing's historic events.

Registration open for 2015 Tour de Steamboat cycling event.

A thrift store is a place where people can donate items they no longer need, and the stores are dependent on donations from the community. Customers come from all walks of life, and one never knows what they'll be looking to buy.
Ted Farwell may not have been born in Steamboat Springs, but the life he led made him a champion in our town.
Pioneers like Ted Farwell set the bar with their results, and set an example with their passion for skiing.
Golfers eager to get back on the course will be thrilled to hear that Rifle Creek has opened in February.
Making the impossible look easy is a Steamboat Springs Winter Carnival tradition.
Update on Soldier Hollow race results
Several top finishes were left out of Steamboat Springs Winter Sports Club cross-county teams top performance on Feb. 4 in Soldier Hollow.

Howelsen Hill and Winter Sports Club are tightly bound
For generations the history of Howelsen Hill and the legacy of the Steamboat Springs Winter Sports Club have been joined in a lengthy partnership that has resulted in Olympic celebrations and has long been a source of pride for town residents.
Recent photos