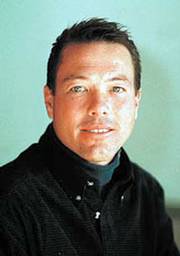 John F. Russell is a sports reporter and photographer for the Steamboat Pilot & Today. He writes a sports column that appears Sundays. He has worked for the newspaper since June 1990.
John has a Bachelor of Arts from the University of Colorado and worked at the Longmont Times-Call during college.
John is from Denver. His hobbies include bowling, softball, photography, pinochle and following his two lovely children around.
Recent Stories
When James Lehmann was diagnosed with diabetes a few years ago the news came as a shock. Since then the Steamboat Springs resident has been working to get his blood sugar under control, and raise awareness about the disease that changed his life.
Tour de Cure gives local man a chance to improve his health, and raise money for a good cause.
I've learned that being the parent of a competitive soccer player isn't always easy, but it's a position I'm welling to learn.

When Father Tom Dentici passed away July 17, he left behind a long legacy of caring that inspired the members of his parish, and the community of Steamboat Springs.
Karl Denney brings his family's love of ski jumping to Steamboat Springs Winter Sports Club's Nordic programs.

As the Steamboat Moutnain Soccer Tournament enters it's final day two local teams still have hopes of landing a title.
Making a difference is what the Rally in the Valley was all about.

Longrunning fundraiser appears to have come to end of long, successful run
For 15 years the Rally in the Valley has raised money, and raised awareness in the battle against breast cancer in Steamboat Springs.
Parks and Wildlife officials say they have captured an elk calf in Rita Valentine Park and transported it to the Born Free Wildlife Rehabilitation Center near Steamboat Springs.
Big stories and everyday events come together in the pages of the Today to help tell Steamboat Springs story.
Recent photos