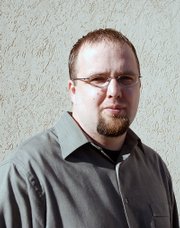 Jerry Raehal has been the editor of the Craig Daily Press since November 2006. Prior to that, he worked as the editor/general manager at the Molalla Pioneer in Oregon, and as the sports editor of the Rawlins Daily Times in Wyoming.
Raehal graduated from the University of Northern Colorado in 2000. He is married and has no children.

Recent Stories

No one was injured in a Wednesday morning crash between a Moffat County school bus and car.
Sheriff looks at first year, toward second
Sitting on Moffat County Sheriff Tim Jantz's desk is a blue Mead notebook.
Reconstruction efforts going on after apartment fire
Early May is the goal for completing reconstruction on a Craig apartment complex that caught fire in September 2007.

Full-time dentist joins Northwest Colorado Dental Coalition staff in Craig
Several words come to Janet Pearcey, director of the Northwest Colorado Dental Coalition, when describing Dr. Dana Fujita.

When Vicky Kessler first arrived on the fire scene at the Country Mall about 11:30 p.m. Sunday, she admitted to having hope.

Early reports: Minimal damage to county vehicles
A fire at the Moffat County Road and Bridge Department County Shop on First Street on Saturday destroyed the county's sign inventory but left county vehicles with minimal damage, according to early reports.

First Craig Relay for Life raises more than $64,000
She was, admittedly, a little slap happy.
The names of the victims involved in a fatal crash near Dinosaur on July 11 have been released.
When Tim Gibbs resigned as executive director of the Economic Development Partnership in April, questions swirled as to whether EDP would stay in existence.

A 13-year-old girl who had been missing since 6 p.m. Sunday was found dead Monday morning in the Yampa River.
Recent photos