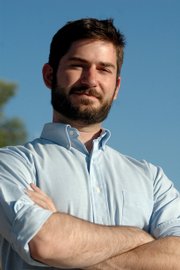 Hans Hallgren began as photographer at the Daily Press in September 2007. He graduated from Metropolitan State College of Denver in 2005 and interned at The Golden Transcript during that time. After graduating he moved to Connecticut to work for The Hour, a daily newspaper in Norwalk, Con., for almost two years. He moved back to Colorado to be close to family in Denver in July. In his free time he enjoys watching movies and working on his art.
Recent Stories

John Zamora, an agent for the Colorado Bureau of Investigation's Identity Theft Fraud Unit for the Western Slope, based in Grand junction, talked about identity theft to a group of more than 50 seniors at the American Legion Post 62.

A day after reportedly falling off his skateboard, resident Shane Braselton, 20, was pronounced dead Wednesday in Grand Junction, Moffat County Coroner Owen Grant said.
A total of 19 workers at the Tri-State Generation & Transmission power plant were taken to The Memorial Hospital early Saturday morning after complaining of flu-like symptoms.

Fundraiser brings in $6,500 for organization
The roulette wheel spun. The ball was dropped. Chips of every color covered red and black numbers. The dealer called out, "22 black!" More than 10 people packed around a seemingly small table let out a roar.

Tour takes travelers on journey through region's past
The 24 people boarded a school bus just after 8 a.m. Saturday at Wyman Museum for the Parade of Museums. Their destination? History.

When tragedy hits a family, it's nice to know friends can be counted on in times of need.
Love INC sponsors free car clinic
For some, a car's engine is a mystical force propelling them down the road. If a problem were to arise, keeping it running could be a bewildering challenge.
Enough vaccinations for whole community
With October being the traditional start of the flu season, the Northwest Colorado Visiting Nurse Association has three core tactics in preventing the flu.
Recent photos