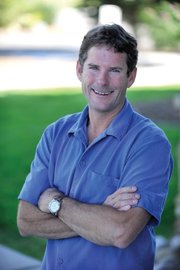 A resident of Steamboat since moving the offices for Paddler magazine to town in 1992, Eugene Buchanan has written about the outdoors for more than 20 years, from working the Beijing Olympics for NBC to writing for ESPN.com. A business/economics graduate of Colorado College, where he captained his NCAA lacrosse team, the former ski patrol, kayak instructor and sea kayak and raft guide is also a former business reporter for the Denver Business Journal and media director of the World Pro Mogul Tour. He also enjoys a successful freelance career, with articles published in The New York Times, Men's Journal, Sports Afield, Outside, National Geographic Adventure, 5280, Forbes Life, Skiing, Powder and other publications. A member of New York's Explorer's Club, his passion for traveling, writing and paddling has taken him to more than 30 countries on six continents. His first book, "Brothers on the Bashkaus," was released by Fulcrum Publishing in 2007; his second book, "Outdoor Parents, Outdoor Kids," was released by Heliconia Press in 2010, winning the gold medal from the Living Now Book Awards. He lives with his wife, Denise, and two daughters, Brooke, 12, and Casey, 8, just a block away from the Yampa River.
Recent Stories
Those with mortal lungs were milking freshies on the 4.25-mile Morning Gloria, Steamboat Springs' newest mountain bike trail. You only get one chance at a first impression and Morning Gloria's was...glorious.

Look skyward this summer and you might see a few more sail planes soaring around Steamboat. This spring, a group of ardent aviators formed the seven-member-strong, nonprofit Steamboat Springs Soaring Association, a glider club pooling resources to fly with a winch off a 4,500-foot-long landing strip on ranch land owned by Ray Selbe.
Tide-pooling is a verb in Alaska. It's 11 a.m. and the ebb is at its lowest outside our cabin in Kachemak Bay — home of the second largest tides in the world of up to 28 vertical feet. That means it's tide-pool time. The concept is simple. You don rubber boots and wade around kelp-covered rocks, marveling at a life-filled world completely underwater only minutes ago.

This summer marks a milestone for Dr. David Williams, 68. On July 1, he'll retire from Steamboat Medical Clinic, which he co-founded with Dr. John Sharp 39 years ago.

We've all had those times when something Colorado-ish just clicks — a moonrise over the aspen, a rainbow framing a deer, a trout rise in the early morning mist. My mile-high moment came last weekend, when even the good lord above would've had a hard time scripting a more scenic scenario from our 38th state.

For the fourth time, local nonprofit Friends of the Yampa (FOY) hosted a group of more than 20 national conservationists, water policy stakeholders and other river advocates for a four-day raft trip through Yampa Canyon and Dinosaur National Monument as part of its Yampa River Awareness Project (YRAP).

Members of the Detroit Red Wings Alumni Association were here for the weekend to play a benefit game for the Steamboat Springs Youth Hockey Association.
Having your roof electrified with 120 volts reaffirms that anything can happen in Ski Town USA
Science teachers: Want a case study for your next class? Use my house. It all started on Valentine's Day, when my 5-year-old niece, Lily, visiting with her parents from Alaska, came into the laundry room and told her mom, Laurie, she "was scared of the fire."

While this year's Winter Carnival is entering its second century, its benefactor, the Steamboat Springs Winter Sports Club, is right on its ski boot heels, celebrating its 100th anniversary in 2014.

It might be easier to find untracked lines this weekend at Steamboat Ski Area. Not because of the recent storm blanketing Mt. Werner, but because of the annual Snowsports Industries America (SIA) SIA Snow Show in Denver, held this year Jan. 30 - Feb. 2 at the Colorado Convention Center.
Recent photos