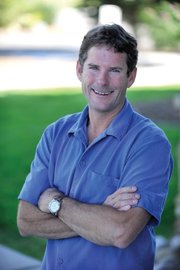 A resident of Steamboat since moving the offices for Paddler magazine to town in 1992, Eugene Buchanan has written about the outdoors for more than 20 years, from working the Beijing Olympics for NBC to writing for ESPN.com. A business/economics graduate of Colorado College, where he captained his NCAA lacrosse team, the former ski patrol, kayak instructor and sea kayak and raft guide is also a former business reporter for the Denver Business Journal and media director of the World Pro Mogul Tour. He also enjoys a successful freelance career, with articles published in The New York Times, Men's Journal, Sports Afield, Outside, National Geographic Adventure, 5280, Forbes Life, Skiing, Powder and other publications. A member of New York's Explorer's Club, his passion for traveling, writing and paddling has taken him to more than 30 countries on six continents. His first book, "Brothers on the Bashkaus," was released by Fulcrum Publishing in 2007; his second book, "Outdoor Parents, Outdoor Kids," was released by Heliconia Press in 2010, winning the gold medal from the Living Now Book Awards. He lives with his wife, Denise, and two daughters, Brooke, 12, and Casey, 8, just a block away from the Yampa River.
Recent Stories
Steamboat Springs nonprofits, including Friends of the Yampa and Protect the Flows, were represented at the summit, which aimed to advance water policy and incentivize conservation.
With vast tracts of public land and sizable animal herds, Grand County, which encompasses Kremmling, Hot Sulphur Springs, Granby and Grand Lake, also can apply its grand namesake to big game hunting.
Outdoor writer Eugene Buchanan shares his experience on a 12-day float down Alaska's Alsek River, which cuts through the heart of the Yukon's Kluane and Alaska's Glacier Bay national parks.

Your favorite outdoor shop and the companies that make many of their products might be a little short-staffed this week after a mass exodus from Steamboat Springs to Salt Lake City for the annual Outdoor Retailer Summer Market trade show.

Professional musician, camera store owner, portrait shooter, red-ski-suit-wearing photo seller, poster designer, custom woodworker, clothing entrepreneur. Rick Bear has been all those and more since moving to Steamboat in 1971. In the process, it's put him in touch with countless locals and visitors and reaffirmed why he's glad to call Steamboat home.

Look beneath the sets of local drummers and you'll see something taking the percussion world by storm, all from the Copper Ridge business of local Bob Hyams.

Friend local photographer Aryeh Copa on Facebook and come April, you might find yourself second-guessing some of his shots. Every April Fool's Day, Copa does a little photoshopping for fun, and the results — a cross between what you might find in a Thomas Mangelsen gallery and a Red Bull catalog — have made waves around town.
Feel good about your little 5K jog or even Steamboat Marathon? That's peanuts. In April, three men ran through town en route to logging 3,000 miles across the country to raise money for bone cancer research.

I realized it one weekday evening this May while kayaking the Elk River. The stretch is fast and clear, running east-west straight into the sun above Sand Mountain, which backlights its waves into a camera flash ribbon of white. It's these waves that make the run so appealing.
As the owner of dog-walking company Happy Tails, Lynne Miller's clients always are wagging with delight to see her. The same can be said for their two-legged owners as well as everyone else she's touched in her 40 years in the Yampa Valley.
Recent photos