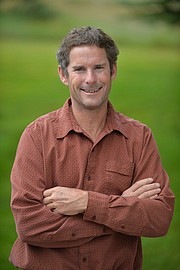 A resident of Steamboat since moving the offices for Paddler magazine to town in 1992, Eugene Buchanan has written about the outdoors for more than 20 years, from working the Beijing Olympics for NBC to writing for ESPN.com. A business/economics graduate of Colorado College, where he captained his NCAA lacrosse team, the former ski patrol, kayak instructor and sea kayak and raft guide is also a former business reporter for the Denver Business Journal and media director of the World Pro Mogul Tour. He also enjoys a successful freelance career, with articles published in The New York Times, Men's Journal, Sports Afield, Outside, National Geographic Adventure, 5280, Forbes Life, Skiing, Powder and other publications. A member of New York's Explorer's Club, his passion for traveling, writing and paddling has taken him to more than 30 countries on six continents. His first book, "Brothers on the Bashkaus," was released by Fulcrum Publishing in 2007; his second book, "Outdoor Parents, Outdoor Kids," was released by Heliconia Press in 2010, winning the gold medal from the Living Now Book Awards. He lives with his wife, Denise, and two daughters, Brooke, 12, and Casey, 8, just a block away from the Yampa River.
Recent Stories
For all the marvelous snowpack it provided, last week's storm was a bit of a letdown. A three-day dump gets everyone's hopes up for one of the best openings ever, and then "freezing rain" crusts it over to the consistency of burnt crème brulee.
There's a reason the term "Champagne Powder" was coined in Steamboat Springs in 1958 by Kremmling rancher Joe McElroy. The ski area gets some of the most and best powder not only in the state, but the enitre country.

Celebrating its 50th anniversary just last year, Steamboat Ski Area continues to better its on-mountain experience for guests, from base area enhancements that let you saddle up to a bar and music stage to mountainside eateries, grooming and additional night skiing options.

Percy Jackson has nothing on Steamboat Springs. While he may be the son of Poseidon, the Yampa Valley and its 100-year-old, world-renowned Steamboat Springs Winter Sports Club (SSWSC) is parent to more Olympians than any other town in the country.

If you're here already, you know that getting to Steamboat Springs is now easier than it ever was back in the old stagecoach days.
Well, it's here: another winter season in Ski Town USA. If you're reading this, you're probably already here enjoying one of the best mountain towns in the country.
You don't need stagecoaches and horses to get around Steamboat Springs anymore. It's now easier than ever, with free city buses, a 24-7 taxi service and ample parking from town to the mountain...

A complete list of events for the 2014-15 season...

Now you can easily sample fresh suds in Ski Town USA after a day on the slopes. Two new breweries recently opened their doors in Steamboat, joining longtime brewer Mahogany Ridge to bring town's brewery count to three, all offering fill-your-own Growlers, mug clubs, tasting rooms and more. Hit up all three on your next apres adventure.

A brief history of Steamboat Springs
Recent photos