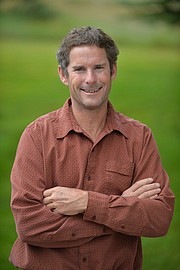 A resident of Steamboat since moving the offices for Paddler magazine to town in 1992, Eugene Buchanan has written about the outdoors for more than 20 years, from working the Beijing Olympics for NBC to writing for ESPN.com. A business/economics graduate of Colorado College, where he captained his NCAA lacrosse team, the former ski patrol, kayak instructor and sea kayak and raft guide is also a former business reporter for the Denver Business Journal and media director of the World Pro Mogul Tour. He also enjoys a successful freelance career, with articles published in The New York Times, Men's Journal, Sports Afield, Outside, National Geographic Adventure, 5280, Forbes Life, Skiing, Powder and other publications. A member of New York's Explorer's Club, his passion for traveling, writing and paddling has taken him to more than 30 countries on six continents. His first book, "Brothers on the Bashkaus," was released by Fulcrum Publishing in 2007; his second book, "Outdoor Parents, Outdoor Kids," was released by Heliconia Press in 2010, winning the gold medal from the Living Now Book Awards. He lives with his wife, Denise, and two daughters, Brooke, 12, and Casey, 8, just a block away from the Yampa River.
Recent Stories
A lot of people have grandiose dreams of building a house in a ski town. A minimal commute to the slopes, a ski rack inside the front door, a crackling fire … maybe even a strategically positioned dump light outside the living room that lets you monitor snowfall.
Whether it's trudging up Mount Werner before the resort opens or breaking trail in the backcountry, donning skins and earning your turns is ascending in popularity, just as its minions are doing on local mountains.
Online silent auction runs Nov. 14-21 at friendsoftheyampa.com
With the permitting process nearing completion for its Phase 1 river project with the city, Friends of the Yampa is holding its biggest fundraiser of the year, the Big Snow Dance, at Sake2U on Saturday, Nov. 21.
Local filmmaker Greg Hamilton, a former producer for Warren Miller Entertainment, has until Nov. 19 for his Kickstarter campaign to help fund his new documentary film, "Power of the River" about a whitewater- and fly-fishing-filled trip down Bhutan's remote Drangme river.

While Steamboat has its share of Olympians and other athletes — skiers, bike racers, rodeo stars you name it — a few folks once made their greenbacks on the gridiron. Perhaps the legacy owes itself to the late Doak Walker, who won the Heisman Trophy in 1948 and earned a spot in the NFL Football Hall of Fame for the Detroit Lions before settling in Steamboat. But it's more likely due to our easy-going lifestyle and scenery, far removed from stadiums and paparazzi. No matter your team allegiance, following are a few NFLers you might run into in the lift line. 

Word of the month: 5 locals share their thoughts on "Timing"

Think your river ride is sweet? Try the new Tubular Tube being launched through Kickstarter by former Steamboat resident Sebastian Schleicher...

Forget Neil Young and Steamboat's harvest moon in September. Local woodworker Eric Baker will take his Harvest Skis. That's the brand he's breathing life into in his new line of garage-made, wooden skis.
If only our cars enjoyed this kind of longevity. In 2016, the Steamboat Gondola, once affectionately known as the Silver Bullet, celebrates its 30th year of operation, a milestone for any machine helping us access the goods.
Okay, all you closet storm chasers, it's official: El Niño's back. But what's that spell for our snowpack in Steamboat? Don't necessarily start stocking up the snow shovels...
Recent photos