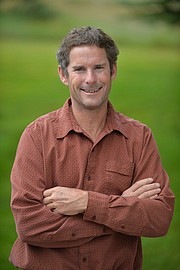 A resident of Steamboat since moving the offices for Paddler magazine to town in 1992, Eugene Buchanan has written about the outdoors for more than 20 years, from working the Beijing Olympics for NBC to writing for ESPN.com. A business/economics graduate of Colorado College, where he captained his NCAA lacrosse team, the former ski patrol, kayak instructor and sea kayak and raft guide is also a former business reporter for the Denver Business Journal and media director of the World Pro Mogul Tour. He also enjoys a successful freelance career, with articles published in The New York Times, Men's Journal, Sports Afield, Outside, National Geographic Adventure, 5280, Forbes Life, Skiing, Powder and other publications. A member of New York's Explorer's Club, his passion for traveling, writing and paddling has taken him to more than 30 countries on six continents. His first book, "Brothers on the Bashkaus," was released by Fulcrum Publishing in 2007; his second book, "Outdoor Parents, Outdoor Kids," was released by Heliconia Press in 2010, winning the gold medal from the Living Now Book Awards. He lives with his wife, Denise, and two daughters, Brooke, 12, and Casey, 8, just a block away from the Yampa River.
Recent Stories

Magazine editor Eugene Buchanan joined local bike manufacturer Moots on its second annual, 50-mile Moots Ranch Rally, a communal dirt-road ride showcasing area ranches while benefitting the Community Agriculture Alliance.

Debuting at the Steamboat rodeo last year, 2015 marks the second time the mini bareback riding event, fully endorsed by the PCRA, will take place at Romick Arena, with the contests slated for July 25 and 26 and July 31 and Aug. 1, as young riders prepare for a berth in the National Finals in Las Vegas.

Every sport has its Holy Grail, that pinnacle of perfect conditions. For kayakers in Steamboat this past week, it's catching the Yampa at peak flood. This is when the river is its most powerful.

Magazines editor and columnist Eugene Buchanan writes about his experience at one of Conservation Colorado's sage grouse viewing trips.

Last fall, the music director baton for the Strings Music Festival was passed to Michael Sachs, a 26-year principal trumpet for the Cleveland Orchestra. Educated at Julliard and recognized internationally as a leading soloist, recitalist, chamber musician, teacher and author, Sachs' line-up kicks off with some of his favorite players. Here's his take on Steamboat and his new role.

Sure, a lot of us have gardens. But few among us have sprouted with the pastime like Jack's proverbial beanstalk, taking the activity to new levels. These are our local Colorado Master Gardeners, a registered service mark of Colorado State University Extension office.

You'd think local carpenter Paul Hobson might be tired of plying his trade by the end of each day. Not so. You can find him inside his garage building wooden surfboards under the brand name Estrus.

I haven't always been a writer. One of my first conscious efforts to scribe so came in college when our Western authors professor gave us a choice between taking a final exam or writing a short western-themed story.

The second annual Steamboat NHL Alumni Classic raised more than $30,000 for Steamboat Springs youth hockey during a weekend packed full of events.

Forget dancing with the stars ... I'll take skiing for STARS.
Recent photos