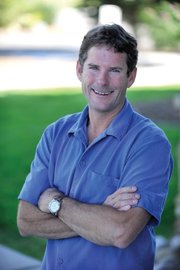 A resident of Steamboat since moving the offices for Paddler magazine to town in 1992, Eugene Buchanan has written about the outdoors for more than 20 years, from working the Beijing Olympics for NBC to writing for ESPN.com. A business/economics graduate of Colorado College, where he captained his NCAA lacrosse team, the former ski patrol, kayak instructor and sea kayak and raft guide is also a former business reporter for the Denver Business Journal and media director of the World Pro Mogul Tour. He also enjoys a successful freelance career, with articles published in The New York Times, Men's Journal, Sports Afield, Outside, National Geographic Adventure, 5280, Forbes Life, Skiing, Powder and other publications. A member of New York's Explorer's Club, his passion for traveling, writing and paddling has taken him to more than 30 countries on six continents. His first book, "Brothers on the Bashkaus," was released by Fulcrum Publishing in 2007; his second book, "Outdoor Parents, Outdoor Kids," was released by Heliconia Press in 2010, winning the gold medal from the Living Now Book Awards. He lives with his wife, Denise, and two daughters, Brooke, 12, and Casey, 8, just a block away from the Yampa River.
Recent Stories
When a perfect crust forms on the spring snowpack atop Rabbit Ears Pass, it serves up something relatively unusual in Steamboat and its high-altitude flats: crust skiing.
There are countless ways to lose time in your first Randonee race: Being out of shape is one, as is being spastic at transitions, slow on the downhills and schizo about layering.
Don't be surprised if your favorite ski shop is a tad short-handed this weekend. Not because everyone's out sampling the snow but rather "The Show."

If this month gets remembered for its lack of snowfall, it also might go down for its urban line accolades. Not even a windstorm swept up to Etch-a-Sketch away locals' snowy artwork.
Forget the in-laws, last-minute shopping and stress of frothing your meringue to a pointed whip. The real test of the holidays is surviving the white elephant gift exchange.
It's been a while since we've seen such a feeding frenzy. Sixty-three inches of snow in 10 days after a prolonged drought will do that to people.

The Steamboat Springs Winter Sports Club might create virtuosos on the snow, but another nonprofit in town is doing the same on a different playing field.

If cats have nine lives, Steamboat Powdercats, founded in 1983 by Jupiter and Barbara Jones, is doing pretty well, celebrating its 30th birthday this year.
Dorothy would have been right at home singing in Steamboat Springs this summer.

The ritual is always the same. Move everything from its summer berth in the garage — the kayaks, rafts, bikes, pogo sticks, tents, backpacks, fishing gear, coolers and more — back into its crawl space nook to make room for two cars and ski gear.
Recent photos