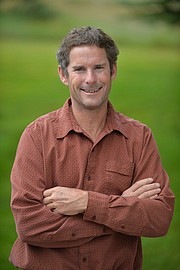 A resident of Steamboat since moving the offices for Paddler magazine to town in 1992, Eugene Buchanan has written about the outdoors for more than 20 years, from working the Beijing Olympics for NBC to writing for ESPN.com. A business/economics graduate of Colorado College, where he captained his NCAA lacrosse team, the former ski patrol, kayak instructor and sea kayak and raft guide is also a former business reporter for the Denver Business Journal and media director of the World Pro Mogul Tour. He also enjoys a successful freelance career, with articles published in The New York Times, Men's Journal, Sports Afield, Outside, National Geographic Adventure, 5280, Forbes Life, Skiing, Powder and other publications. A member of New York's Explorer's Club, his passion for traveling, writing and paddling has taken him to more than 30 countries on six continents. His first book, "Brothers on the Bashkaus," was released by Fulcrum Publishing in 2007; his second book, "Outdoor Parents, Outdoor Kids," was released by Heliconia Press in 2010, winning the gold medal from the Living Now Book Awards. He lives with his wife, Denise, and two daughters, Brooke, 12, and Casey, 8, just a block away from the Yampa River.
Recent Stories

Steamboat heads to Denver's annual SIA tradeshow
What do ski icon Glen Plake, Olympic gold medalist Mikaela Shiffrin and nearly everyone in the ski business in Steamboat have in common? You'll likely find them this weekend at Denver's annual Snowsports Industries America Snow Show, held Thursday through today at the Colorado Convention Center.

I'm skiing through a grove of aspen trees high on Buffalo Pass, a warm spell texturing the snow — a cross between powder and corn. The combo seems oddly fitting, as I'm searching for a phonetic cross between the two: porn. More specifically, hidden stashes of erotic tree art etched into area's aspens by long lost — and obviously lonely — sheepherders.
Outfitted head-to-toe on a backcountry trip to B.C.
What would you do if you were heading on a skiing trip to the British Columbia backcountry with your buddy the Black Diamond rep? You'd hop right into a nearby phone booth and become Black Diamond Boy.
I approach it with trepidation every year. You never know what kind of reaction you're going to get after ignoring it so long. No, it's not my dog after a long absence, or even a visit to my doctor or dentist. It's something far more crucial to living in Ski Town USA: my snowblower.

Pop a daffy under the lift today, and you're considered either a hipster or a loser. It's a shame because the daffy is one of skiing's marquee stunts — one that, unlike a cork 540, still is within the grasp of The Everyman Skier.
Some wedding table conversations are better than others. Still, none of us at Table 9 were prepared for the doozy related by John "Maddy" Madigan, a not-too-backcountry-savvy friend from Seattle.
The most unusual holiday tradition for a smattering of sleuthing Steamboat Springs locals is hunting for a buried log.
Here are 11 perfect gifts that keep the giving local.
A lot of people have grandiose dreams of building a house in a ski town. A minimal commute to the slopes, a ski rack inside the front door, a crackling fire … maybe even a strategically positioned dump light outside the living room that lets you monitor snowfall.
Whether it's trudging up Mount Werner before the resort opens or breaking trail in the backcountry, donning skins and earning your turns is ascending in popularity, just as its minions are doing on local mountains.
Recent photos