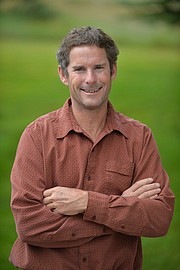 A resident of Steamboat since moving the offices for Paddler magazine to town in 1992, Eugene Buchanan has written about the outdoors for more than 20 years, from working the Beijing Olympics for NBC to writing for ESPN.com. A business/economics graduate of Colorado College, where he captained his NCAA lacrosse team, the former ski patrol, kayak instructor and sea kayak and raft guide is also a former business reporter for the Denver Business Journal and media director of the World Pro Mogul Tour. He also enjoys a successful freelance career, with articles published in The New York Times, Men's Journal, Sports Afield, Outside, National Geographic Adventure, 5280, Forbes Life, Skiing, Powder and other publications. A member of New York's Explorer's Club, his passion for traveling, writing and paddling has taken him to more than 30 countries on six continents. His first book, "Brothers on the Bashkaus," was released by Fulcrum Publishing in 2007; his second book, "Outdoor Parents, Outdoor Kids," was released by Heliconia Press in 2010, winning the gold medal from the Living Now Book Awards. He lives with his wife, Denise, and two daughters, Brooke, 12, and Casey, 8, just a block away from the Yampa River.
Recent Stories

The migration is here again. Not geese heading back to town early due to our mild weather, but local ski industry personnel heading to the annual Snowsports Industries America Snow Show in Denver, held this year from Thursday to Sunday at the Colorado Convention Center.

If ever there was a stand-in for the famed mountain man, who actually trapped just north of here, it's fourth-generation Steamboat Ray Heid, who runs Del's Triangle 3 Ranch outside Clark.

A diehard backcountry skier, Edge, vice president of Backcountry Access, was hitting Rabbit Ears to learn riding tips from pro rider Brett Rasmussen. Did I want to tag along? Of course.

While kayaking play parks have sprouted up across the West in recent decades — including the C and D Holes on the Yampa River in downtown Steamboat Springs — the region's biggest waterway, the Colorado River, only has one engineered kayaking (and board surfing) park: the remarkably popular "wave" in Glenwood Springs.
One day we're languishing in the remnants of the worst snow layer ever, and the next thing we know, a 20-inch snowstorm wallops Mount Werner into submission, popping the celebratory cork on full-blown, Steamboat-style Champagne.
For all the marvelous snowpack it provided, last week's storm was a bit of a letdown. A three-day dump gets everyone's hopes up for one of the best openings ever, and then "freezing rain" crusts it over to the consistency of burnt crème brulee.
There's a reason the term "Champagne Powder" was coined in Steamboat Springs in 1958 by Kremmling rancher Joe McElroy. The ski area gets some of the most and best powder not only in the state, but the enitre country.

Celebrating its 50th anniversary just last year, Steamboat Ski Area continues to better its on-mountain experience for guests, from base area enhancements that let you saddle up to a bar and music stage to mountainside eateries, grooming and additional night skiing options.

Percy Jackson has nothing on Steamboat Springs. While he may be the son of Poseidon, the Yampa Valley and its 100-year-old, world-renowned Steamboat Springs Winter Sports Club (SSWSC) is parent to more Olympians than any other town in the country.

If you're here already, you know that getting to Steamboat Springs is now easier than it ever was back in the old stagecoach days.
Recent photos