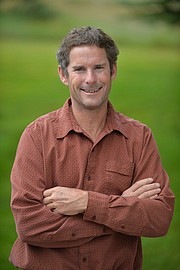 A resident of Steamboat since moving the offices for Paddler magazine to town in 1992, Eugene Buchanan has written about the outdoors for more than 20 years, from working the Beijing Olympics for NBC to writing for ESPN.com. A business/economics graduate of Colorado College, where he captained his NCAA lacrosse team, the former ski patrol, kayak instructor and sea kayak and raft guide is also a former business reporter for the Denver Business Journal and media director of the World Pro Mogul Tour. He also enjoys a successful freelance career, with articles published in The New York Times, Men's Journal, Sports Afield, Outside, National Geographic Adventure, 5280, Forbes Life, Skiing, Powder and other publications. A member of New York's Explorer's Club, his passion for traveling, writing and paddling has taken him to more than 30 countries on six continents. His first book, "Brothers on the Bashkaus," was released by Fulcrum Publishing in 2007; his second book, "Outdoor Parents, Outdoor Kids," was released by Heliconia Press in 2010, winning the gold medal from the Living Now Book Awards. He lives with his wife, Denise, and two daughters, Brooke, 12, and Casey, 8, just a block away from the Yampa River.
Recent Stories
Event to be held at 7 p.m. at The Base Club
Longtime local, city of Steamboat Springs employee and ski coach Chris Arnis was injured while skiing at Steamboat Ski Area Sunday afternoon and is recovering after undergoing surgery at Denver Health Hospital. A benefit will be held in his honor at 7 p.m. Friday at The Base Club.

Family hut trip to Nokhu yields fun skiing and ... skating
It was our annual family hut trip, one of the best things you can do with your kids. Pick an easy-to-get-to abode like we did – the Nohku and Agnes Creek huts off Cameron Pass – and fill it with like-minded families, and you have a winter get-away they'll remember for life.

For the second straight year, Howelsen Ice Arena will host the Steamboat NHL Alumni Classic March 27 and 28 — a benefit for Steamboat Springs youth hockey highlighted by an exhibition game between NHL greats from the Detroit Red Wings and Chicago Blackhawks.
The weekend capped a winter of home games and throw-up-filled road trips, culminating with a berth in the finals, held serendipitously every year on the last weekend of Blues Break.
If local hockey aficionados get their way, Steamboat Springs could also soon be known as Kraft Hockeyville USA.
I'm halfway through a 7-mile cross country ski trail on Hogan Park from Rabbit Ears Pass to the top of Steamboat Ski Area. With only 800 feet of elevation gain, and wide, flat meadows to traverse, this gives my mind plenty of time to wander.

Pro skier Cody Barnhill leads us to a precipitous, rocky drop into a couloir at Utah's Alta ski resort. I'm here with the star of ski flick "Valhalla" and representatives from Dynafit, BOA Technologies and Gore-tex to test the companies' wares and kick off a whirlwind industry week that includes the Outdoor Retailer Winter Market tradeshow in Salt Lake City and the Ski Industries America tradeshow in Denver.

The migration is here again. Not geese heading back to town early due to our mild weather, but local ski industry personnel heading to the annual Snowsports Industries America Snow Show in Denver, held this year from Thursday to Sunday at the Colorado Convention Center.

If ever there was a stand-in for the famed mountain man, who actually trapped just north of here, it's fourth-generation Steamboat Ray Heid, who runs Del's Triangle 3 Ranch outside Clark.

A diehard backcountry skier, Edge, vice president of Backcountry Access, was hitting Rabbit Ears to learn riding tips from pro rider Brett Rasmussen. Did I want to tag along? Of course.
Recent photos