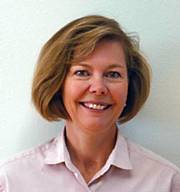 Deb Babcock, 51, has been writing the weekly gardening column for the newspaper as a volunteer master gardener since May 2000. Master gardeners are volunteers who have completed a course of study through the Colorado State University Cooperative Extension office and provide research-based advice and assistance to local home gardeners. Prior to moving to Steamboat Springs, Deb was a market researcher in Ann Arbor, Mich., and now spends her time gardening, hiking, skiing and creating pottery at her studio, Blue Sky Pottery, in the Pine Grove Center.
Recent Stories
Another plant to consider in your Steamboat Springs-area garden is one of the ornamental grasses that grow well here.
Last week I wrote about some of the poisonous plants of the area that you surely never want to ingest. This week, I'll tell you about a few of the edible natives that grow in Routt County forests and meadows.
With the wet spring we've experienced this year, many gardeners are having problems with slugs
When should shrubs be pruned? Certain ones can be done right now before they leaf out; others should wait until after they finish flowering.
To seed or not to seed? With apologies to ol' Will Shakespeare, that is the question asked by many high-country gardeners each fall.
Growing plants hydroponically avoids one of the biggest problems with indoor plants: over-watering or forgetting to water and then drowning our plants when they start to wilt and wither on us.
Gardeners always have known a certain joy when getting their hands and feet in the soil. But now scientists have made it official that getting dirty is good for your soul.
Observe the bugs in your garden before taking any action against them. You just might discover that those creepy, crawly things in your garden are your friends.
Now is a good time to propagate many of the perennials in your garden if they've become overgrown, if you just want to have more of a particular plant, or if they seem to have lost some of their hardiness.
With fall upon us, now is a great time to enjoy your garden and think about ways to extend the season as we move toward freezing temperatures.