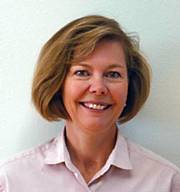 Deb Babcock, 51, has been writing the weekly gardening column for the newspaper as a volunteer master gardener since May 2000. Master gardeners are volunteers who have completed a course of study through the Colorado State University Cooperative Extension office and provide research-based advice and assistance to local home gardeners. Prior to moving to Steamboat Springs, Deb was a market researcher in Ann Arbor, Mich., and now spends her time gardening, hiking, skiing and creating pottery at her studio, Blue Sky Pottery, in the Pine Grove Center.
Recent Stories
Often, we gardeners call a weed anything that we don't like in a location we planned for something else.
If you're looking for a vine that will cover a fence, arbor, trellis or other support system, consider hops (Humulus lupulus). The hop plant vines grow fast reaching a height up to 25 feet by midsummer.
With such short, but spectacular, summers here in the mountains of Colorado, we need to make the most of the days we have in the garden. Perhaps one way we can extend our enjoyment of the plants we grow is to capture them in pencil and ink.
If you're at all like me, you didn't get the garden fully cleaned up before the snow came last fall. That means when it melts, we're going to have a bit of work to do before it looks presentable.
Certain trees are better for windbreaks than others. Some trees are much better at providing shade. Others are great attractors for birds. Some flower and produce fruit. Others flower without producing fruit. Some have trunks and branches with wonderfully vibrant color and shapes that look great against the white snow.
As we drool over the beautiful flowers in the garden catalogs that are cramming our mailboxes, it's easy to become overwhelmed by choices. One way to narrow down what you might want to add to the garden this year is to consider planting pairings that will look good together in different areas of your garden.
Most of us know that our houseplants need air, water, sunlight and nutrients in order to grow.
Whitney Cranshaw, one of Colorado's foremost entomologists, or bug experts, was in Routt County in late February to teach the garden insect portion of our local Master Gardening course. Always entertaining, Whitney spent a good portion of the morning discussing lady beetles, one of our favorite garden insects.
The other night I attended a cooking class at City Cafe put on by chefs Nicolette and Olivia.
One of the prettiest colored-foliage plants that is growing in popularity for the indoors is the polka-dot plant, Hypoestes phyllostachya. It's a compact, bushy plant that prefers bright light and as much humidity as you can generate.