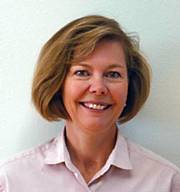 Deb Babcock, 51, has been writing the weekly gardening column for the newspaper as a volunteer master gardener since May 2000. Master gardeners are volunteers who have completed a course of study through the Colorado State University Cooperative Extension office and provide research-based advice and assistance to local home gardeners. Prior to moving to Steamboat Springs, Deb was a market researcher in Ann Arbor, Mich., and now spends her time gardening, hiking, skiing and creating pottery at her studio, Blue Sky Pottery, in the Pine Grove Center.
Recent Stories
Now that many of our spring and early summer flowers are finished blooming, it's time to clean up around those beds by deadheading spent blooms (unless you want them to reseed your garden in places) and removing dead foliage.

Between grasshoppers and the hail storm we experienced a couple weeks ago, gardens in parts of Routt County are in a shambles. Plants and trees have been stripped of their leaves and many plants were so beaten down or chewed up it appears they might not recover from the damage.
Now that things seem to be getting back on track with the economy locally, more development is occurring in neighborhoods throughout the county. And more development often means less space and privacy in our yards and outdoor spaces. Trees and shrubs in your yard and garden can help you achieve a sense of privacy and personal space.
Recreating a wildflower palette in your yard isn't as simple as strewing a packet of wildflower seeds on top of your soil, as most gardeners who've tried this will tell you. But the rewards of a wildflower patch are worth the work involved to create this informal, natural landscape.

When I was a little girl, I had to be careful going outdoors barefoot in the summer because our yard had sharp plants in it that I called "pickers." Now as an adult and a Master Gardener, I've learned that these weeds are thistles and they are not simply a problem for tender feet, they're actually harmful to our environment and our animals.

Rhubarb is a cold hardy plant that thrives in our mountain environment. It grows best in a southern exposure with minimal shade.

Even though our growing season is pretty short here in the Yampa Valley, there are many vegetables that can be grown from seed. This includes most root vegetables, many leafy vegetables, some herbs and a few others.
The United States Department of Agriculture updated its map of the country's planting zones two years ago — the first update since 1990. The map, originally published in 1960, looks at every state, including Hawaii, Alaska and the territory of Puerto Rico, and classifies them into planting zones by 10 degree differences.

The melting snow has given way to lushness here in the Yampa Valley that many homeowners would like to capitalize on and maintain throughout our hot, dry summer.

If your soil has been well-tended by the addition of compost and mulches, there may be no need for supplemental fertilizer. This is especially true with ornamentals since you also can recycle the spent plant materials back into the soil providing all the necessary nutrients for the next growing season.