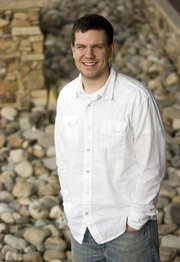 Christopher Woytko is the assistant news editor and has worked at the Steamboat Pilot & Today since October 2007. He moved to Steamboat from Pennsylvania after graduating with a Bachelor of Arts in Journalism from Pennsylvania State University in May 2007. While at Penn State, Chris worked as a sports night editor at the student newspaper, Daily Collegian. He also spent time in summer 2007 as an intern at his hometown newspaper, the Reading Eagle. In his spare time, Chris enjoys snowboarding, hiking, camping, biking and anything else outdoors.
Recent Stories

I ride for three initials taped on my handlebars: MLW. I wrote those words about a month ago in preparation for today's Ride 4 Yellow event. This week, I added another set of initials: AC.
The Internet makes musical exploration an easy trip
It's easy to get into a musical funk. No, not funk music such as James Brown or George Clinton, but rather listening to the same old scratched CD again and again, playing out the battery on your MP3 player or getting only one radio station in your car. It can be a frustrating existence listening to nothing but the same kind of music.
Recent photos