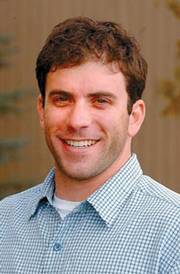 Brent Boyer has been the editor of the Steamboat Pilot & Today since August 2007. He moved to Steamboat Springs in December 2002 to be the paper's first full-time education reporter. He was named city editor in August 2005.
Brent has a bachelor's degree in journalism from the University of Colorado at Boulder, where he covered the Colorado Buffaloes football team for the Colorado Daily, high school sports for the Boulder Daily Camera and general assignment news for the Denver Post.
Brent was born in Southern California but raised in Northern Virginia. He spends time away from the office enjoying outdoor activities like snowboarding, hiking, mountain biking and golfing. He married Megan Wortman in August 2008 in Steamboat Springs.
Recent Stories
April's modest decline in overall sales tax revenues came in spite of this year's early Easter holiday, which in turn had a significant impact on tourist numbers for the final two weeks of the 2012-13 ski season.
Steamboat Springs is playing host to more than 400 Rotarians this weekend as part of the Rotary District 5440 Conference.

The school's board of directors made the decision during an emergency meeting Monday and just days after a state inspection report detailed numerous violations.
Just three weeks after her 19-year-old son's death on the slopes of Howelsen Hill, Maureen Ryan pleaded by phone and by email for the Steamboat Springs Police Department's lead detective on the investigation to call another skier who had found himself in the area near the Alpine Slide on that same snowy March 17, 2011, evening. But Ryan's pleas went unanswered.

The Hayden Valley Elementary School fourth-grader won a 2013-14 season ski pass and $50 in cash for her poster reminding skiers and riders about the importance of staying in control.
The Steamboat Pilot & Today collected 50 awards during Saturday's Colorado Press Association Better Newspaper Contest banquet, highlighted by the 2012 Advertising Innovation award.

Steamboat Pilot & Today General Manager Scott Stanford was named the 2012 Colorado Newspaper Person of the Year on Saturday. The honor is the highest bestowed upon a newspaper professional by the Colorado Press Association.
Steamboat's Forever Fit hopes four free community seminars will provide wealth of knowledge to weekend warriors as well as the parents of youth athletes.

The tradition is not quite as old as Winter Carnival itself, but what better exemplifies the down-home pageantry and annual coming together of community like the small, round buttons unique to each year's midwinter celebration?

Carl Howelsen may be the father of ski jumping in Steamboat Springs and the founder of its Winter Carnival, but he was renowned as The Flying Norseman long before he happened upon Northwest Colorado.