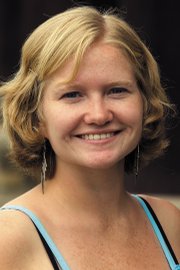 Blythe Terrell is the city editor at the Steamboat Pilot & Today. She came here in March 2008 from Austin, Texas, where she was a copy editor at the Austin American-Statesman. Blythe graduated in May 2005 with a bachelor's of journalism from the University of Missouri-Columbia. She has
interned as a reporter at The Kansas City Star, at Third Sector magazine in London, and as a copy editor at the Traverse City (Mich.) Record-Eagle and the Orlando Sentinel. Blythe was born in Louisville, Ky., but grew up in the suburbs of St. Louis (after a brief stint in Aurora). She's a fan of St. Louis sports teams and college athletics, and she loves having adventures, meeting strangers and reading Hunter S. Thompson.
Recent Stories
Gilbert Anderson and his wife, Stephanie, received the Heritage Family Award from the Community Agriculture Alliance at the Mountain Valley Bank Ranch Rodeo on Friday night. The Andersons raise cattle and hay in Clark with their two sons, 12-year-old Will and 10-year-old Tyler.
Lucy Middleton accused of taking money from Yampa Valley Bank
Lucy Middleton, former assistant vice president at Yampa Valley Bank in Steamboat Springs, can no longer conduct affairs for a bank. She is accused of taking money from Yampa Valley Bank in 2009, which a bank official said she later returned.
Routt County unemployment increased more than a percentage point in May, to 11.2 percent from 10.1 percent in April, according to figures released Friday by the Colorado Department of Labor and Employment. The figures for May represent 11,643 people with jobs, out of a labor market of 13,106. Up until the economic recession, the labor force in Routt had steadily increased.
Candidates to interview with public, board next week
The Steamboat Springs School Board has invited Rosanne Fulton, Michelle Johnstone, Bradley Meeks and Lance Villers to interview next week with members of the public and the board. The process will be open to the public.

Numbers don't account for normal seasonal changes, including end of ski season
Unemployment numbers increased from March to April in Routt County, from 8.3 percent to 10 percent. The county figures, released Friday by the Colorado Department of Labor and Employment, don't include typical seasonal changes.
Area was slow to get into recession, could be slow to recover
Foreclosure filings are slowing in Colorado's metropolitan counties, but the positive trend hasn't made its way to Routt County. Filings decreased 40 percent in metro counties in April, compared with the same month in 2010.

High schoolers organize fundraiser for Abby Voorhis
Three weeks ago, Abby Voorhis was diagnosed with acute lymphoblastic leukemia. The Oak Creek 7-year-old, a first-grader at South Routt Elementary School, was flown to Denver to start chemotherapy the next day, said her father, Josh Voorhis. Now the community is rallying in support of the Voorhis family with a talent show scheduled for 7 p.m. today at Soroco High School.
Harbert Lumber in Steamboat Springs is slated to reopen Monday as a ProBuild, store General Manager Rod Wille confirmed today. Wille said the change in ownership to Denver-based ProBuild would result in "business as normal."
The former CEO of the Northwest Colorado Visiting Nurse Association received the 2011 Be More Award from Rocky Mountain PBS at a luncheon Thursday.

Unemployment was 8.6 percent, up from 7.9 percent in December
The unemployment rate in Routt County increased from December to January, from 7.9 percent to 8.6 percent. The figures show an increase from 1,183 people unemployed in December to 1,321 unemployed in January.
Recent photos