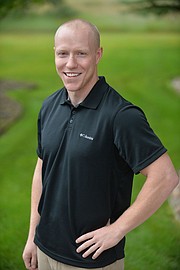 Ben Ingersoll is the sports and education reporter for the Steamboat Pilot & Today where he began work in September 2013. 
Ben has his Bachelor of Arts in mass communication and journalism from Fresno State. Before starting at the Pilot & Today, he served as a sports reporter for the Fowler Ensign as well as sports editor and editor in chief of Fresno State's student newspaper, The Collegian.
Ben is originally from Shasta Lake, Calif. In his downtime, he enjoys traveling, hiking, college football and any fitness-related activity. 
Recent Stories

Steamboat's Garrett Bye nears triple-double, McKenzie Millard shines for Sailors skiing and area wrestlers look strong in tournaments in this weekend's high school sports weekend roundup.

One-third of the Steamboat Springs High School Nordic ski team is brand new to the sport. They are learning under a first-year coach that was in their same shoes more than 10 years ago.

The Steamboat Springs High School wrestling team again took the Carl Ramunno Invitational at home, using gold-medal performances from Hayden Johnson, Matthew Hansen, Colton Pasternak and Dylan Wallace.

The Sailors girls basketball team slumped to 4-9 overall after falling late to Summit on Friday night at home.

The Steamboat Springs High School boys basketball team used a combined 42 points out of captains Garrett Bye and Robi Powers to down the visiting Summit Tigers, 49-36.

A handful of Steamboat Springs High School boys and girls Alpine skiers qualified for the state championship slalom in their lone home event of the season on Friday at Howelsen Hill.

The town of Oak Creek has its new police chief after Ralph Maher was sworn in prior to Thursday night's Town Board meeting.

The Steamboat Springs High School Alpine ski team is hosting its only home race of the season on Friday, and the Sailors are hoping a little home-course magic gives them a leg up at Howelsen Hill.
Steamboat Springs basketball and hockey are again at home this weekend while Soroco and Hayden basketball hit the road. Steamboat wrestling hosts its annual Carl Ramunno Invitational and Sailors Nordic skiing will be in Minturn for the Maloit Park Invite.
Sailors wrestlers took on high-quality competition on the Front Range, Hayden High School wrestlers won all but one dual in Saturday's Highland Dual and Soroco's pair of athletes each saw the podium at Rangely.
Recent photos