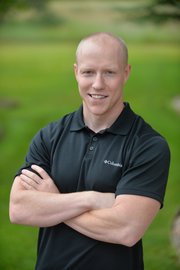 Ben Ingersoll is the sports and education reporter for the Steamboat Pilot & Today where he began work in September 2013. 
Ben has his Bachelor of Arts in mass communication and journalism from Fresno State. Before starting at the Pilot & Today, he served as a sports reporter for the Fowler Ensign as well as sports editor and editor in chief of Fresno State's student newspaper, The Collegian.
Ben is originally from Shasta Lake, Calif. In his downtime, he enjoys traveling, hiking, college football and any fitness-related activity. 
Recent Stories
The Steamboat Springs High School cross-country team competed in its first meet of the season on Friday, traveling to the Arapahoe Warrior Invitational to take on 60 schools mostly from the Front Range.

Steamboat Springs hoste Xterra's first all-women's off-road triathlon on Sunday, pushing 30 competitors through muddy and drenching conditions.
Soroco High School volleyball is off to the hottest start its seen in quite some time, dominating Gilpin County Tournament competition to a perfect 3-0 start and its first trophy since 2001.
The Steamboat Springs High School volleyball team made the season start a perfect 5-0, capping off a tournament championship in Glenwood Springs on Saturday with a trio of sweeping wins.
Hayden High School football got its first taste of a power-packed non-league schedule Saturday afternoon, falling to Merino, 59-6, on the road.
The Steamboat Springs High School boys soccer team got its season started on a high note, using two Nathan DePuy goals to down Palisade on the road, 2-1.

The Steamboat Springs High School boys tennis team split a pair of matches Saturday at home, cruising by visiting Poudre before falling to Rocky Mountain in the afternoon.
Steamboat Springs High School football is 1-0 after Friday night's season-opening win at home over rival Moffat County. The Sailors used a bundle of big plays to hold off a rebuilding Bulldogs team.
The Color Fun Run is making its second stop in Steamboat Springs over the holiday weekend, and race directors are expecting a huge turnout from the projected 10,000 visitors in town for Labor Day.
Oak Creek is honoring 105 years of the railroad as its 2014 theme during this year's Labor Day celebration, taking place Friday through Monday.
Recent photos