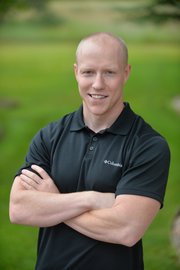 Ben Ingersoll is the sports and education reporter for the Steamboat Pilot & Today where he began work in September 2013. 
Ben has his Bachelor of Arts in mass communication and journalism from Fresno State. Before starting at the Pilot & Today, he served as a sports reporter for the Fowler Ensign as well as sports editor and editor in chief of Fresno State's student newspaper, The Collegian.
Ben is originally from Shasta Lake, Calif. In his downtime, he enjoys traveling, hiking, college football and any fitness-related activity. 
Recent Stories
No matter how long you've been here, there are certain things you ought to know how to do living in Steamboat. We're not talking the obvious how to ski or bike, but the more intrinsic things to have in your seasonal arsenal here in Ski Town USA. No masters ourselves, we combed the valley floor for tips from experts to help ease the learning curve.

The recently renovated South Routt Medical Center has been operating without a manager since its doors reopened earlier this year. Since Oct. 20, 10-year Oak Creek resident Ken Rogers has filled that void, bringing in roughly 40 years of medical and business experience.

The Steamboat Springs High School football team doesn't look like it's playoff bound, but the Sailors have a prime opportunity to play the spoiler role when Glenwood Springs visits this Friday on Senior Night.
The Soroco High School football team didn't make the 16-team 8-man playoffs, announced Sunday by the Colorado High School Activities Association.

Hayden volleyball concludes season with big win over rivals and Sailors girls cross country takes 9th place at 4A state championship.

Howelsen Hill suffered a major mud slide this spring stemming from wetter-than-usual weather last fall. Now, the city with input from the Winter Sports Club is on a dash effort to fix the ski area before snow falls.

Soroco High School football blasted cross-county rival Hayden Friday night, 43-6, and now the Rams await their possible 8-man playoff fate.
What once served as a tiny storefront, Powder Tools has blossomed into Steamboat Springs' one-stop snowboarder's dream shop.

SmartWool may be global, but the company's managing team couldn't find a better place to call home than Steamboat Springs.
Independently owned since 1969, Ski Haus has been delivering the highest-quality skis to locals and visitors for decades.
Recent photos