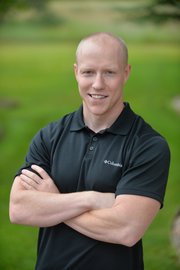 Ben Ingersoll is the sports and education reporter for the Steamboat Pilot & Today where he began work in September 2013. 
Ben has his Bachelor of Arts in mass communication and journalism from Fresno State. Before starting at the Pilot & Today, he served as a sports reporter for the Fowler Ensign as well as sports editor and editor in chief of Fresno State's student newspaper, The Collegian.
Ben is originally from Shasta Lake, Calif. In his downtime, he enjoys traveling, hiking, college football and any fitness-related activity. 
Recent Stories
Oak Creek is honoring 105 years of the railroad as its 2014 theme during this year's Labor Day celebration, taking place Friday through Monday.
The South Routt School District School Board unanimously voted to ask taxpayers to renew a $354,357 property tax on November's ballot. The property tax wouldn't be an increase but rather a continuation of a tax approved by South Routt voters in 2010.
Soroco and Hayden football to sport plenty of youth in 2014
With Moffat County High School football rebuilding with a relatively unknown coach and roster, Steamboat is stuck with a bit of blind preparation for the Sailors' season-opener this Friday night at Gardner Field.

Sunday's Summit-X race at Steamboat Ski Area drew dozens of downhill riders as the unofficial International Mountain Bicycling Association World Summit closing ceremony.

Allure of Colorado's 14ers captivates hikers near and far, leaving them wanting more
Rank, Peak, Elevation, Range of Colorado 14ers
Saturday's Continental Divide Trail Run was canceled after an extremely cold and wet storm rolled through Steamboat and its surrounding high country.
Steamboat Springs High School senior football star Mitch McCannon comes into the 2014 season as one of the Sailors' biggest playmakers, after accounting for 15 touchdowns and 1,461 all-purpose yards in 2013. And after being elected a 2014 captain by his teammates, the speedster wants to be an all-around leader this fall.
The Steamboat Springs High School boys tennis team got its first test of the season, dropping a pair of narrow matches against 5A schools Grand Junction and Fruita Monument, and winning its other against Aurora's Smoky Hill.

Former Second Lady of the United States and New York Times Bestselling author Lynne Cheney kicked off the Steamboat Institute's sixth-annual Freedom Conference. Cheney held a book signing for her 2014 biography on James Madison, and addressed a crowded Steamboat Grand ballroom Friday afternoon.
Recent photos