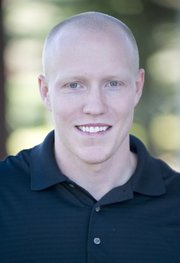 Ben Ingersoll is the sports and education reporter for the Steamboat Pilot & Today where he began work in September 2013. 
Ben has his Bachelor of Arts in mass communication and journalism from Fresno State. Before starting at the Pilot & Today, he served as a sports reporter for the Fowler Ensign as well as sports editor and editor in chief of Fresno State's student newspaper, The Collegian.
Ben is originally from Shasta Lake, Calif., and is new to Steamboat Springs. In his downtime, he enjoys traveling, hiking, college football and any fitness-related activity. 
Recent Stories

Hopping onto a snowboard for the first time in a decade can be a frightening experience for a Steamboat rookie. With the patience of the right instructor, however, it can build enough confidence to make it a memorable winter season.
Steamboat Adaptive Recreational Sports will be putting on a two-day event at Steamboat Ski Area in late March. A black-tie dinner and a series of ski and snowboard challenges will highlight the weekend.
Injuries and foul trouble threatened to spoil Soroco High School girls basketball's first game of the season, but a bench full of freshmen and sophomores stepped up and got the Rams an overtime win on the road.
A strong fourth quarter by North Park sank Hayden High School girls basketball to 0-1 after its season opener Thursday night.
The Steamboat Springs School Board approved an official high school swim team less than a month ago, but because very few girls turned out for the program, the season was cancelled Thursday.
The Steamboat Springs High School boys basketball team trailed for all but two minutes of its season opener on Monday night, but a late rally pushed the Sailors to 1-0 on the season.
The Steamboat Springs High School girls basketball followed the lead of seniors Mikaila Jegtvig and Ashley Spitellie Monday night, beating Grand Junction Central 46-32 to start the season with a win.

The Steamboat Springs High School hockey team opens up its season Friday at Battle Mountain. The Sailors are hoping a small but speedy, tenacious lineup will carry them to a winning season.
See what some local athletes are achieving in their collegiate careers.
Opening weekend conditions at the Steamboat Ski Area were some of the best in recent memory, and the forecast is calling for even more snow and the season's coldest conditions to date.
Recent photos