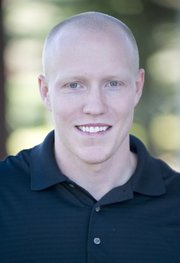 Ben Ingersoll is the sports and education reporter for the Steamboat Pilot & Today where he began work in September 2013. 
Ben has his Bachelor of Arts in mass communication and journalism from Fresno State. Before starting at the Pilot & Today, he served as a sports reporter for the Fowler Ensign as well as sports editor and editor in chief of Fresno State's student newspaper, The Collegian.
Ben is originally from Shasta Lake, Calif., and is new to Steamboat Springs. In his downtime, he enjoys traveling, hiking, college football and any fitness-related activity. 
Recent Stories
The Northwest Colorado prep football region is in need of game officials for the upcoming season and beyond, a strenuous time commitment at times, one ref says, but worth it for those who love the game.
Five Steamboat Springs Soccer Club squads reached Sunday's finals in their respective divisions at the 30th Mountain Soccer Tournament, with three teams hoisting finals trophies.

The Steamboat Rugby Club team kept up its winning ways Saturday at Aspen, easily handling the road contest, 42-27, with a much-needed weekend off coming up.

Steamboat Bike Park Manager Trevyn Newpher took home a win in the first Enduro-X series race of the season in the professional open men's class.
On Tuesday at the Steamboat Springs Community Center, the Yampa Valley Sustainability Council is hosting a panel discussion to analyze alternative forms of transportation and how it may affect the Northwest Colorado region in the near and distant future.

Six Denver high schoolers are trading technology for the environment as part of The Nature Conservancy's annual internship program in Routt County.
The annual Tour de Steamboat — complete with a long list of riders who each has their own unique story for entering the event — went off without a hitch Saturday, with roughly 700 cyclists benefiting four local groups.
The Steamboat Springs School Board voted, 3-1, on Thursday night to not sign the public-private field house agreement pitched by a pair of community members for nearly a year, citing long-term financial ramifications as being too great to risk the move.

The Steamboat Lake Sprint triathlon is set to run its fourth year on Sunday in scenic North Routt County. The spring format features a half-mile swim, 12.4-mile ride and 3.5-mile run.
Chris Johnson, Tami Havener, Sherri Sweers and Kim Schulz have submitted their applications of interest for the open Steamboat Springs School Board seat.
Recent photos