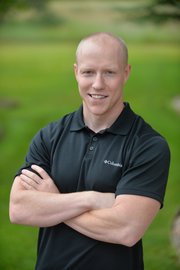 Ben Ingersoll is the sports and education reporter for the Steamboat Pilot & Today where he began work in September 2013. 
Ben has his Bachelor of Arts in mass communication and journalism from Fresno State. Before starting at the Pilot & Today, he served as a sports reporter for the Fowler Ensign as well as sports editor and editor in chief of Fresno State's student newspaper, The Collegian.
Ben is originally from Shasta Lake, Calif. In his downtime, he enjoys traveling, hiking, college football and any fitness-related activity. 
Recent Stories

The Steamboat Springs Swim Team finished fourth overall at the Ned Mechling Memorial Aspen Invitational on Oct. 11 and 12, anchored by big performances from across all girls age groups.
Steamboat Springs High School volleyball looks to close out its regular-season schedule on a strong note, while the Hayden and Soroco volleyball squads get tough draws in this weekend's district tournament.

The Steamboat Springs High School volleyball team had a big night Thursday after beating Moffat County, 3-1, then finding out that the Sailors suddenly are tied atop the 4A Western Slope League.
The Steamboat Springs High School boys soccer team narrowly made the 4A state playoffs. The 32-team bracket was announced Sunday, and the No. 29 Sailors will travel to No. 4 D'Evelyn on Wednesday.

Of course, Oak Creek resident Melissa Uchitelle-Rogers was going to cry. Nearly 58 years old, the frequent 50-mile runner and 1986 Kona Ironman finisher has had her eye on the coveted-yet-rarely-tried 100-mile ultra distance for a long time.

The Steamboat Springs High School girls cross country team made Sailors history in a big way Thursday, finishing third overall, good enough for the full squad to head to next Saturday's 4A state championship.

The Steamboat Springs High School volleyball team rebounded from an opening-set loss to Moffat County Thursday night, winning the next three sets soundly to improve to 16-3 on the season.

The Steamboat Springs High School girls cross country team is making strides it hasn't seen in many years. On Friday, the Sailors have a chance at another milestone at the 4A Region 6 meet with state championship berths on the line.
Proposition 105 asks voters to approve a measure that would change Colorado law to require food that has been genetically modified or treated with genetically modified material to be clearly labeled "Produced With Genetic Engineering" when sold in Colorado starting July 1, 2016.
The Hayden and South Routt school districts are asking their residents to renew special property taxes that originally were approved four years ago but are scheduled to sunset for Hayden at the end of this year and for South Routt at the end of the 2015-16 school year.
Recent photos