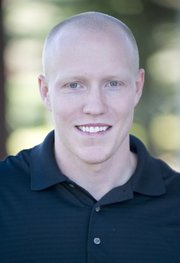 Ben Ingersoll is the sports and education reporter for the Steamboat Pilot & Today where he began work in September 2013. 
Ben has his Bachelor of Arts in mass communication and journalism from Fresno State. Before starting at the Pilot & Today, he served as a sports reporter for the Fowler Ensign as well as sports editor and editor in chief of Fresno State's student newspaper, The Collegian.
Ben is originally from Shasta Lake, Calif., and is new to Steamboat Springs. In his downtime, he enjoys traveling, hiking, college football and any fitness-related activity. 
Recent Stories
Steamboat Springs High School boys basketball junior Matthew Lanning was recognized earlier this week as a 4A Western Slope honorable all-league performer.

The Steamboat Springs High School boys lacrosse season begins Saturday at Glenwood Springs under first-year coach Jay Lattimore.
Steamboat Springs High School boys basketball's two seniors Carter Kounovsky and Zach Dunklin garnered first-team All-Western Slope League honors Tuesday.
On Feb. 10, the majority of Colorado schools districts' superintendents penned a letter to Gov. John Hickenlooper and the General Assembly requesting $275 million for public schools.

Local hockey players will have their chance to play with and against former NHLers in a Detroit Red Wings alumni charity game planned for March at Howelsen Ice Arena to benefit the Steamboat Springs Youth Hockey Association.
Steamboat Springs School District may re-administer the world languages survey it issued in 2013-14, because the survey didn't yield a high number of responses.

High school hockey in Colorado could see a shift from one group of teams vying for a single state championship to two separate classifications — a 4A and 5A type of order.
The Soroco High School girls basketball team drew 16-5 Sangre de Cristo as its first-round opponent in the state playoff bracket, which was released Sunday afternoon.
At Monday's Steamboat Springs School District Board of Education meeting, Superintendent Brad Meeks and the board will review results from the 2013-14 world languages survey taken by parents and students.
Colorado Mountain College is offering a new ski and snowboard business certification program that in the coming months and semester will grow drastically in size.
Recent photos