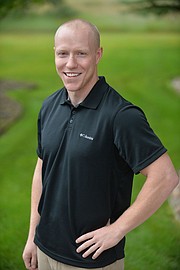 Ben Ingersoll is the sports and education reporter for the Steamboat Pilot & Today where he began work in September 2013. 
Ben has his Bachelor of Arts in mass communication and journalism from Fresno State. Before starting at the Pilot & Today, he served as a sports reporter for the Fowler Ensign as well as sports editor and editor in chief of Fresno State's student newspaper, The Collegian.
Ben is originally from Shasta Lake, Calif. In his downtime, he enjoys traveling, hiking, college football and any fitness-related activity. 
Recent Stories

Steamboat boys and girls lacrosse, as well as Sailors girls soccer are at home this weekend, while Steamboat tennis, baseball and track are all on the road. Soroco and Hayden track are also away.

Hayden track and field athlete Jack Redmond driven to take it to the next level
Hayden High School senior Jack Redmond has just a few more weeks to cement his Tigers track and field legacy before shipping off to college, where he plans to be a student-athlete.
Oak Creek and South Routt residents who want to have their voices heard as the town updates its five-year-old comprehensive plan will have their chance Wednesday.
The Soroco Rams track and field team had a busy weekend, competing in two different invitationals. The Steamboat and Hayden squads also saw some podium finishes in their meets.
The Sailors girls tennis team has an undefeated No. 1 singles player, Steamboat baseball's Jesse Pugh tosses seven scoreless innings and Steamboat-Battle Mountain soccer closes entertaining rivalry for the season.

The Steamboat Springs High School baseball team opened its rare home doubleheader with a shutout win before getting shutout itself in Game 2 on Saturday versus Glenwood Springs.
The Steamboat Springs High School girls tennis team was downed Friday by Class 5A's undefeated Ralston Valley Mustangs, 6-1.
The Steamboat Springs High School girls lacrosse team couldn't keep pace with second-ranked Aspen Friday night.
The Sailors boys lacrosse team bounced back with an 18-3 thrashing of the Vail Mountain Gore Rangers Friday night.

In front of a large crowd, Soroco High School senior Jessica Rossi put pen to paper Thursday and officially signed to play basketball at Eastern Wyoming College in Torrington, Wyoming.
Recent photos