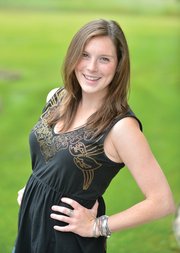 Driving out to Steamboat is always a different experience for me. Sometimes it's a vacation, a visit to see friends, a ski trip, or a retreat to get away from Iowa for a few weeks. But when I drove out here in May 2014, it was for a new beginning.

Originally, I am from Muscatine, Iowa, a small rural town with a population of 22,000. I went to Muscatine High School but graduated from a high school in Varberg, Sweden, after a year as an exchange student through Muscatine's Rotary chapter. After that, I started my freshman year of college at Colorado State University in Fort Collins. My sophomore year (2012) I decided to transfer back to the University of Iowa and became heavily involved with the local newspaper, the Daily Iowan. I started out as a metro reporter then became an arts and entertainment reporter. Something just clicked. I loved every minute of it and got a job as a reporter for Hoopla, the arts and entertainment section of the Cedar Rapids Gazette newspaper in May 2013. I was also a freelance reporter for the Muscatine Magazine. In December 2013, I got a job as the marketing and special events intern for the Iowa City Downtown District, a nonprofit organization that implements marketing campaigns, events and projects to benefit local businesses in Iowa City. I graduated in May 2014 from the University of Iowa with a bachelor's degree in journalism and communication studies.
When people ask me why I decided to pursue journalism, I always tell them a somewhat cliche answer, but it's the truth. People I meet throughout my career continue to fascinate me. I love to learn about their stories, their passions and motivations. My curiosity leads me to venture out of my comfort zone and connect with someone about his or her life.

I've been traveling to Steamboat Springs in the summer and winter with my family since I was 15. I've loved everything about Steamboat. Not only does it offer the fresh, crisp air — something that is almost unheard of during Iowa's humid summers — there is always something to do.

When I'm not working, I love to get out and go for a hike. If I had to choose my favorite place to go, it would have to be Devil's Causeway. I also enjoy running, biking, skiing, yoga and reading anything from mystery novels to cookbooks.
Recent Stories
In April, Steamboat will have the unique opportunity to see the Rocky Mountain Elk Foundation Great Elk Tour that regularly goes to national trade shows or conventions.

Inspired by unique materials, local artist Brian Leach finds innovative ways to create art and furniture.

Known as a local favorite, the Denver funk band Filthy Children will headline Schmiggity's Saturday.
To help keep the Free Summer Concert Series Free, the annual benefit event be this Friday featuring live music and a silent auction in addition to the announcement of three acts for the summer lineup.

Benefiting a local cause, the 12th annual Penguin Plunge will take place Saturday at the Catamount Lake House pool.

With a vast repertoire and experience in the music industry, rock 'n' roll musician Dave Mason will be in Steamboat Springs Friday for a performance at the Strings Music Pavilion.

On Sunday, local yoga instructors will get together for a unique opportunity to learn about different aspects of yoga and how to transition into the spring.

Recognizing the value of agriculture in Routt County, the Community Ag Alliance has teemed up with local businesses and organizations for Ag Appreciation Week.

With elements of folk, bluegrass and robust harmonies, the group known as Dakota Blonde will headline the Chief Theater's last show of Singer Songwriter Series today at 7 p.m.
With a vision for inspiring kids to read and develop a new appreciation for the outdoors, the local BookTrails nonprofit organization will host a Western Hoedown event to support its summer programs and scholarship funds.
Recent photos