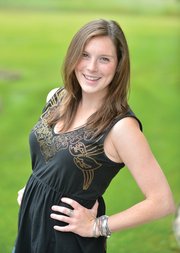 Driving out to Steamboat is always a different experience for me. Sometimes it's a vacation, a visit to see friends, a ski trip, or a retreat to get away from Iowa for a few weeks. But when I drove out here in May 2014, it was for a new beginning.

Originally, I am from Muscatine, Iowa, a small rural town with a population of 22,000. I went to Muscatine High School but graduated from a high school in Varberg, Sweden, after a year as an exchange student through Muscatine's Rotary chapter. After that, I started my freshman year of college at Colorado State University in Fort Collins. My sophomore year (2012) I decided to transfer back to the University of Iowa and became heavily involved with the local newspaper, the Daily Iowan. I started out as a metro reporter then became an arts and entertainment reporter. Something just clicked. I loved every minute of it and got a job as a reporter for Hoopla, the arts and entertainment section of the Cedar Rapids Gazette newspaper in May 2013. I was also a freelance reporter for the Muscatine Magazine. In December 2013, I got a job as the marketing and special events intern for the Iowa City Downtown District, a nonprofit organization that implements marketing campaigns, events and projects to benefit local businesses in Iowa City. I graduated in May 2014 from the University of Iowa with a bachelor's degree in journalism and communication studies.
When people ask me why I decided to pursue journalism, I always tell them a somewhat cliche answer, but it's the truth. People I meet throughout my career continue to fascinate me. I love to learn about their stories, their passions and motivations. My curiosity leads me to venture out of my comfort zone and connect with someone about his or her life.

I've been traveling to Steamboat Springs in the summer and winter with my family since I was 15. I've loved everything about Steamboat. Not only does it offer the fresh, crisp air — something that is almost unheard of during Iowa's humid summers — there is always something to do.

When I'm not working, I love to get out and go for a hike. If I had to choose my favorite place to go, it would have to be Devil's Causeway. I also enjoy running, biking, skiing, yoga and reading anything from mystery novels to cookbooks.
Recent Stories
It's almost time for Super Bowl XLIX, whether you will be watching it this year or not, here are a few tips for a Sunday Funday.

Local Cupcake Mini Bar owner, Cassie Piper receives award for her work in planning and styling numerous wedding cakes and decadent treats.

The Ben Miller Band combines a contagious bluegrass energy and soul of the delta blues to create what band members called, "Ozark Stomp," with a wide variety of instruments.

Steamboat's own rendition of "Dancing with the Stars" will take place for the fourth year in a row Friday at the Strings Music Pavilion.
The history of the historic downtown building
The history of the downtown building

Built for the community, the historic Chief Theater stands as a connecting thread for downtown Steamboat Springs, anchoring the 800 block of Lincoln Avenue.

This weekend, a local acoustic duo will be the featured entertainment in the Butcherknife Brewery Tap Room.

This Saturday afternoon a local acoustic duo will perform at Butcherknife Brewing Co.

Friday will be a night of jazz at the Chief Theater. Welcoming Colorado singers Carol Frazier and Brian Hull with a group talented musicians Frazier calls the 'Jazz Cats.'
On Saturday, the blue rock group known as the Michael Hornbuckle Band will be in Steamboat for a show at Schmiggity's with a new repertoire of songs.
Recent photos