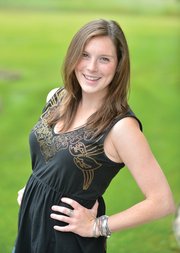 Driving out to Steamboat is always a different experience for me. Sometimes it's a vacation, a visit to see friends, a ski trip, or a retreat to get away from Iowa for a few weeks. But when I drove out here in May 2014, it was for a new beginning.

Originally, I am from Muscatine, Iowa, a small rural town with a population of 22,000. I went to Muscatine High School but graduated from a high school in Varberg, Sweden, after a year as an exchange student through Muscatine's Rotary chapter. After that, I started my freshman year of college at Colorado State University in Fort Collins. My sophomore year (2012) I decided to transfer back to the University of Iowa and became heavily involved with the local newspaper, the Daily Iowan. I started out as a metro reporter then became an arts and entertainment reporter. Something just clicked. I loved every minute of it and got a job as a reporter for Hoopla, the arts and entertainment section of the Cedar Rapids Gazette newspaper in May 2013. I was also a freelance reporter for the Muscatine Magazine. In December 2013, I got a job as the marketing and special events intern for the Iowa City Downtown District, a nonprofit organization that implements marketing campaigns, events and projects to benefit local businesses in Iowa City. I graduated in May 2014 from the University of Iowa with a bachelor's degree in journalism and communication studies.
When people ask me why I decided to pursue journalism, I always tell them a somewhat cliche answer, but it's the truth. People I meet throughout my career continue to fascinate me. I love to learn about their stories, their passions and motivations. My curiosity leads me to venture out of my comfort zone and connect with someone about his or her life.

I've been traveling to Steamboat Springs in the summer and winter with my family since I was 15. I've loved everything about Steamboat. Not only does it offer the fresh, crisp air — something that is almost unheard of during Iowa's humid summers — there is always something to do.

When I'm not working, I love to get out and go for a hike. If I had to choose my favorite place to go, it would have to be Devil's Causeway. I also enjoy running, biking, skiing, yoga and reading anything from mystery novels to cookbooks.
Recent Stories
Elevating the stature of arts and culture in Steamboat Springs, five arts organizations were awarded the Colorado Creative Industries Colorado Creates grant through the State of Colorado's Office of Economic Development earlier this month.

Bringing together four world renowned magicians and illusionists, the Chief Theater will host the inaugural Steamboat is Magic Festival this weekend.

In light of the recently released film "Everest," Steamboat local Dale Kruse recalls events from when disaster struck on Mount Everest when he lost close friend and well-known guide, Scott Fischer.

A month after their journey ended, members of the Rediscovering North America canoe expedition are still trying to fathom that their eight-month, 5,230-mile canoe trip is over as they settle back into reality.
ReTree Steamboat is in its sixth year and with the Yampa Valley Sustainability's help, it has planted over 23,190 trees and this weekend will be the final planting event for this season.

Whether an artist or an aspiring creative,Storm Peak Brewing Co. started a new kind of class earlier this week that combines art and beer for artists of all levels.

Reflecting reality, local artist Sandi Poltorak will be featured at her first gallery exhibit at Ski Town Computing which will be a retrospective collection of her work.

The 12th annual Steamboat Mountain Film Festival returns Friday kicking off the festival with the newest Teton Gravity Research film, "Paradise Waits."

You've seen them around town and in various productions but who are the real characters of these actors in the Chief Theater's Super Fun Steamboat Show off stage? Explore Steamboat found out earlier this week.

Transporting readers to Kenya in the 1920s, New York Times bestselling author Paula McLain will be in Steamboat to discuss her newest historical fiction novel "Circling the Sun" based on the story of aviator Beryl Markham.
Recent photos