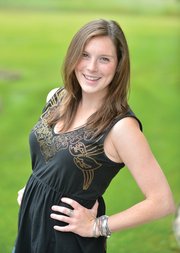 Driving out to Steamboat is always a different experience for me. Sometimes it's a vacation, a visit to see friends, a ski trip, or a retreat to get away from Iowa for a few weeks. But when I drove out here in May 2014, it was for a new beginning.

Originally, I am from Muscatine, Iowa, a small rural town with a population of 22,000. I went to Muscatine High School but graduated from a high school in Varberg, Sweden, after a year as an exchange student through Muscatine's Rotary chapter. After that, I started my freshman year of college at Colorado State University in Fort Collins. My sophomore year (2012) I decided to transfer back to the University of Iowa and became heavily involved with the local newspaper, the Daily Iowan. I started out as a metro reporter then became an arts and entertainment reporter. Something just clicked. I loved every minute of it and got a job as a reporter for Hoopla, the arts and entertainment section of the Cedar Rapids Gazette newspaper in May 2013. I was also a freelance reporter for the Muscatine Magazine. In December 2013, I got a job as the marketing and special events intern for the Iowa City Downtown District, a nonprofit organization that implements marketing campaigns, events and projects to benefit local businesses in Iowa City. I graduated in May 2014 from the University of Iowa with a bachelor's degree in journalism and communication studies.
When people ask me why I decided to pursue journalism, I always tell them a somewhat cliche answer, but it's the truth. People I meet throughout my career continue to fascinate me. I love to learn about their stories, their passions and motivations. My curiosity leads me to venture out of my comfort zone and connect with someone about his or her life.

I've been traveling to Steamboat Springs in the summer and winter with my family since I was 15. I've loved everything about Steamboat. Not only does it offer the fresh, crisp air — something that is almost unheard of during Iowa's humid summers — there is always something to do.

When I'm not working, I love to get out and go for a hike. If I had to choose my favorite place to go, it would have to be Devil's Causeway. I also enjoy running, biking, skiing, yoga and reading anything from mystery novels to cookbooks.
Recent Stories
No matter how long you've been here, there are certain things you ought to know how to do living in Steamboat. We're not talking the obvious how to ski or bike, but the more intrinsic things to have in your seasonal arsenal here in Ski Town USA. No masters ourselves, we combed the valley floor for tips from experts to help ease the learning curve.

As part of the entertainment addition to this year's 107th Navigator Awards to be held Nov. 7 at the Strings Music Pavilion, Steamboat local Brent Rowan and country artist Joe Nichols will perform together for the first time.

On Tuesday, November 4, Bluegrass duo Aoife O'Donovan and Noam Pikelny will headline the concert at the Strings Music Pavilion as part of their November 2014 tour.

With more vendors than any previous year, the 4th Annual Arts & Crafts Fair will take place this Saturday from 10 a.m. to 3 p.m. at the Yampa Valley Regional Airport.
Pet owners with new dogs or those looking for new training tips, Dogman share his insight for Halloween weekend with Do's and Don'ts.

For those wondering what is going on in town for Halloween festivities, there are a myriad of events for kids and adults.

Feeling most at home outdoors, this local artist depicts her own interpretations and appreciation for the beautiful landscape of the Yampa Valley.

Performing in local venues and numerous parties or events all over town, this local tightly knit rockin' group shows no sign of slowing down.

There is something for everybody at this establishment featuring an inviting atmosphere for families and even the late night happy hour crowd.

It's that time of year again when ghosts, goblins, and princesses are found all over town on October 31. For those still looking for costume ideas locals in town offered a few ideas and places to go to find just the right disguise.
Recent photos