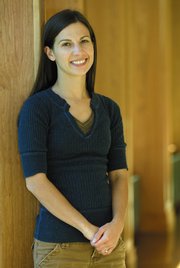 Allison Miriani is the news editor for the Steamboat Pilot & Today, overseeing the newspaper's copy editors. She is from Michigan and graduated from Michigan State University in May 2003. After college, she worked as a Dow Jones Newspaper Fund copy editing intern at the Macon (Ga.) Telegraph before joining the Pilot & Today in September 2003 as a copy editor.
Allison also is co-editor of At Home in Steamboat Springs magazine, and she leads the layout and design of the quarterly publication.
Recent Stories
I imagine that working at a news organization during the Olympics is pretty exciting no matter where you are. But short of being in Vancouver this February, I doubt it could get more exciting than working at a newspaper and magazine in Ski Town USA.
Emergency crews dispatched at about 6 p.m.
A missing snowboarder was found safe about 9:30 p.m. Saturday, said Russ Sanford, incident commander and president of Routt County Search and Rescue.

I have a friend with a knack for giving the perfect gift. She is thoughtful and insightful, tucking away in her memory comments people make throughout the year. Then, when December rolls around, she unearths the gift ideas and accomplishes what so many of us struggle to do - purchase presents that wow their recipients regardless of cost or size.
Whether you need new snowboarding boots, a rock climbing harness or a fleece, Steep and Cheap will have it - you may just have to wait awhile.

When planning the stories for our spring edition of At Home in Steamboat Springs magazine, a feature about dogs quickly shot to the top of our list. It's nothing shocking - Steamboat Springs is a dog town.
A vacation to dream about
Visitors to Steamboat Springs often say, "Living here must be like a constant vacation." In a lot of ways, it is.
Click on this
For many, the holiday season brings stress - and lots of it. Stress about what gift to send your in-laws, what to wear to a work holiday party, and what dish to bring to the dinners and potlucks that seem to occupy every weekend.
It's that time of year to start thinking about the holidays - what meals to cook, gifts to give and traditions to continue. We hope the holiday-themed stories in this issue of At Home will inspire you to try something new this year, whether it's cutting your own Christmas tree or trying a new recipe.

Allison Miriani's outdoors picks for winter 2007

Allison Miriani's indoors picks for winter 2007
Recent photos