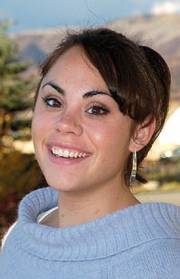 Alexis M. DeLaCruz covers cops/courts, South Routt and obituaries for the Pilot & Today. She has worked for the newspaper since May 2005.
Alexis has a bachelor of science degree in journalism and a bachelor of arts in Spanish language and literature from the University of Colorado. She worked as an intern at the St. Cloud Times in St. Cloud, Minn., and at the Colorado Daily in Boulder.
Alexis is from Northglenn. She is an avid reader and will read pretty much anything she can get her hands on. She hates television but loves Netflix. She mountain bikes, lake kayaks and is eagerly awaiting her second Steamboat winter so she can perfect her snowboarding technique. She likes to drive and travel around the world. She also likes to randomly organize things that probably don't need it. Obviously, she likes to talk and socialize. She likes to make vegetable soup and Mexican food using her grandmother's recipes.

Recent Stories

Oak Creek home decor business brings back simpler times
Bonnie Manke's inspiration for her new Oak Creek business, Nostalgia, was just that - a longing for the past.

Routt County Search and Rescue Treasurer Kristia Check-Hill has a Friday tradition.

Craig and Andy Kennedy are Halloween heroes. The energetic Steamboat Springs couple boasts "closets full" of Halloween costumes and vouch that they have never repeated a costume twice.
Local law enforcement officers are encouraging people who celebrate Halloween this weekend to drive safely and be aware of children on the streets.

Bee Herz said her first experiences as a psychic medium began when she was a child. At the time, having visions and receiving messages from higher beings was overwhelming and frightening - so much so that Herz would "block" and refuse the information flowing to her.

Hayden man preparing for world competition in Las Vegas
A group of wide-eyed Hayden Valley Elementary School students were treated to more than just a "Stop, Drop and Roll" lesson Wednesday.
A Steamboat Springs attorney is asking the District Attorney's Office to dismiss charges against a 21-year-old man accused of destroying a Steamboat house during an alleged demolition party in April, claiming that the man is the victim in the case.
Oak Creek resident Rosie Hudack died in 1943 after living a full life and spending a lot of time at the Oak Creek Cemetery mourning a deceased boyfriend.
Headwall regrade still on schedule
With opening day only 32 days away, construction crews working at the base of Steamboat Ski Area are working in high gear to complete a massive re-grading project.
Dave Moss likes to think of the North Routt Fire Protection District as a three-legged stool with a loose leg.
Recent photos