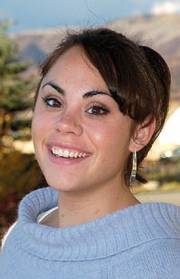 Alexis M. DeLaCruz covers cops/courts, South Routt and obituaries for the Pilot & Today. She has worked for the newspaper since May 2005.
Alexis has a bachelor of science degree in journalism and a bachelor of arts in Spanish language and literature from the University of Colorado. She worked as an intern at the St. Cloud Times in St. Cloud, Minn., and at the Colorado Daily in Boulder.
Alexis is from Northglenn. She is an avid reader and will read pretty much anything she can get her hands on. She hates television but loves Netflix. She mountain bikes, lake kayaks and is eagerly awaiting her second Steamboat winter so she can perfect her snowboarding technique. She likes to drive and travel around the world. She also likes to randomly organize things that probably don't need it. Obviously, she likes to talk and socialize. She likes to make vegetable soup and Mexican food using her grandmother's recipes.

Recent Stories
Recent photos