Freshies Restaurant
595 S. Lincoln Ave. Steamboat Springs, CO 80487
970-879-8099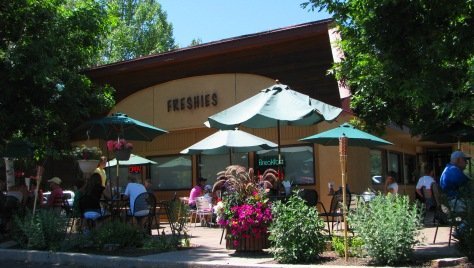 Description
For the Love of Food!
Yes, if you are a food lover, Freshies is the place go. To locals and tourists alike, Freshies is a favorite for fresh, delicious breakfasts and lunches. From the friendly staff to the gigantic homemade cinnamon rolls, Freshies is sure to satisfy and impress.
Whether your day includes hitting up the slopes or a long day at the office, Freshies is a great way to start it. Focusing on fresh, healthy, and local ingredients, not only does the food taste incredible, but you will leave feeling incredible as well. Start your meal with a hot cup of excellently brewed organic coffee or espresso. If eggs are your style, try one of Freshies' Savory Scrambles or Eggcellent Omelettes. If you are craving something sweeter, the Dried Cherry and Homemade Granola Pancakes and homemade cinnamon rolls are to die for.