Daddio's Bar & Grille
21495 W. Highway 40 Milner, CO 80487
970-871-1415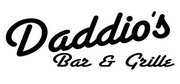 Description
With a colorful cast of characters as regulars and lousy cell service, Daddio's Bar & Grille is the place for great conversation and friendly games of pool! The music is always great and the classic jukebox features a variety of artists, from Patsy Cline to Frank Zappa! Daddio's has live music on the weekends, Texas Hold'em Tournaments on Sundays at 7:00pm, and double elimination pool tournaments on Wednesdays at 7:00pm. Great TVs and NFL Ticket make Daddio's Bar & Grille a great place to watch the game while enjoying great food!
David Mansbridge, a Chicago native who lived in Aspen in the 1970s before moving to the East Coast about 30 years ago, opened Daddio's Bar & Grille in mid-June of 2011 in the western Routt County community, in the building that formerly housed the Olde Milner Roadhouse. Mansbridge said he moved to Routt County in January and immediately saw the need for a new restaurant in Milner, CO. Daddio's Bar & Grille is currently open for lunch and dinner and features pub staples. Daddio's also provides a great venue for live music!
A steel guitar, sailor and woodworker, Mansbridge has incorporated eclectic ideas for Daddio's, including a fenced-in backyard with a horseshoe pit and music by local artists. Live music occurs at Daddio's early in the evening and has a great family-friendly feel! Come by Daddio's Bar & Grille today
Just 10 minutes from Steamboat, west on HWY 40 to Downtown Milner!