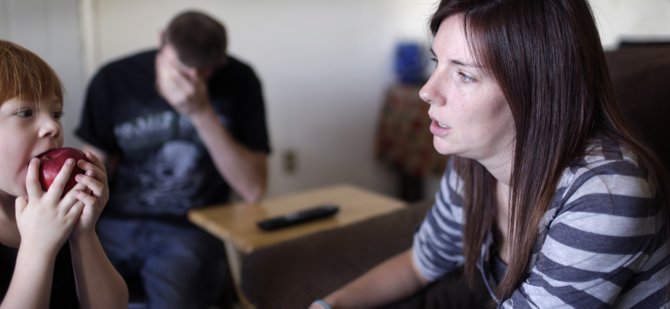 Torrie Smith, 3, left, eats an apple as her mother, Wendy Smith, talks at their home in Denver on Nov. 30 about their experience getting dental treatment through Medicaid for Torrie after she fell and broke four front teeth. Her father, Anthony Smith, center, listens. State Medicaid data reported to the federal government show that less than half of the 453,000 Coloradans younger than 21 who were eligible for benefits in federal fiscal year 2011 received some kind of dental service.
Stories this photo appears in:

When she was 3, Torrie Smith tripped on an uneven sidewalk, fell face down onto some steps and broke four front teeth. An emergency room doctor stopped the bleeding and gave her something for the pain, but Torrie didn't get to a dentist for six months — her first time ever to a dentist — because her parents didn't have dental insurance and didn't have cash to pay for an examination.