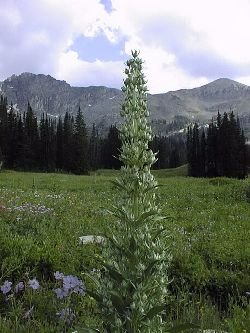 The stalk can get as tall as 8 feet and is covered with greenish star-shaped flowers with light purple speckles that are 1 to 2 inches across. The leaves on this plant are shaped like the ears of a deer, hence the common name Deer's Ears and are large at the bottom and get smaller as they go up the stalk.
Stories this photo appears in:

Hikers and bikers traveling Routt County's trails and roadways this summer are commenting on the proliferation of green gentian (Frasera speciosa), also called Monument Plant or Deer's Ears. It's the largest gentian found in the Rocky Mountains and can be found in meadows and open areas.