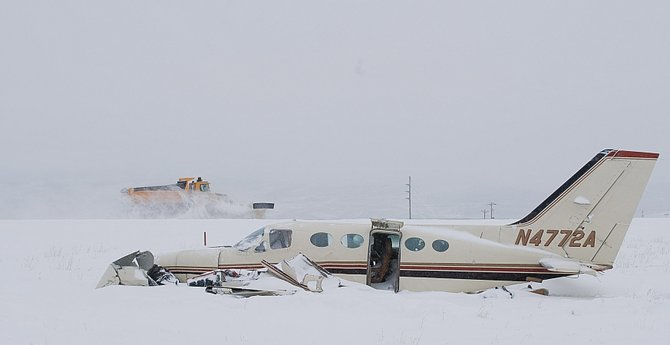 A runway plow passes behind the wreckage of a Cessna 414A that crashed just short of the runway at Yampa Valley Regional Airport in Hayden on Sunday afternoon.
Stories this photo appears in:

On Sunday, Hans Vandervlugt, 75, was flying Scott and Gaby Humpal and their three children from Corpus Christi, Texas, to Steamboat Springs for a ski vacation. The plane crashed, killing Gaby Humpal and injuring Scott Humpal, sons Tad, 18, and Dillon, 13, and daughter Sara Humpal, 10.

A snow squall reduced visibility to near zero minutes before the crash that killed two and injured four others. Sara Humpal, 10, was transported to Children's Hospital in Denver today. Her father and two brothers remain at Yampa Valley Medical Center.

The private plane was en route to Hayden from Texas when it crashed short of the runway during a snowstorm Sunday afternoon. The four survivors were rushed to Yampa Valley Medical Center, where three are in fair condition and one is in critical condition. Two people died in the accident.