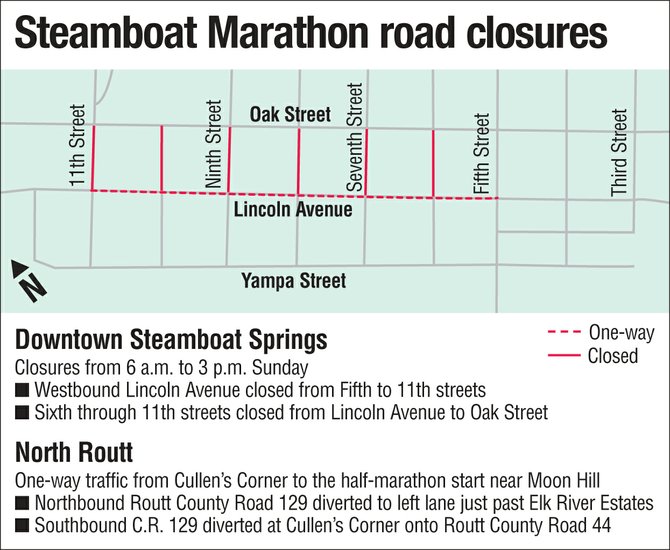 Steamboat Marathon road closures
Stories this photo appears in:

The Steamboat Marathon is back Sunday, and thanks to some savvy marketing, it's bigger than it's been in recent years.
The westbound lanes of Lincoln Avenue will be closed from Fifth to 11th streets from 6 a.m. to 3 p.m. Sunday for the finish of the Steamboat Marathon. Also closed will be Sixth through 11th streets from Lincoln Avenue to Oak Street.
The figure represents 37 percent capacity at area lodging properties, with downtown showing the highest occupancy at 73 percent. On the mountain, hotels are expected to be 61 percent full, and condos are forecast to be 20 percent full.

The Steamboat Marathon is returning for its 32nd go-around Sunday, drawing as many as 1,600 runners to the Yampa River Valley.

About 1,700 runners are expected to answer Sunday morning's early wake-up call to participate in the races of the 31st annual Steamboat Marathon, half-marathon and 10K.
If you plan to be out and about on something besides your feet or a bike this morning, beware: It's going to be busy out there. The 30th annual Steamboat Marathon starts Sunday morning at Hahn's Peak Village in North Routt County and will come down Routt County Road 129, hanging a left at U.S. Highway 40. Road closures start at 6 a.m.