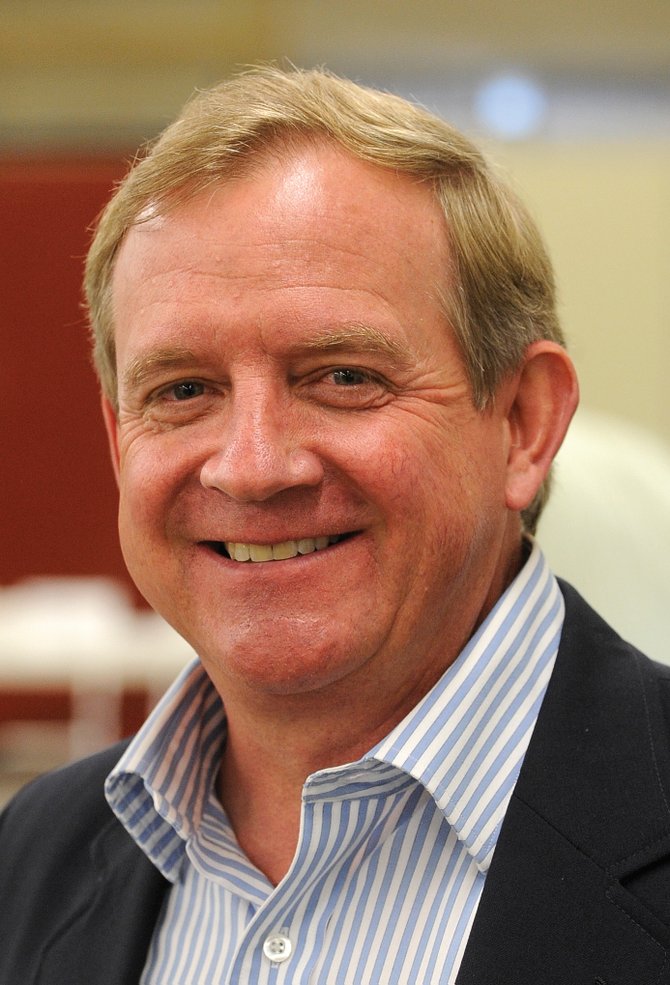 Steve Ivancie
Stories this photo appears in:
I am grateful for the opportunity to serve the people of Routt County as your commissioner and look forward to earning your vote to continue to manage the future of Routt County.
Steve Ivancie is running against Cari Hermacinski for the District 3 Routt County commissioner seat.
The latest campaign finance reports filed by local candidates running for treasurer, state representative and county commissioner reveal half of the candidates are raking in much more campaign cash than their opponents.
Steve Ivancie took over for Diane Mitsch Bush on the Routt County Board of Commissioners on Monday. The former Steamboat Springs city councilman and state House candidate has to get up to speed quickly — his first vote will come Tuesday.
The Routt County Democratic Party vacancy committee interviewed three candidates Saturday and selected former Steamboat Springs City Council member Steve Ivancie to fill a vacancy on the Routt County Board of Commissioners.
Three Steamboat Springs men have applied for the position that was vacated by Diane Mitsch Bush, a Democrat who was elected last month to serve the new House District 26 representing Routt and Eagle counties.
Routt Democratic Chairwoman Catherine Carson says "There are absolutely zero favorites and zero frontrunners" for the Board of Commissioners' District 3 seat being vacated by House District 26 representative-elect Diane Mitsch Buh.
House District 57 covers the state's northwest corner and stretches to Rangely, Battlement Mesa and Rifle in the west and, with jagged borders, almost to Estes Park in the east. The district includes all or part of Routt, Moffat, Grand, Garfield, Jackson and Rio Blanco counties. It includes tourism, energy development, ranches, ski resorts and coal mines, highways and back roads, the very rich and the very poor, reflecting a diverse array of economic needs and conditions.

Candidates field questions from community during event
Randy Baumgardner had heard the question so often that he began answering before he reached the lectern Wednesday night at the Steamboat Springs Community Cen­ter. "I did not vote against autistic children," state Rep. Baumgardner said.
My name is Steve Ivancie, and I am a candidate for Colorado House District 57. For 30 years, I have called this beautiful valley my home. My wife, Diana, and I raised our daughter, Rachel, here. She graduated from Steamboat Springs High School and is now a junior in college.
GOP incumbent has balance about $9K greater than Ivancie's
Republican state Rep. Ran­dy Baumgardner maintained a strong fundraising lead through September in his race for re-election against Democratic challenger Steve Ivancie.
Ivancie: Baumgardner's position on ballot measures like 'Jekyll and Hyde'
Oak Creek Libertarian Mike Kien expressed strong support Monday for three controversial ballot initiatives that have drawn unified opposition from his Democratic and Republican opponents in the race for a state House seat. Proposition 101 and Amend­ments 60 and 61 would reduce various taxes and fees and limit governments' ability to borrow.
Colorado voters are about to be exposed to a ballot box virus masquerading as Amendments 60, 61 and Proposition 101. Within each of these initiatives is a virus that will permanently cripple local and state governments' ability to finance and invest in critical services such as road maintenance, education and municipal infrastructure.

Rep. Randy Baumgardner recently spent about six days in Arizona with 10 other Republican state legislators. The Republican from Hot Sulphur Springs said "there's a very good possibility there will be legislation drafted" regarding immigration laws in Colorado's 2011 legislative session.
Longtime City Council member will face Baumgardner for District 57 seat
Former longtime Steamboat Springs City Council member Steve Ivancie will attempt to disrupt the Republican hold on Colorado State House District 57. Ivancie confirmed Monday that he plans to run against incumbent Randy Baumgardner in the November election.