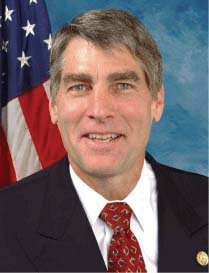 U.S. Sen. Mark Udall
Stories this photo appears in:
Two dry winters in a row have left Colorado's mountains bare and our reservoirs dangerously low.
Colorado's two U.S. senators have sent a letter to the Transportation Security Administration asking for full-body scanning machines to be replaced quickly at Colorado's regional airports.
Sportsmen and women are a vital thread in the fabric of the West. They fuel a significant part of the Colorado economy — generating more than $3 billion each year in Colorado and supporting 34,000 jobs, especially in rural communities.
I have worked hard to make the 2012 Farm Bill, which my colleagues and I passed in the U.S. Senate last month, an important tool in managing our forests.
By Sen. Mark Udall / For the Steamboat Pilot & Today
July 14, 2012
Phippsburg, Toponas wait for news on Postal Service reform
Amid the talks on Capitol Hill, Sen. Mark Udall, D-Colo., is pushing to save rural post offices — including those in Phippsburg and Toponas — from possible closure.
The recent failure of the "super-committee" to reach a deal on federal spending cuts is just the latest example of how ill-equipped Congress is to address our nation's gravest challenge: our ballooning $15 trillion national debt. Democrats and Republicans still are stuck in the same rhetorical trenches. Democrats are reluctant to cut entitlements while Republicans claim we can cut taxes and balance our books.
The hard truth is that it is time for the United States to adopt more realistic goals in Afghanistan and Pakistan. We must acknowledge that there will not be a military solution to the Afghanistan conflict — there can only be a political one — and that requires Pakistan to take responsibility and be held accountable for its actions.
U.S. Sen. Mark Udall claimed Wednesday that a bill he steered through Congress this week will be an economic boon for Colorado mountain resorts by expanding their potential uses without turning them into amusement parks.
Lawmakers are considering the Ski Area Recreation Opportunity Enhancement Act of 2011, which would more easily allow year-round attractions on Forest Service land.
This month, we finally put an end to a discriminatory military policy that was crafted almost two decades ago during a time when we weren't at war with another country, but rather we were bitterly divided — politically and socially — against ourselves.
Last week, the Senate reached a compromise to narrowly avoid the nation's first-ever default. Although the deal we got is less than I had hoped for, I voted for it because one goal overrode all others: preventing a default on our debt obligations, which could have pushed our fragile economy into a double-dip recession.
As I've traveled across our state in the last two years, Coloradans from Southern Colorado to the Western Slope and to the Eastern Plains have told me that they think the focus in Washington, D.C., should be on two things — the economy and getting our spending under control.
Proposed legislation aims to boost year-round economies in resort communities
U.S. Sen. Mark Udall is taking another shot at a bill intended to increase opportunities for summer recreational activities on ski resorts that use U.S. Forest Service land, including Steamboat Ski Area.
Back in 2004, Coloradans took a big, brave step forward in the emerging clean energy economy and embraced Amendment 37, which created a statewide Renewable Electricity Standard.
Udall, Bennet ask postmaster general to keep branch fully open
U.S. Sens. Mark Udall and Michael Bennet have asked U.S. Postmaster General John Potter to keep Steamboat's Sundance post office branch fully open until a new, consolidated post office is complete. The senators announced their support for continued retail and postal box services at the Sundance at Fish Creek branch in a letter to Potter released this morning.