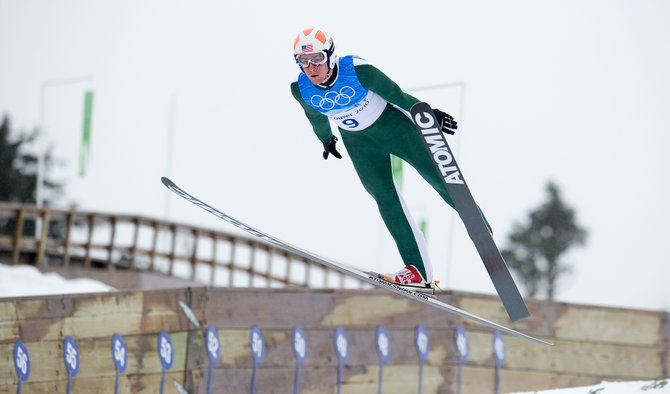 Steamboat Springs Nordic combined skier Taylor Fletcher takes a training jump at Whistler Olympic Park during Olympic training. Fletcher, a first-time Olympian, is hoping to shake off some pre-Olympic nerves and get his shot to compete in an event at the 2010 Olympic Games. Coach Dave Jarrett wouldn't confirm his starting lineup for today's individual Gundersen event, but odds are that Johnny Spillane, Todd Lodwick, Billy Demong and Brett Camerota will get the starting spots.
Stories this photo appears in:

Demong, Americans seem relaxed before first competition at 2010 Winter Olympics
He was less than 24 hours from one of the biggest races of his life, but U.S. Nordic combined skier Billy Demong wasn't about to let the anticipation keep him awake Saturday night. Today's normal hill individual Gundersen event begins with the jumping portion at 11 a.m. The cross-country portion begins at 2:45 p.m. MST. NBC television coverage begins at noon today.
February 13, 2010 6:44 p.m.