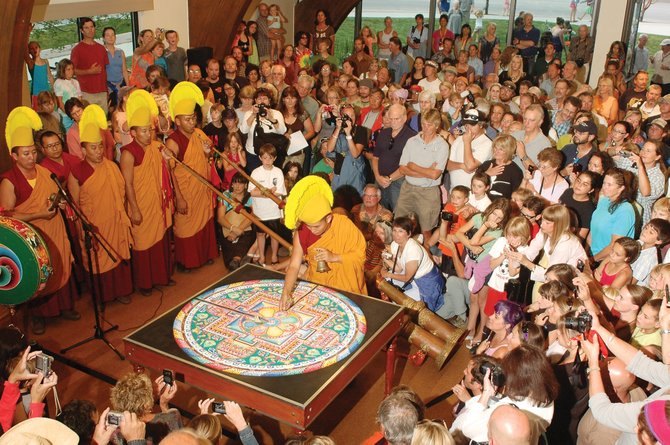 A member of the Drepung Loseling monks begins the transformation of the compassion Buddha mandala before more than 300 intensely curious onlookers in Library Hall at Bud Werner Memorial Library in 2010. The monks will return Tuesday for the first time since then to paint another mandala for the Steamboat community.
Stories this photo appears in:
In 2010, monks from the Drepung Loseling Monastery in south India enchanted the Steamboat Springs community as they swirled grains of colored sand into an intricate mandala and performed their Sacred Music Sacred Dance for World Healing performance. More than 9,000 people flocked to the Bud Werner Memorial Library to witness their artistry, carrying away more than just the fragments of the mandala the monks had distributed.
Buddhist monks will perform a healing ceremony at noon today
The excited chatter and the gasps of joy and amazement from the hundreds packed into Library Hall on Wednesday night told the story of how lumps of carefully placed grains of sand can touch thousands of people in the Steamboat Springs community.
August 18, 2010 9:59 p.m.