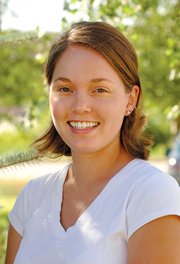 Nicole Miller
Stories this photo appears in:
Everything I know about Canada I learned on the TV show "South Park." That was a bad start to my education, but the show has hit some true points. I traveled to Canada with my dad Feb. 12 for the 2010 Winter Olympics in Vancouver, British Columbia. It was my first time visiting our northerly neighbor.
February 22, 2010 midnight
This always was my dream. Some little girls want to be ballerinas. Some want to be astronauts or teachers. I wanted to be a freestyle moguls skier. I didn't grow up in Steamboat, but like most kids who did, I set my sights on the Olympics early. As a child, I assumed being an Olympic athlete was the greatest thing anyone could do in a lifetime.
February 15, 2010 midnight
This isn't the kind of thing I do. Things that happen before noon. Things that involve bike shorts. Things I won't win. I'm a 24-year-old copy editor, and I'm deep in the throes of a quarter-life crisis.