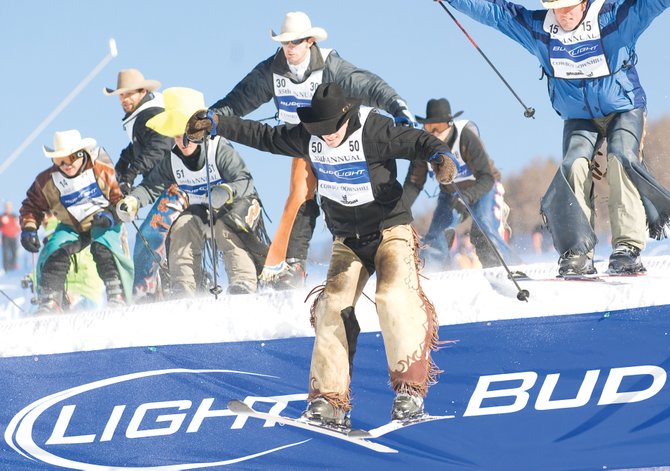 Dustin Jenkins, a bareback rider from Missoula, Mont., leads a pack of cowboys down the course during the 35th annual Cowboy Downhill Stampede on Tuesday at Steamboat Ski Area. The stampede is the traditional end to the Cowboy Downhill, which is held every year in Steamboat Springs during the National Western Stock Show.
Stories this photo appears in:

Annual Cowboy Downhill event is Tuesday at ski area
For the 36th year, professional rodeo cowboys will take to the slopes at Steamboat Ski Area. Cowboys and cowgirls from across the country will make their way to Steamboat Spr­ings to com­pete in the annual Cowboy Downhill at 4 p.m. Tuesday at the ski area.
January 18, 2010 midnight

Wyoming bull rider sweeps chaotic Cowboy Downhill
It was an especially chaotic Cowboy Downhill at the Steamboat Ski Area on Tuesday, when not even Billy Kidd could stay on his feet and an uncooperative horse caused more trouble for the cowboys than the jump in the middle of the course.