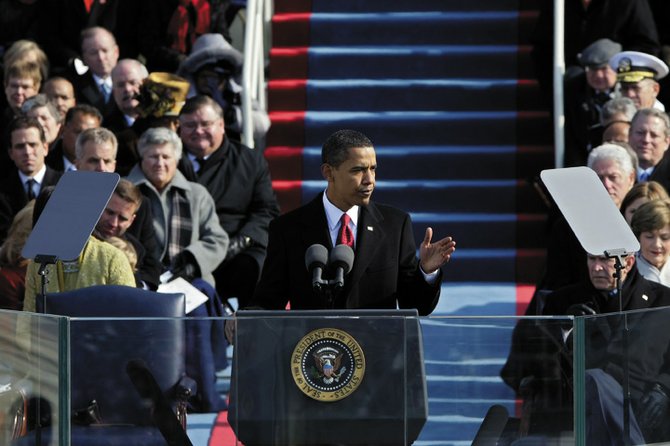 President Barack Obama delivers his inagural address after taking the oath as the 44th U.S. President at the U.S. Capitol in Washington, D.C., today.
Stories this photo appears in:
Steamboat insiders evaluate new president's inaugural address
Steamboat Springs residents Sureva Towler and Steve Hofman watched the speech with keen professional interest. Both are former Washington insiders who have helped craft important political speeches themselves.
"Let it be said by our children's children that when we were tested we refused to let this journey end, that we did not turn back nor did we falter; and with eyes fixed on the horizon and God's grace upon us, we carried forth that great gift of freedom and delivered it safely to future generations."
By The Associated Press
January 20, 2009 12:34 p.m.
Stepping into history, Barack Hussein Obama grasped the reins of power as America's first black president today, saying the nation must choose "hope over fear, unity of purpose over conflict and discord" to overcome the worst economic crisis since the Great Depression.