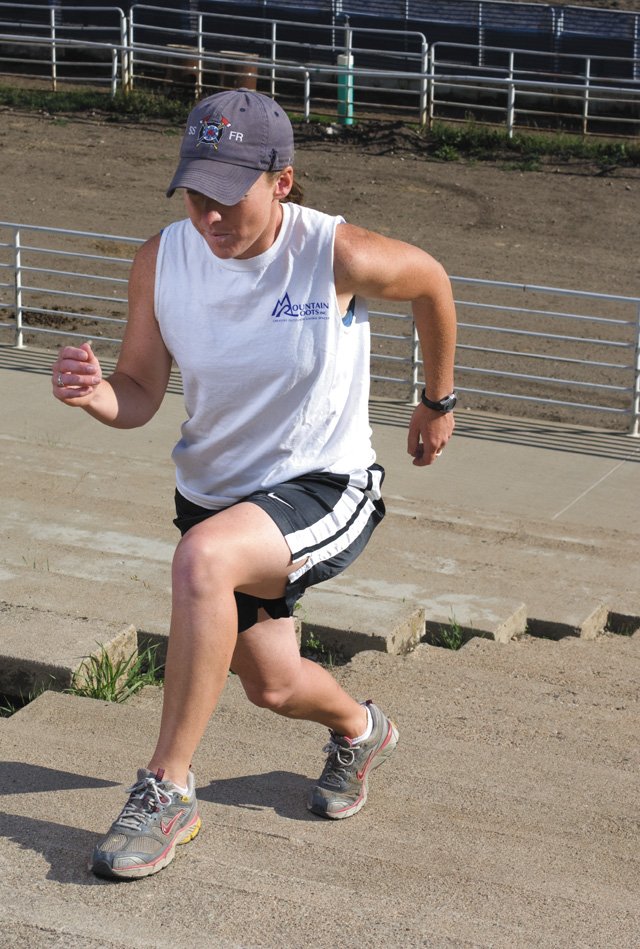 When it's time to build and hone those larger muscles, SSWSC Alpine head coach Anje Worrell and head J3 coach Marnie Smith (pictured) take the Breakfast Club crews to the Brent Romick Rodeo Arena south stands for a little Stallone workout, Steamboat style, with steep concrete bleachers
taking place of the famed
Philadelphia "Rocky Steps." The club's intense one-hour workouts kick off with a light 10- to
15-minute jog followed by dynamic leg stretches (think butt-kicks, high knee skips, straight leg kicks, back pedals and lateral shuffles). Smith then wraps the early risers through the bleachers with a
plyometrics routine.
Stories this photo appears in:

Tailor the year-round club skier's workout to prep for the slopes
On an early August morning, a group of teenage ski racers diligently cycles through a circuit of core-strengthening exercises; one-legged BOSU ball hops, jump rope routines, box jumps and wall sits.