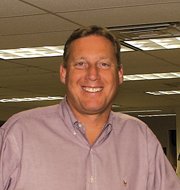 Mike Knezevich
Stories this photo appears in:
Former high school principal sent intent-to-sue letter in 2008
Four months after sending an intent-to-sue letter to the Steamboat Springs School District, former high school principal Mike Knezevich has yet to formally file a lawsuit.
Divided School Board votes to not renew principal's contract
Steamboat Springs High School Principal Mike Knezevich was ousted Monday night when the School Board voted 3-2 to not renew his contract.
School Board to vote Monday on high school principal's contract
Interim Superintendent Sandra Smyser is recommending that the Steamboat Springs School Board not renew the contract of high school principal Mike Knezevich, according to documents released Friday.