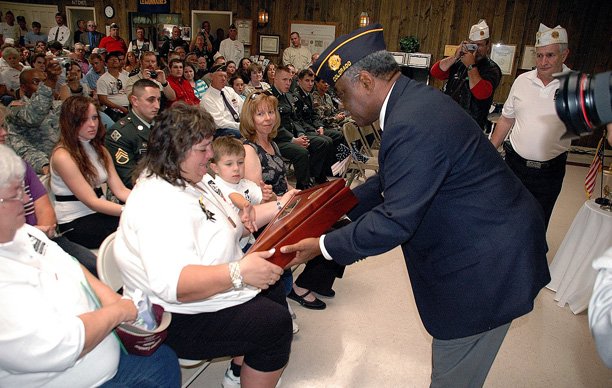 Sherri Lawton, widow of the late Staff Sgt. Mark A. Evans-Lawton, receives a wooden case for the American flag during an August 2006 ceremony honoring her husband and renaming the Craig American Legion Post after him. Sherri Lawton, a former Hayden resident, is asking the community to contact their state lawmakers in hopes of stopping a Flagstaff, Ariz., distributor from selling anti-war T-shirts decorated with the names of fallen Iraq veterans.

Stories this photo appears in:
A former Hayden resident and widow of a soldier killed in Iraq has sharp words about a Flagstaff, Ariz., T-shirt distributor she believes is dishonoring the name of her late husband.
September 21, 2007 midnight