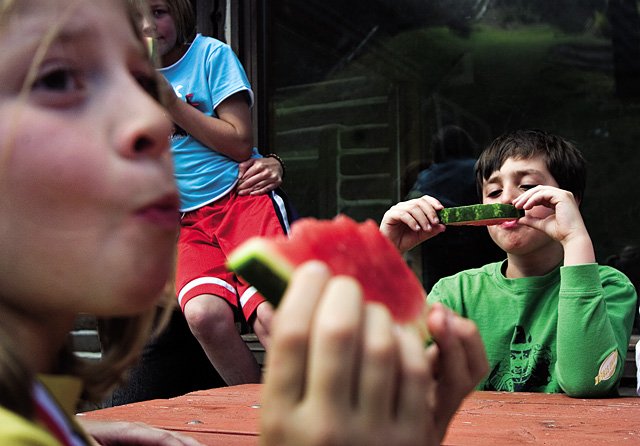 Ginny Faulkner, 9, from left, Kelsey Peters, 11, and Nick Bond, 10, enjoy a snack of fresh-sliced watermelon behind Howelsen Lodge on Tuesday. The kids are participants in the After-School Action program, which is put on by the city's Parks, Open Space and Recreational Services Department. Increased facilities for local youths is driving proposals for a new recreation center in Steamboat Springs.
Stories this photo appears in:

Council picks rec finalists; still chance for Old Town pools
Ski Town Fields and Howelsen Hill are the two sites that will be considered for a new recreation center in Steamboat Springs, according to statements made by the Steamboat Springs City Council on Tuesday night. The council's decision came after a consultant-led presentation of site analyses and cost projections for various recreation options, which was followed by extensive public comment at a crowded meeting in Centennial Hall.