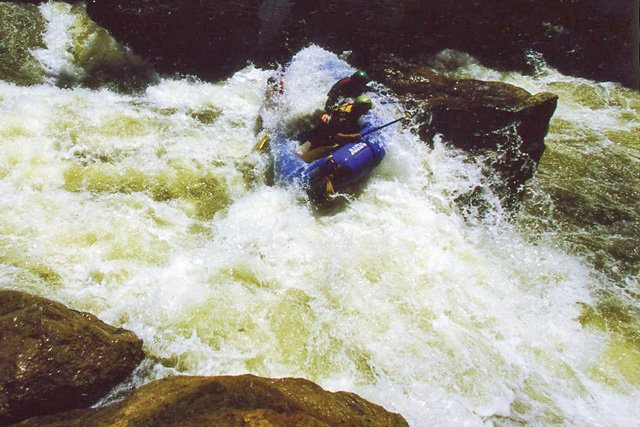 Dave Shively, in back of raft, guides a boat with Dave Gentempo, middle, and Tobi Rohwer, in green helmet and yellow jacket, into the rock at the end of the Piedra River's First Mudslide Rapid, otherwise known as "Eye of the Needle," in spring 2004.
Stories this photo appears in:
Close calls and canyon floats on a pair of the Southwest's wild and scenic stretches
The age-old maxim that you cannot put your foot in the same river twice rang true this week on the Piedra River. This remote gem of a tributary comes screaming for a short runoff season out of the southern San Juan Mountains and into a tight and steep box canyon just west of Pagosa Springs. The 12-mile lower canyon stretch, which constricts into a series of Class IV and V drops, has long been a favorite of southwest Colorado paddlers. For the Durango-based outfitter I guided for more than six seasons, the Piedra was a proving ground.