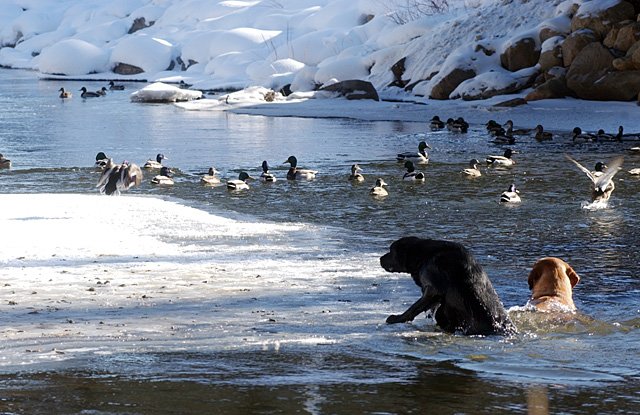 Todd Kelly of Stagecoach let his dogs Scooter, left, and Murphy out of the car near the 13th Street Bridge on Thursday, and the dogs headed down to the Yampa River. Scooter climbs a sheet of ice where the ducks had been sitting in the sun.
Stories this photo appears in:

Current building likely to be demolished before new one is finished
The Steamboat Springs Community Center could come down months before a new one is finished, despite promises to the contrary. A 2005 agreement between the city and the East Routt Library District was intended to ensure continuous operation of the center. And seniors, who frequently use the center, took that agreement as a promise that the city would build a new facility before the current one is destroyed to make room for an $11.4 million expansion of the Bud Werner Memorial Library.
January 26, 2007 11:56 p.m.