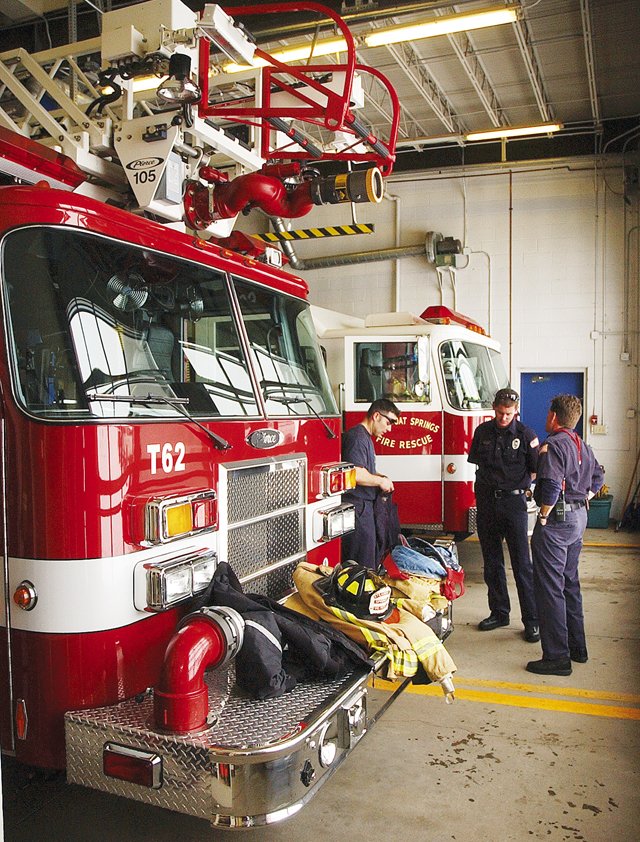 Steamboat Springs firefighters, from left, Scott Hetrick, Brian Shively and Matt Mathisen talk in the garage of the Mountain Fire Station after returning from a call. Cramped fire station facilities are spurring discussions between the Steamboat Springs City Council and fire district officials about building a new facility.
Stories this photo appears in:

City Council, emergency officials discuss expansion options
Local fire district officials are considering moving the Yampa Street fire station in downtown Steamboat Springs and asking voters for funding through a property tax increase. he Steamboat Springs Rural Fire Board - the oversight committee for the Steamboat Springs Rural Fire Protection District - met with the Steamboat Springs City Council on Tuesday to discuss several options for the future. Through an intergovernmental agreement, the rural fire district shares services and works in conjunction with Steamboat Springs Fire Rescue. Both departments are outgrowing current funding resources and firefighting facilities, officials said.
February 16, 2007 12:04 a.m.