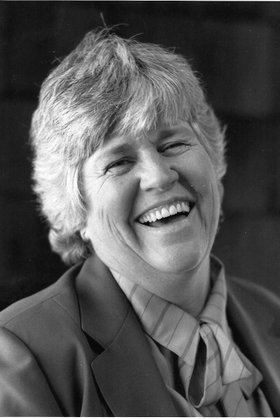 Judith "Judy" Ann Copeland
Hayden
March 26, 1935 - April 29, 2012
Judith Ann "Judy" Copeland was born March 26, 1935, in Rapid City, S.D. She was the eldest of three children of Wayland and Mildred (Maher) Simkins. Judy grew up in Boulder, where she attended Sacred Heart of Jesus Catholic School, Mount St. Gertrude Academy and graduated from Boulder High School in 1953.  
After high school, she worked at a flower shop, where she met her future husband, Ted Copeland. Ted worked for Mountain Bell and was called into the shop to fix the phone lines. Judy noticed Ted right away and continued to show up at the same coffee shop Ted frequently visited. After a year, they were married and made their first home in Boulder. To this union, seven children were born: Kevin, Kraig, Karen, Kelly, Katrena, Kristin and Kent. Judy's life calling became full-time mother and wife.
She became active at Sacred Heart and volunteered at a nursing home and as a Cub Scout den mother. In 1970, the family moved to Rangely, where Judy volunteered as a CCD teacher and Girl Scout leader and became involved at St. Ignatius.  
Two years later, the family moved to Hayden. Once again, Judy immersed herself into her church, community and volunteer opportunities. Judy also took on an agent job at National Car Rental at Yampa Valley Regional Airport.
Judy's family was the center of her life, but she touched the lives of so many others, as well. She was an advocate for children, especially the unborn. She wrote letters, attended rallies and marched in support of the Right to Life and Priests for Life and sat on the board of the Yampa Valley Pregnancy Center in Craig. She opened a youth center in the late '70s and years later operated another youth center from the elementary gymnasium. Judy remained active at Holy Name Catholic Church, where she became a church greeter, brought the Eucharist to the homebound, oversaw fundraisers and was on the parish council. She was able to better so many lives and wanted it known that she was able to do so only because of Ted's support.
Judy will be missed greatly by many.  
Judy is survived by her husband, Ted; children Kevin Copeland, Kraig (Suzie) Copeland, Karen (Fred) Hughes, Kelly (Jeff) Potter, Katy (Jim) Bonds, Kristy (Doug) Prewitt, Kent (Shari) Copeland and Bill Klotz; sister Sharon (Walt) Hellman; sister-in-law Sharlotte Simkins; uncle Bill (Rosemary) Maher; 18 grandchildren, 18 great-grandchildren and numerous nephews, nieces and cousins.
Judy was preceded in death by her parents, her brother Jack Simkins and her daughter-in-law Ann Copeland.
In lieu of flowers, donations may be made to Priests for Life, P.O. Box 141172, Staten Island, NY 10314 (www.priestsforlife.org); Yampa Valley Pregnancy Center, 356 Ranney St., Craig, CO 81626; or Eternal Word Television Network, 5817 Old Leeds Road, Irondale, AL 35210 (www.ewtn.com).
A funeral was May 4 at Holy Name Catholic Church in Steamboat Springs. 
May God bless the memory of Judy Copeland.