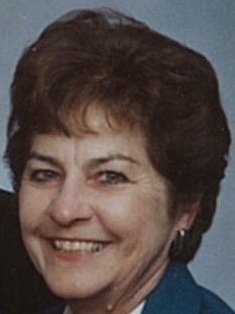 Gladys Louise Patterson
August 19, 1926 - June 16, 2012
Gladys Louise Patterson, 85, died June 16, 2012, in Littleton. She was born Aug. 19, 1926, in Wichita, Kan., to Hugh and Lela Frye Sawyer. Gladys grew up in Wichita and graduated from Wichita North High School.  
On Dec. 5, 1945, she married her high school sweetheart, Robert "Bob" Patterson, in San Francisco. Together, they became part of the postwar generation that gave their community bright examples of honest work ethics and never hesitated to reach out a helping hand to others. They moved to Colorado in 1956 and in 1960 settled in Littleton, where Gladys worked as a housewife while raising their two children.  
For more than 30 years, she was an active member of the Wilshire Golf Club, where she won many awards and made numerous lifelong friends. Once the children were grown, she got her real estate license and practiced for a few years during the 1970s. She joined Martin Marietta as a secretary in 1978 and worked on projects such as the Man Maneuvering Unit. In 1993, after 15 years, she retired from Martin Marietta, and she and her husband took off to settle in the mountains of Steamboat Springs, where they always had found so much joy exploring the wilderness. They also spent the snowier months in Mesa, Ariz., where they met up with all their snowbird friends from the U.S. and Canada. Retirement gave Gladys more time to enjoy things she loved, such as golfing, hiking, reading, volunteering and sharing her great cooking.
Gladys was preceded in death by her parents; her beloved husband, Robert "Bob" Patterson; and three brothers, Frank Sawyer, of Wichita, Wesley Sawyer, of Milwaukee, and Thomas Sawyer, of Wichita. She is survived by her sister, Gloria Kemper, of Rio Rancho, N.M.; son David Patterson (Betty), of McKinney, Texas; daughter Janice Kirchhof, of Littleton; grandchildren Shannon Patterson, of Lone Tree, Julie Rinehart (Matt), of Highlands Ranch, Jennifer Dunklin (Dan), of Aurora, and Daniel Holland, of Littleton; great-grandchildren Koen and Kaias Rinehart and Hayden and Ethan Dunklin; and many other family members and friends.
She will be greatly missed by everyone who knew her. In lieu of flowers, please make a donation to the Treads of Pioneers Museum, P.O. Box 772372, Steamboat Springs, CO 80477.